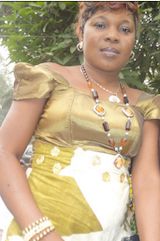 The practice of asking for a cash deposit in hospitals before administering treatment and the inability to pay the requested amount has been the sad cause of death of several patients. In Port Harcourt, something similar occurred recently when a lady, pregnant with her first child, died over her husband's inability to pay the requested deposit.
PM News reports that on November 25th 2012, a 34 year old woman, Ijeoma Umumadumere, was rushed to the  Garrison Clinic in Port Harcourt when she complained of a sudden stomach pain and headache, while cooking.  She was five-months pregnant.
At the hospital, doctors insisted her husband must pay N20,000 before she was treated. However, he had only N5,000 on him and used it to  offset registration and other costs. But the doctors and nurses would not attend to his wife because he didn't pay the N20,000 that was being demanded as a precondition for treatment. When he realised the doctors were not going to attend to his wife, he took her to another hospital but sadly, it was too late and she died.
The anger and frustration over her death was expressed by her brother, Uzoma Ahamefule who wrote a heartfelt letter to PM News. In the letter, Uzoma who lives in Austria said he couldn't understand why doctors in a Nigerian hospital could have treated his sister that way.
"Her husband begged the doctor and the nurses to attend to her since they had collected about N5, 000 he had in his pocket in the name of registration and other little things while he would go home and bring money. He had also told them that because of the nature of the emergency and the way his wife had been shouting while on the ground that his mind had only been pre-occupied with the thoughts of rushing her to any nearby hospital and had not thought of money or any other thing as he had even forgotten to put on shoes, but all his pleading and explanations to the doctor and the nurses had fallen onto deaf ears. With her pains increasing and death knocking and the doctor and the nurses refusing to understand, there was no way he could have left her there unattended, to go home and bring money. He took her and headed to another hospital, but unfortunately my sister did not make it as the damage had already been done before the doctors in that second hospital could do something reasonable to save her life."
"What a country, what a failure and what a loss! This is a sad story of the sorry state of the Nigerian health policy, how Nigerians are heartlessly and carelessly neglected because of money by doctors and nurses to die in hospitals, and how I lost my sister to a failed system."
In a lot of private and public hospitals in Nigeria, this sort of deposit is usually demanded even in cases of emergency. Doctors and nurses would refuse to attend to a patient until the money is paid. In the event that this money is unavailable, the patient lies in pain and his or her health suffers.
Her death is really sad and calls for a discussion on this practice. What can be done to ensure that in our hospitals, the life of a patient is taken as priority? We understand that in most cases, the hospitals are trying to prevent a situation whereby a patient would be treated and they won't get paid for the services rendered, however, losing a life over N20,000 is inexcusable. Are the doctors not obligated to render their services in emergency cases or is this a proper medical practice?
Let's discuss.