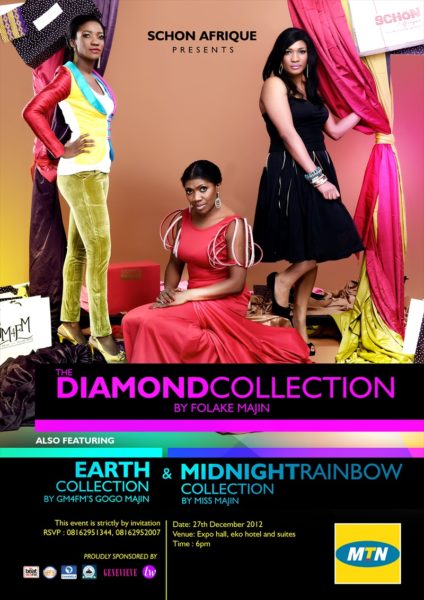 The Schon Afrique Fashion Show powered by MTN is here again.  The show presents again this year, legendary designer Folake Majin and her two designer daughters as they showcase three separate collections in one night. All three designers have had a great year with Miss Majin and GM4FM becoming one of the fastest selling new brands and also showcasing at the 2012 Olympics.
This year's fashion show promises to be as exciting and memorable as ever. The show will feature 3 collections:
1) The Diamond Collection by Folake Majin
2) The Midnight Rainbow by Miss Majin
3) The Earth Collection by GM4FM
Folake Majin had this to say about the Diamond collection; "The Diamond collection is not just about the bling factor," she said. "It's about beautiful clothes that endure and stand the test of time. It's the "forever" factor; the cut, the fit and the integrity of the design."
Miss Majin had this to say about the midnight rainbow collection; "The rainbow is actually a continuum of colors from red to violet and even beyond the colors that the eye can see," she said. "I've always loved spotting a rainbow in the sky and I've always wanted to spot one at midnight. This reality and fantasy has inspired my current collection ' the Midnight Rainbow'."
On the 'Earth' Collection, GM4FM's Gogo Majin had this to say; "The inspiration for the 'earth' collection came from some of my favorite elements / experiences on the earth and mother nature," she said. "I wanted to create a collection that was a mix of girly, structured but very feminine pieces, using fabrics like duchess satin, African print, silk chiffon, leather and old vintage Aso-Oke."
The event is strictly by invitation.
Date: Thursday 27th December 2012
Time: 6PM
Venue: Expo Hall, Eko Hotel & Suites, Victoria Island, Lagos
RSVP: 08162951344, 08162952007
______________________________________________________________________________________________
Sponsored Content