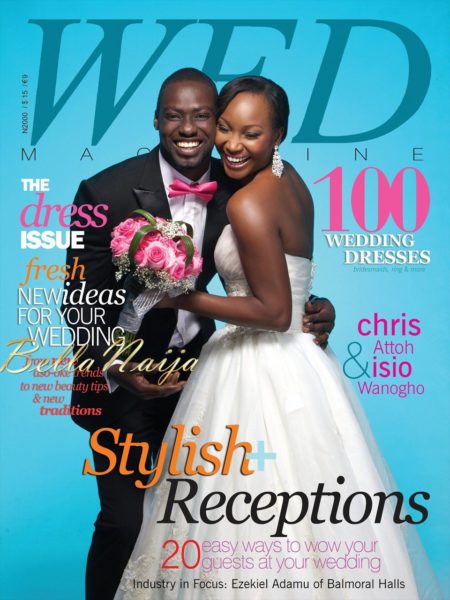 Aww…Ghanaian actor, Chris Attoh and Nigerian model, Isio Wanogho look gorgeous on the cover of WED Magazine's Dress Issue.
Donning a white ball gown with a sweet heart neckline accessorized with diamond earrings and a colorful bouquet, Isio Wanogho smiles on with Chris Attoh, dapper in a black suit with a fuchsia bow-tie on the cover of the new issue.  Inside the pages of the magazine, the two personalities who are also entrepreneurs according to the mag, strike different poses in more outfits.
This 256 pages edition of the foremost wedding publication, is also packed with lots of tips and ideas to make your big day a memorable one. From ways to wow guests at your wedding to new aso-oke trends and beauty tips, even to creating your own traditions.
Also in this issue, Ezekiel Adamu of Balmoral Halls, speaks on the challenges of his business and the future, Nigerian cake maestro, Tosan Jemide of Cakes by Tosan dishes on the success of his business, his memorable creation and lots more.
WED Magazine's Dress Issue is currently available on newsstands, be sure to ask you vendor for a copy or call 07001111933 | 07086390607 for a sales location.