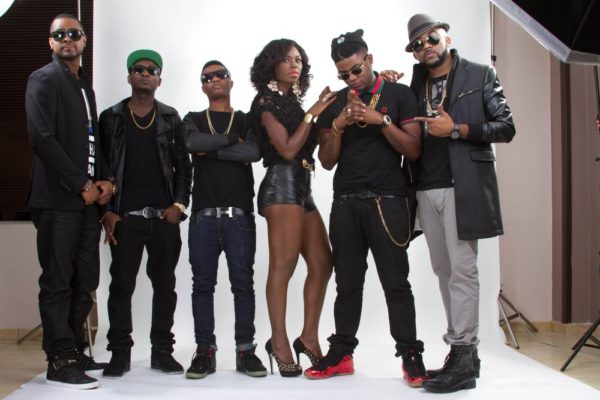 Lagos is gearing up for "one of those nights"…
One of those nights when you strike a pose on the red carpet and party with your friends while enjoying amazing Nigerian music.
The Baddest Concert by EME – the home of Nigerian music superstars including Banky W and Wizkid is gearing up for their inaugural concert as a powerhouse music label.
All through this week, we have seen rehearsal photos (someone told us they didn't know that Nigerian stars rehearse for their concerts!), we have seen videos by the EME crew telling us what to expect at the concert and then Banky W tweeted 21 readers why YOU should be at concert.
21 Reasons to be at EME "the Baddest" Concert – As tweeted by Banky W
Because as Banky W said "It's a Christmas gift from EME to you". #THEBADDEST
It's the best place to be when the world comes to end! #THEBADDEST
To finally see the whole crew perform together for 2 GOOD HOURS!! #THEBADDEST
To see sexy and beautiful Niyola perform live and WOW fans with her sultry voice #THEBADDEST
Because there will be a variety of exciting performances by top artistes #THEBADDEST
Remember that Skales's hit song "Heading for the Grammy"? YES! You get a chance to watch a grand performance of it. #THEBADDEST
A little birdie said Wizkid will come on stage with…..:x You have to come find this one out yourself. #THEBADDEST
Who is this surprise act gonna be? Come find out yourself #THEBADDEST
Because you get to listen to all genres of music in just one concert!!Amazing!!
The international act is… Nah I won't tell you… Come find that out yourself #THEBADDEST
Because there are many surprises you just can't afford to miss #THEBADDEST
Because it's the first Nigerian EME all-star concert. #THEBADDEST
R28 is known for putting together fantastic concerts. This won't be an exception #THEBADDEST
The EME concert is not the regular type of concert to expect #THEBADDEST
EME has a lot to offer, you can only know this by attending #THEBADDEST
Because different stars will be attending #THEBADDEST
Because it's the best way to have fun with that "one special person" *winks* #THEBADDEST
Not only will you have fun, you also get to mingle with new faces #THEBADDEST
Because if you miss this, you will have to wait another year. Can you afford to do that? #THEBADDEST
You'll have the right to brag to those who missed it #THEBADDEST
You shouldn't miss it because BANKY W SAYS SO #THEBADDEST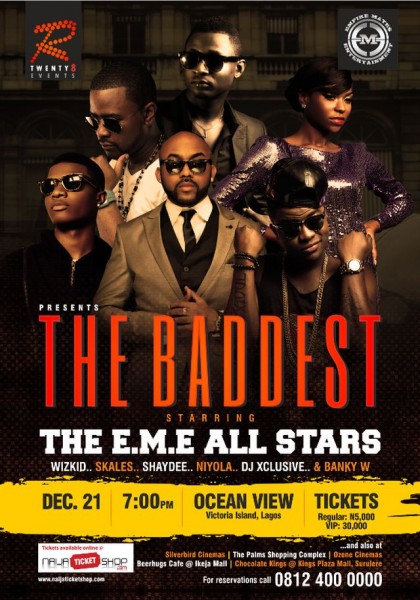 Events Details
Date: Friday 21st December 2012
Time: 7 PM
Venue: Ocean View, Victoria Island, Lagos
Ticket Prices: Regular N 5,000 | VIP N 30,000
Ticket Locations: Log on to www.NaijaTicketShop.com | Silverbird Cinemas, 133, Ahmadu Bello Way, Victoria Island, Lagos | The Palms Shopping Mall, Lekki, Lagos | Ozone Cinemas, E-Centre, 1-11 Commercial Avenue, Yaba, Lagos | BheerHugz Cafe, Ikeja City Mall, Ikeja, Lagos | Chocolate Kings, Kings Plaza Mall, Surulere, Lagos
Contact: For more info and general inquiries, call 08124000000