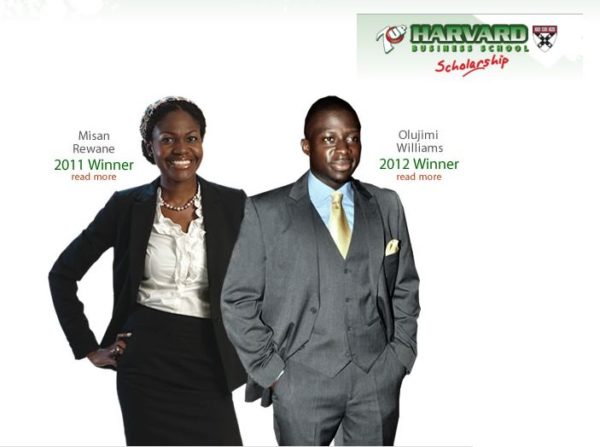 BN spoke about the SevenUp Harvard Business School Scholarship last year and in 2013, there is another opportunity for you to obtain a full scholarship to the Harvard Business School.
Launched in January 2011, the scholarship program is SevenUp Bottling Company's way of contributing towards building a greener future for Nigeria. Each year, a deserving Nigerian youth, resident within the country, will be selected and given the privilege of the best quality education at the Harvard Business School.
The scholarship covers tuition, housing, a ticket to the United States to begin the MBA program and a ticket back from the United States at the end of the MBA program.
The Selection Process
Once you gain admission from HBS, submit a copy of your electronic admission letter to the 7Up HBS Scholarship team. All eligible applicants (Nigerian citizens resident in Nigeria who have gained admission to HBS) will be invited for multiple rounds of interviews with SevenUp Bottling Company Executives to determine their fit with SBC's vision for the scholarship.
One scholarship will be awarded annually.
It is important to note that the Harvard Business School MBA application process is separate. Seven-Up only assesses candidates after they have successfully navigated the entire HBS MBA application process on their own.
Send your electronic admission letter to [email protected]
Read more via the official website HERE
Admission to Harvard Business School
Most international students should have already submitted their applications to HBS at this point. Therefore, when you receive your admission letter, you can apply for the 7Up HBS Scholarship. If you have not applied, the final deadline (Round 3) is Monday, April 8, 2013. Click HERE to find out more.
_____________________________________________________________________________________________
Meet Olujimi Williams – 2012 SevenUp HBS Scholarship Winner
Tell us a little about yourself
I am a Nigerian citizen who was raised in Lagos. I have a Masters in Mechanical Engineering with Business from the University of Manchester. After graduation, I joined General Electric and completed a variety of roles within finance, living in a handful of cities. I enjoy reading, travelling and I'm an avid football fan.
Why do you want to study at Harvard
Harvard Business School is one of the most prestigious institutions in the whole world. It remains at the pinnacle of business teaching and provides students with the best quality management development that can be delivered academically.
For me, the relatively large class size at HBS will allow me to learn more from the larger student body by interacting with more people. The case method of teaching will present me with the opportunity to express myself in a dynamic and vibrant atmosphere.
I think the real beauty of the case method lies in the fact that you get a chance to bring your knowledge and experiences to the table and share these with your fellow students, thereby teaching them a few things in the classroom as well.
Take us briefly though the Harvard application process. What were some of the challenges?
It is important to note that the application process is not a sprint. Think of it as a marathon that requires mental preparation! The application requirements are as follows:
Degree transcripts
GMAT/GRE score
Essays
3 letters of recommendation
Current CV
Application fee… $250
Application preparation would involve studying for the GMAT/GRE and taking the exam. There is no set guideline for what score qualifies you to be admitted. However, the average and median scores of admitted students often serve as a rough guide. Some universities/colleges take several weeks to prepare and deliver transcripts to alumni so this item should not be left till the last minute!
Essays tend to be where applicants spend the most time as they feel that is where they have the most control over their application. Essays have a word limit and it is always best to respect this for the sake of the admissions officers reading them. Letters of recommendation can be challenging if your recommenders do not understand what is required. It is important for them to understand the deadlines and meet them.
It is also vital that they take their time to write a detailed, specific and well thought out recommendation. Bland and generic sentences and descriptions will do you no favours. Finally, your CV should be concise and to the point, highlighting relevant education, work experience and extra-curricular/additional information.
How did you find out about the 7Up Harvard Business school scholarship?
I was reading the newspapers last year when I came across a full page ad with a picture of a lady smiling against a 7Up backdrop. That lady is MisanRewane, the first winner of the 7Up Harvard Business School Scholarship in 2011. I did some more research, learnt about the scholarship and decided to apply to HBS.
7Up will be sponsoring your MBA at Harvard for the next 2 years. What does this mean to you?
7Up sponsoring my MBA at Harvard is a fantastic opportunity for me. An MBA at a top school in the United States is a significant financial investment. As 7Up takes on the role of sponsoring the MBA of one talented individual each year, it enables the student to focus wholly on getting that top class education and graduating virtually debt free.
What does the scholarship cover?
The scholarship covers tuition, housing and a ticket to the United States to begin the MBA program and a ticket back from the United States at the end of the MBA program.
Take us briefly through the 7Up scholarship application process
The 7Up scholarship is open to all Nigerians who have been admitted to Harvard Business School's two-year MBA program. When an applicant has been admitted to HBS, he/she emails their admission letter to [email protected] An official form 7Up will then contact you regarding the next steps which include interviews.
Is there any criteria/obligations that SevenUp has placed on you for the scholarship? Do you need to work for SevenUp upon completion?
No, there is not. 7Up offers this amazing scholarship without any pre or post MBA conditions attached.
How can 7up reach more students/how can they identify students who have the highest probability of getting admission that are deserving of the scholarship?
7Up can do this by reaching out to top students at institutions of its choosing. It happens often that at those relatively younger ages, undergraduates are not entirely certain where they would like to be in 4-6 years' time. It helps to have a few older and more experienced minds share an informal session with them to help shape their thought process and let them know what opportunities lie out there. Mentoring sessions will also guide them to take on roles where they can build solid work experience as well as skills that they can take on to an MBA program in the future.
What do you intend to do upon completion of your MBA?
Upon completion, I intend to return to Nigeria and take up a role within the power sector, in line with my pre-MBA background.
What do you have to tell other young Nigerians about this once-in-a-life time opportunity to study at Harvard?
It is an amazing feeling to have won this scholarship! I would encourage you to chase your career dreams and decide whether an HBS MBA will help you get there. If the answer is yes, learn more about the program and focus on building a strong set technical and leadership skills that will serve you well, whether at a business school or not.
Is there anything else you would like to say that has not been covered?
Thank you 7Up!!!! I look forward to meeting a new fellow 7Up scholar annually!