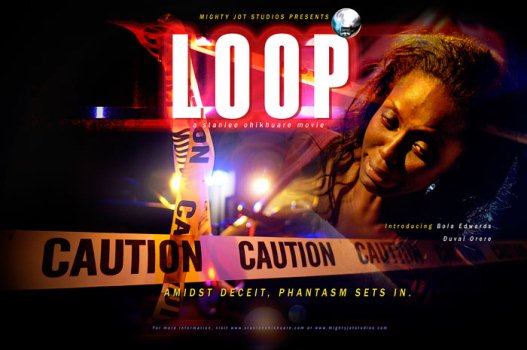 It might take 15 minutes of your time, but it would be a well spent quarter of an hour with "Loop".
Cinematographer and Director Stanlee Ohikhuare premieres his award winning short film tittled "Loop", taking his viewers on a chilling suspense- filled ride.
Synopsis:
LOOP is a story about two twin sisters who scheme a deceptive plot to help one of them "Jenny" to travel out of town for an interview against the wishes of her husband. According to the plan, Julia was supposed to fill in for Jenny — her identical twin sister until her return. However, things take a drastic turn when Tony; Jenny's sex-starved husband comes home drunk that same night, resolved not to accept a "No" when he makes sexual advancements towards his wife Jenny.
Jenny is frigid and does not enjoy sex – a situation that has left her husband Tony sexually deprived and frustrated. Julia just happened to be at the wrong place and at the wrong time and she bears the recompense for her sister's unyielding nature.
What follows is a spasm of hallucinations, fantasy and sordid surrealism which proves deadly and leaves Jenny in a fix as she must now assume her sister's identity.
Stanlee Ohikhuare is also the director of the soon to be released flick 'Tunnel' which stars Femi Jacobs, WAJE, Nse Ikpe-Etim and others. He also directs the animated movie "Lifespan" due for release later this year.
"Loop" was nominated in 5 categories in the 'In-Short Film festival' in 2012, including Best Director and Best Actress. It clinched the award for Best sound.
So grab your popcorn and soda, enjoy your time and tell us what you think!
Watch Loop: