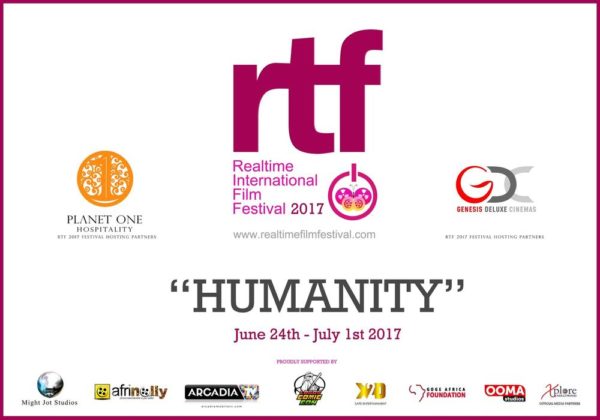 Drum rolls!!! The 2017 Edition of the REAL-TIME Film Festival is finally here. For those of you who don't know, the Real-time International Film Festival is a Festival For Filmmakers, By Filmmakers.
RTF is a technology driven film gathering which supports remote participation – making it a truly global festival that can be attended from any part of the world. They employ the use of current technology to achieve the Real-Time attribute of the Festival, whereby both the participants in Lagos and those from across the world can interact and share ideas and experiences via Tele-Presence, Video Conferencing, Live Streaming and Skype.
During the inaugural edition last year, RTF had over 800 submissions from 80 countries out of which 60 films from 25 countries were screened.
Now, the 2017 edition is here. The Festival Catalogue Theme for 2017 is "HUMANITY" while the Festival Program Theme is "Extensive Production Conversations.
This year, 148 Films (Animations, Short Films, Feature Films, Commercials, Music Videos, Music Films, etc) from over 40 countries were selected for screening, including some movies made by kids. Yes! Not only would movies of Kids (Aged 7 – 15) who are already Filmmakers be screened during the festival but there will also be Film Production Support for Child Filmmakers, courtesy of Goge Africa Foundation & Film Resolve. How Cool! Click here to see full list of selected films.
Amongst other things, this year's edition will also feature several ADVANTAGE SESSIONS (Free) in Cinematography, Writing, Lighting Design, Acting and Directing.
While the festival officially commences on Saturday, the 24th of June, 2017, the opening film – Setback of the Spirit by Sa'ed Arouri would be screened on Sunday, June 25th at Genesis Cinema, Maryland by 5:30pm. This festival would be a great opportunity to network and learn about film-making and technology. Click here for venues and full festival schedule or see overview below:
Film Screening Hours: 43 Hours
Number of Days: 7 days'
Award Categories: 35
Venue:Planet One Entertainment & GENESIS DELUXE
Cinemas Opening Ceremony: Sunday, June 25th, 2017.
Venue: Genesis Deluxe Cinemas, Maryland Mall, Ikeja, Lagos.
Closing Ceremony: Saturday, July 1st, 2017
Venue: Planet One Hospitality, Maryland, Ikeja, Lagos.
Advantage Sessions-
Breaking Bread with Victor Sanchez Aghahowa
Date: Thursday, June 29th, 2017.
Time: 10:10 am – 11:30 am
Producers / Directors' Roundtable – Hosted by Soji Ogunnaike & Yemi Shodimu
Date: Monday, June 26th, 2017.
Time: 10:10am – 11:30am
FILM MARKETING – Powered by Sodas n' Popcorn's Muyiwa Awojide
Date: Tuesday, June 27th, 2017
Time: 10:10am – 11:30am
KOMOTION TECHNOLOGY SESSION featuring Mocap demonstrations – Powered by Kolawole Olarewaju
Date: Wednesday, June 28th, 2017.
Time: 2:00pm – 3:30pm
COMIC CON SESSIONS – Hosted by Ayodele Elegba.
Date: Wednesday, June 28th, 2017.
Time: 6:00pm – 7:30pm
STRIKING A BALANCE – Commercial vs. Artistic Films by Opeyemi Ajayi (V.P, GDC)
Date: Wednesday, June 28th, 2017.
Time: 4:00pm – 4:40pm
THEATRE MEETS FILM – Facilitated by Israel Wekpe
FINE ART MEETS FILM – Okwoju El – Dragg
VEXPO – Somto Ajuluchukwu Friday
Date: Friday, June 30th, 2017.
Time: 11:00am – 12:15pm
OTHER SPEAKERS:
Victor Diali (Talent Equip) – Topic: TEAMWORK
Richard Oboh (Orange VFX) – Topic: INTEGRATION OF FORMATS
Stanlee Ohikhuare (Mighty Jot Studios) – Topic: THE ADVANTAGE OF SYNERGY.
Date: Wednesday, June 28th, 2017.
Time: 12:00pm – 1:00pm
MASTERCLASSES:
DIRECTING – Facilitated by Steve Gukas
ACTING – Facilitated by Taiwo Ajai – Lycet
ADDITIONAL FESTIVAL ACTIVITIES:
AFRINOLLY HUB ESCAPE – Hosted by Chike & Jane Maduegbuna
Date: Saturday, June 24th, 2017. 
Time: 9:00am – 5:00pm
 MEET & GREET COCKTAIL EVENING – Hosted by Patrick Doyle.
Date: Saturday, June 24th, 2017.
Time: 6:00pm – 8:00pmWELCOME TO LAGOS TOUR – Hosted by Eric Aghimien, Kiki Omeili, Wole Ojo,
WELCOME TO LAGOS TOUR – Hosted by Eric Aghimien, Kiki Omeili, Wole Ojo, Sambasa Nzeribe & Kunle Remmy.
Date: Sunday, June 25th, 2017
Time: 11:00am – 2:30pm
FESTIVAL AFTER PARTIES – Hosted by RTF Brand Ambassadors
Date: June 24th – July 1st, 2017
Time: 8:00pm – 11:00pm
FESTIVAL POOL PARTY – Hosted by Judith Audu, Eric Nwanso & the RTF Brand Ambassadors
Date: Monday, June 26th, 2017.
Time: 8:00pm – 10:30pm
GAME BATTLE – Hosted by Ayodele Elegba
Date: Wednesday – June 28th, 2017.
Time: 6:00pm – 7:30pm
COMIC CON COSTUME PARTY – Hosted by Comic Con Team
Date: Wednesday, June 28th, 2017
Time: 6:00pm – 10:30pm
RAP BATTLE / OPEN MIC CHALLENGE & KARAOKE – Hosted by X2D & MMD
Date: Wednesday, June 28th & Thursday June 29th, 2017
Time: 6:00pm – 10:30pm
DJ / DANCE BATTLE & FACE-OFF – Hosted by MMD & X2D
Date: Wednesday, June 28th & Thursday June 29th, 2017
Time: 6:00pm – 10:30pm
 CULTURAL NIGHT – Hosted by Moses & Nneka (GOGE AFRICA)
Date: Friday, June 30th, 2017. 
Time: 7:00pm – 10:30pm
RTF is an Independent, privately funded Film Festival which seeks to promote the Artistry in Filmmaking. Our special emphasis is on Artistic Films. We hope to see you during the festival
——————————————————————————————————-
Sponsored Content