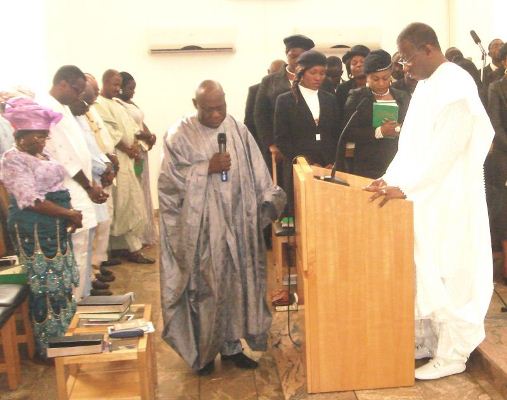 For several months, news about a rift between President Goodluck Jonathan and former President Olusegun Obasanjo have made the news headlines. The two have openly criticized each other's approaches to governance on several grounds, especially the Boko Haram insurgency. However, in a bid to mend fences, they worshipped together yesterday at the Aso Rock Villa Chapel, and thereafter had lunch.
Reuben Abati, special adviser to the President on Media and Publicity tweeted the picture above with the message "Former President Olusegun Obasanjo and President Goodluck Jonathan worshipped together today at the Aso Rock Villa Chapel; also had lunch".
Punch reports that the former President was accompanied to the Villa by two of his daughters, one of his sons identified simply as Juwon, and a businessman, Femi Otedola.
Otedola, Chairman of Zenon Oil & Gas is the one who allegedly offered a $620,000 bribe to Farouk Lawan & Boniface Enemalo who are currently in prison awaiting the hearing of their bail application. According to him, he did it to expose their corrupt activities.
A source in the chapel told Punch that Obasanjo read the second lesson of the service and led a prayer session. At the end of the service, he was also said to have visited the Children's church in company of Jonathan. He also offered prayers for the children. The former President was said to have thereafter followed the President to his official residence where they had a lunch meeting before he departed the Villa.
 ***
Many have criticized the presence of Femi Otedola at the Villa which comes during the ongoing trial of Lawan & Boniface Enemalo saying the Presidency is obviously taking sides with him.
What are your thoughts on the visit? Do you think mending fences between Obasanjo and Jonathan is a good move?