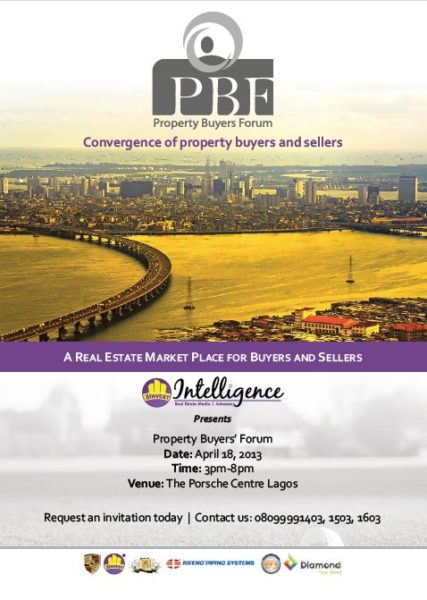 3Invest Limited, one of Nigeria's emerging Real Estate Investment Service Companies, has developed a revolutionary model called REIN (Real Estate Investor Network), a platform that allows its members to close the funding gap in quality real estate transactions by successfully accessing funding and allowing them to diversify their investment portfolio through investing in income producing commercial real estate yielding competitive returns.
The Network will be launched on April 18, 2013 at the Property Buyers' Forum (PBF) organised by 3Invest at the Porsche Centre, Victoria Island, Lagos. PBF is a Real Estate Market place designed to help developers sell investment portfolios through exposure, to high net worth individuals, Medium – high income investors, A-list Nigerian celebrities and Individual or organizations who have expressed an interest in investing in viable real estate transactions.
Speaking about REIN, 3Invest Managing Director, Ruth Obih stated: "Our platform will not only provide a superior networking enterprise, but will allow qualified investors to collectively fill funding gaps in quality real estate transactions. REIN will continue to assess additional ways to expand and broaden sources for funding within our model".
REIN will be launched internationally during the summer when the campaign moves to Europe and America through the International Property Tour (IPT). It will begin in three cities of the United States in May 2013 and move on to major cities in Europe before the end of the year.
About 3Invest Limited
3Invest Limited is an emerging real estate investment company established in 2007 to provide investment brokerage and acquisition services to registered clients and funds looking to invest in Nigeria's most coveted real estate and infrastructure industry.
Contact: For enquiries Call 08099991403-1803 | Email: [email protected] | Website: www.3investonline.com
________________________________________________________________________________________
BellaNaija.com is an official media sponsor of the Property Buyers Forum