Good afternoon BellaNaijarians! We hope your Wednesday is going great. It's time for another edition of BN Bargains, the slot where we keep you updated on all the most affordable bargains and freebies taking place this week.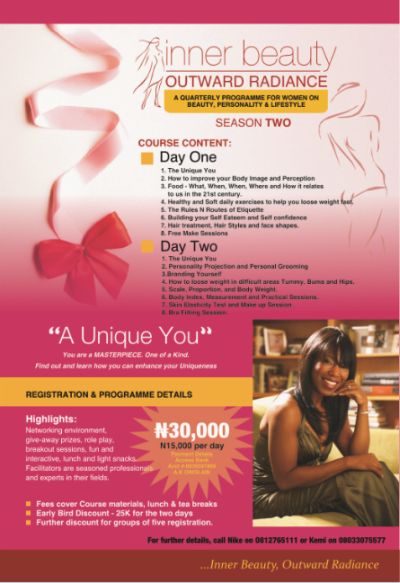 Get a 5% Discount off the N30,000 Registration Fee for Inner Beauty Outward Radiance (IBOR)
IBOR is a quaterly program that was hatched out of a calling and a passion to help women of every age, profession and race strike a well-needed balance between their inner and outward beauty. The program assists and helps individuals to achieve and maintain their desired image and gain confidence in how they look and feel. People are also educated on general fashion apparel and accessories and updated on current information about the woman and being.
IBOR is offering BN Readers a 5% discount on the N30,000 registration fee. To take advantage of this, present the code 'BN Inner Beauty' and get your discount.
IBOR would take place on Friday 22nd – Saturday 23rd March 2013 at the Best Western Hotel, Allen Avenue, Ikeja, Lagos.
To register, please call Nike on 08127665111 or send an email to [email protected] ________________________________________________________________________________________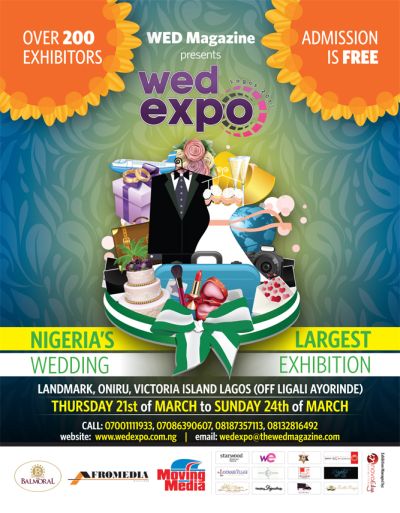 Get a stand at the WED Expo 2013 for N 100, 000 (4 Days)
The 2013 edition of Nigeria's largest wedding exhibition, WED Expo will take place from Thursday 21st March 2013 to Sunday 24th March 2013. Have you been wondering how you can participate?
The organizers, WED Magazine team is giving you the opportunity to get a stand for N 100,000 for 4 days.
To book your booth today, call 07001111933 | 07080220810 | 08132816492
__________________________________________________________________________________________
Sponsored Content
Will you like to have bargain to be featured on BN Bargains? Email us via adsales (at) bellanaija (dot) com