Happy International Women Day to all the beautiful powerful women out there that have conquered all to be where they are today. Especially strong women like my mother, who has done so much for me to be where I am today.
So sans my six packs and my inability to move like Iyanya I can still say 'all my ladies' without feeling bad as this post was inspired by you.
My editor told me about today and it didn't take too long to figure it out. I wanted to showcase "cheffness" with something my mum would make as the background to the dish all at the same time quick and easy to make. A quick to Goodies and I knew just what to do:
Grilled Goat Chops Rocket Tomato Salad Chipotle Mayo
I drew inspiration from my mum making some good good goat meat jollof rice with all the dodo and fried stew sitting in a corner of the plate and at Goodies they do very once goat chops so I picked them up without batting an eyelid.
To spice them again I asked myself "W.W.M.D ?" some seasoning cube went in and of course it was Knorr (original), some of my own seasoning mix, some dried chilli and garlic with some olive oil. It sat overnight for maximum flavour but honestly if you don't have time 1-2 hours is good enough.
My newly acquired cast iron grill pan made its way to the seated on top of the flames. The chops hit the lines and sear sounds were like Adele performing with a live orchestra to my ears. Each side got about 3 minutes on each side before I transferred them to lower heat to cook till it was just pink in the centre and allowing it to rest and finish cooking in the residual heat.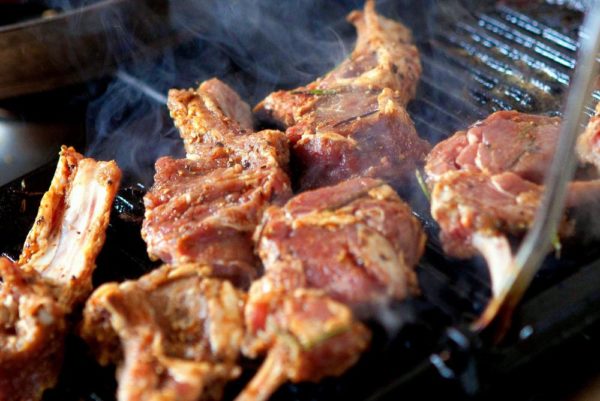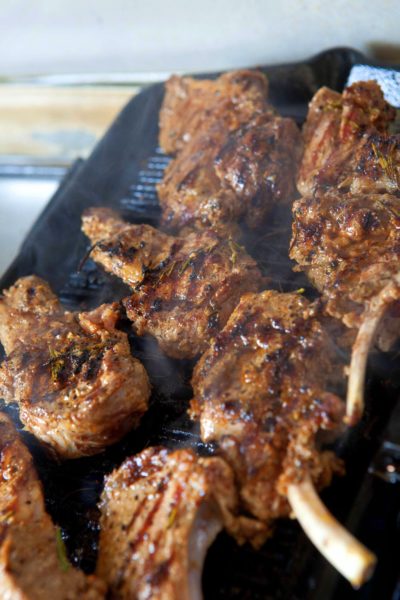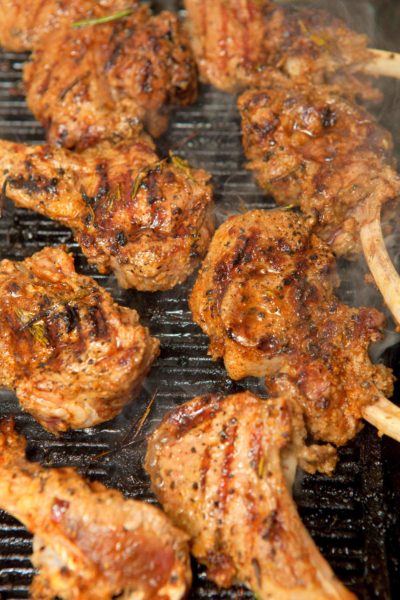 The Salad – This was very simple. Rocket is probably my favourite salad leaf such great flavour for a green leaf! Some chunks of tomatoes went in because life is too short not have some juicy fruit on your plate.
The Chipotle Mayo
In my usual romantic strolls down the sauce and condiment aisle of Goodies Ikeja, I always hope to find something new that can make its way back to my house and be used for culinary greatness. One of these days I was extra lucky because I found Chipotle Peppers in Adobo Sauce! I felt like God made a way! I grabbed one can just to try and certify that the brand was a good one. And trust me it was good. I threw in what eventually felt like "almost" too much chipotle into a few tablespoons of Mayonnaise I think I underestimated its heat levels and overrated my spice handling palate but still two ingredients gave one hell of a sauce!
Like I said a few tablespoons of mayo with one chipotle pepper my handle blender stepped in to make all things smooth and beautiful and voila the dip was ready.
After Demilade Olubanwo shot this the chops lasted seconds on the plate as some hungry people (who I can't mention for reasons like choosing life over death) devoured the chops and an empty plate stood in my face.
This could also go into the oven or braise in a red bell pepper sauce if you don't like "pink meat". I think this fast, easy and delicious to please your friends and family. With that being said, a big God bless to all the women out there. Remain strong, remain a wonder in your respective kitchens.
Before I go… I mentioned about Chef Fregz Special coming up soon but the date has changed to the 24th not the 23rd so  kindly rearrange your calendars et al. Headlining the menu is "THE FREGZINATOR" – A double beef burger that's through the roof! I'll release the post for that soon on here and on my site www.cheffregz.com. It takes place at THE GET Arena in Oniru and starts at Noon.
Thank you for supporting and hope to see you there its the BIG 10!
Truffle Butter Love…
Ciao!
_____________________________________________________________________________________________
Chef Fregz loves to cook! He is a graduate of Le Cordon Bleu Paris Culinary Arts School in France and hosts monthly "Chef Fregz Specials" where he whips up a yummy menu with a different theme each time then everyone enjoys a taste.He also caters special events and private dinners. To find out more, visit www.cheffregz.com.