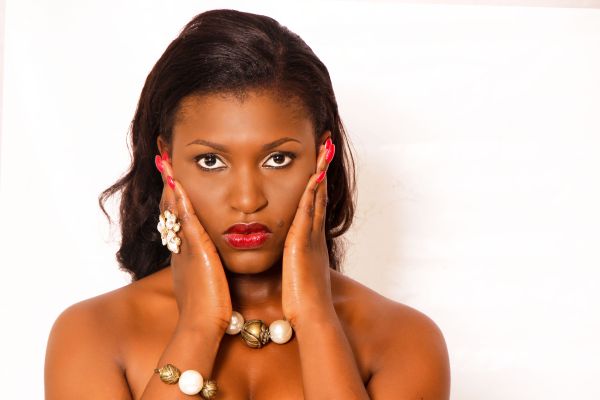 She started off as a model, participated in a few beauty pageants winning the crown once, but now Ufuoma Ejenobor is one of Nollywood's star actresses. The graduate of French and Masters Degree holder in Public & International Affairs was nominated in the Best Actress category at the Monte Carlo Television Festival in 2010 among several awards and recognitions. She has featured in several movies and TV productions including 'Private Storm', 'Super Story', 'Hot Island' and more.
After getting married in 2010, Ufuoma had her baby in October 2012 and the first official photos of her family were about the cutest photos I've ever seen. Her seven-day old son looked so adorable and her joy as a mother was very evident in those pictures. A few weeks ago, I noticed she was gradually coming out of her "maternity leave", making an appearance at the Africa Magic Viewers' Choice Awards and a couple of other social events so I thought it was time to have a chat with the new Mum. She was happy and radiant when we met and it was easily reflected in her words.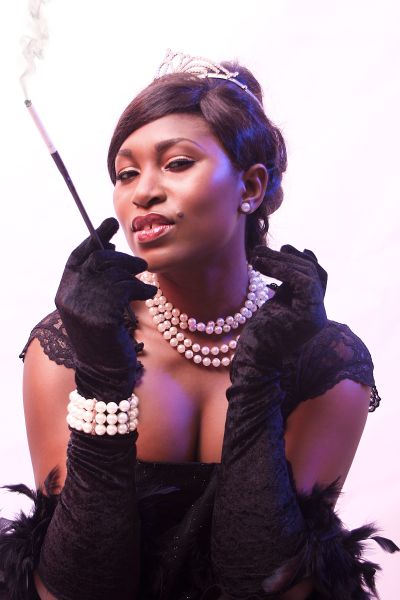 Hi Ufuoma, it's really great to see you. Are you back to work already?
I shot one movie already this year and I've got two scripts in the works so yes, I'm fully back to work. I'm back in shape, my baby's got all the love around him so I've got to go back to work.
How is he doing now?
He is fantastic. Every day he just gets cuter and cuter and it melts my heart.
Building her Career
Aww, that's so sweet. We'd talk more about him soon but let's talk about your career now. Your profile reads that you did some modeling and participated in beauty pageants before acting.
I started modeling before I got into University and I continued all the while I was in the University. I started out with photography modeling, then I delved into runway modeling, ushering, and then pageantry came along. I did Miss Commonwealth in 2002 and the same year I did Queen Afrique and Queen of All Nations where I was first runner up. Then I did Miss Nigeria in 2004 where I was again first runner up. And then I did Miss Earth Nigeria which I won and I went to represent the country at Miss Earth International in the Philippines.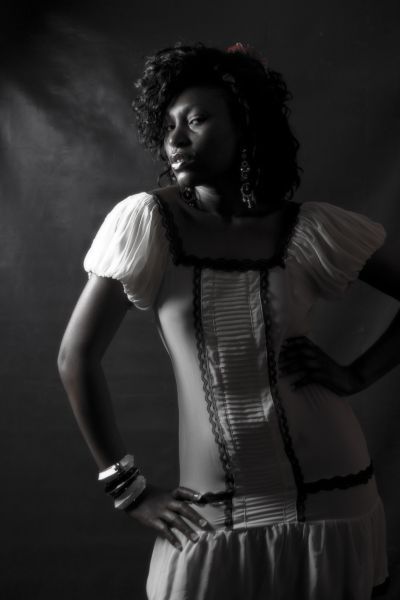 With such an impressive growth in the pageants, why didn't you continue in professional modeling?
Modeling wasn't a career path for me. I never saw myself modeling as a career. Also, there is so much more coordination needed in the modeling sector. It needs to be put together for anyone to appreciate it as a life career.
Since leaving modeling for acting, how have you come to appreciate it and the movie industry in general?
I've come to understand that the movie industry is made up of a group of people who have determined in their hearts that film making in Nigeria would not die; not because they have all the support that they should get but because deep down in their hearts they have a love for the arts. I say kudos to every film maker in this country.
You went ahead for a Masters Degree even after you started your acting career. How were you able to combine your studies with your work schedules and why didn't you study something related to your profession?
I had finished my first degree and I knew that if I hadn't done my Masters program the time I did it, I probably wouldn't have. I needed to just kill time and do it then. At the time I did my Masters program, I was working with people that were very understanding and somehow I was able to balance going to school with working. It wasn't until 2011 that I got my first Certificate in Acting from the New York Film Academy and another one in Film Making from the Hollywood Film Institute. I thought it wasn't any good doing something without having training in it. It doesn't matter how good you think you are, there are new tricks you can learn.
Have you made any movies since then?
No, but I'm shooting a TV Magazine program which I call 'Mummy Daycare'. It's a health advocacy program reaching out to mothers, mothers-to-be and pregnant women on certain things about their health at that stage of their lives. When I had my son, there were so many things that were new to me and whenever I panicked, my Mum would have a good laugh. There were a couple of times we went to the hospital and spent money that we shouldn't spend because we thought some things were problems. I want to put information out there for mothers and mothers-to-be, so that people can learn one or two things; the things that are almost usual that every new Mom panics about.
Awards & Recognition
In 2010, you got a nomination at the Monte Carlo TV Festival Golden Nymph Awards. How did that feel?
God bless Royal Roots. When I started filming 'My Mum & I', I did not in my wildest dreams think that it was a TV program that was going to get me to the international world. When I saw other names like Tina Fey and Alec Baldwin nominated, I honestly felt honoured. Walking the red carpet with Roger Moore, Taye Diggs, Ice T, LL Cool J wow, it was awesome!
Back home, you don't seem to have gotten that sort of recognition for your works. How does this make you feel?
The truth is with acting, you are only as good as your last job. There is no accumulation of jobs, it is about the now. We've got talents in this country, wonderful actresses and actors in thier hundreds. So it's almost like being lost in a crowd of talents. I don't see it as a bad thing. There are just so many people to celebrate in Nigeria. That recognition was for TV achievements. We might not replicate the same here because there are not too many awards that celebrate TV achievements but coming to movies, there are so many people to celebrate.
Sometime ago, you were reported to have been assaulted by Policemen attached to the convoy of a certain politician while you were driving in Lagos. Many people interpreted that incident in different ways. What was the eventual outcome of that situation?
I am legally not allowed to go over it. But whatever it is we see, we form an opinion of and as adults we must let everybody form their opinion. Whatever it is that people feel, its their opinion and they have every right to feel the way they do.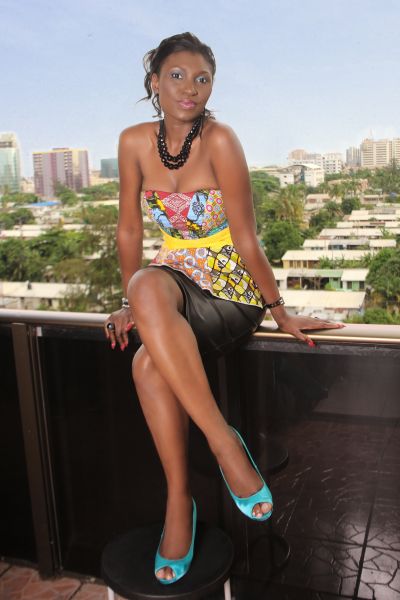 Marriage & Family
You got married in 2010 on your birthday. Was this your decision?
The actual wedding was on the 10th but all the celebration was on the 23rd. When my husband proposed, he actually said he wanted to get married around my birthday. I think I took it literarily. Somehow we were just lucky because the Church would give you the dates that are available so we were lucky to have that date available.
Can you recall the proposal? How did your husband propose to you?
It was in Cape Town. I don't know if he planned to propose and that's why we went to South Africa or he just thought about it while we were there but it was so beautiful. He had just finished filming a commercial and he said we had to talk. He is not really the talking type so I knew it had to be something serious. I can't remember his exact words but he said something like he wanted us to spend the rest of our lives together and I thought it was romantic. I said yes.
Your eyes really lit up when you said that. How did you meet him?
We have a mutual friend; they both work as advertisers. I met his friend while I was filming 'Everything It Takes' for Wale Adenuga. There was a particular day we went out for drinks and my husband who was his friend was with them. We hung out, became friends, started spending time with each other and started to feel very comfortable with each other.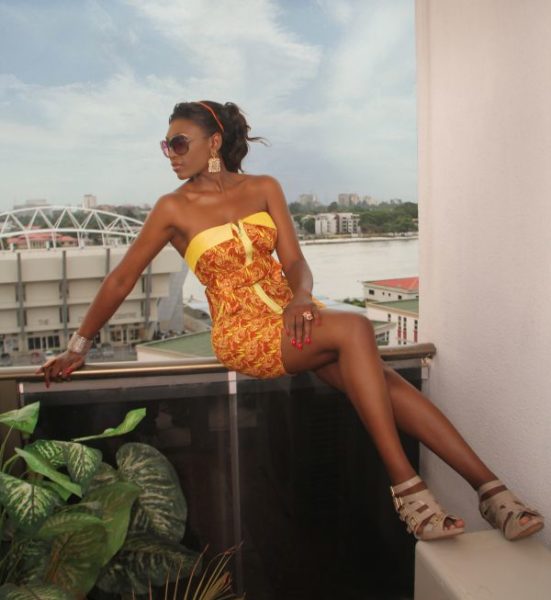 Was it ever your childhood dream or teenage fantasy to get married to an European?
I might be wrong but I don't know if anybody sets out to marry a foreigner. Almost every girl read the Mills & Boons where your man had to be tall, dark and handsome. I was a regular girl, dreaming the regular dream of what my dream man should be. But God has a way of putting your life in the way that He has ordained it to be and I think that's what happened to me. My husband and I weren't in a position where our paths were crossing very often so chances of me meeting him and being his friend were very slim. It wasn't anything planned, it just happened and I'm glad it did because my husband is a wonderful person. He has a good heart and that is the most important thing for me.
How have you both been able to adjust to the demands of each other's cultures?
I must say that there was a bit of culture shock. The first time I spoke to his Mum on the phone, I said "Hello Ma" and she said "No don't call me that, call me Jean". I had to say to her "Sorry Ma, you might not like this but your name right now is Mummy". And then my husband's niece and nephew call him Steven and I look at them like, "are you serious?". They are just kids! When he was going to meet my parents as well, he asked "what is your mother's name" I said "her name is Mummy", and he asked "what is your father's name" I said "his name is Daddy". He has been in Nigeria for over 10 years but there are still some things he is trying to adjust to. I cannot honestly tell you that we've broken down every barrier of culture shock, but somehow we've tried to find our own meeting point to make sure that everything is balanced out.
Has there been any time when you felt surprised at his acceptance of your culture or otherwise?
I was surprised that my husband wanted our kids to have Nigerian native names. It was so bad that he didn't even want to give our son a middle name. He said Isio McDermott was fine. He said "what do people do with middle names? It's a waste of name". But I insisted and we had to call his Mum to give an English name and she gave him Jared. That is the only reason why he has a middle name.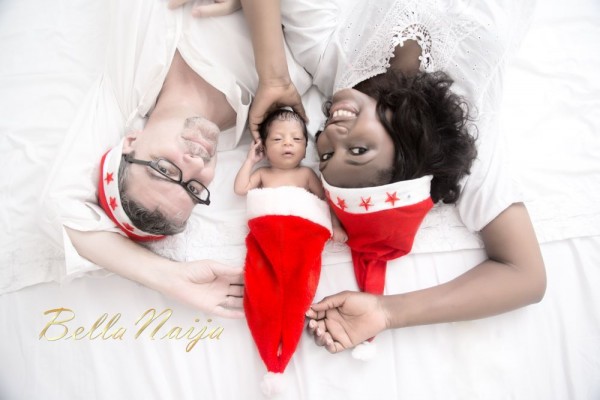 A lot of people were surprised that you had your baby here in Lagos and not abroad.
My husband is a local boy oh! I went to America just before I had my baby and I asked him if we could just have the baby there and he asked "Why?" and honestly, I couldn't answer that. When I said the health care could be better, he said "don't kid yourself". His argument was that "we live in Lagos, why do you want to give birth somewhere else?" My husband is just that kind of person. You need to give him a reason out of this world for him to do certain things.
Was there any particular reason why you had your first child two years after getting married?
There was a project that we were going to work on and it just kept stalling. At some point we decided that we couldn't keep our family on hold for too long and if it wasn't happening, we had to get on with our lives. We were kinda wishing that we had started having kids earlier but God has his plans for everything and when the right time came, Isio came.
Now back to your cute son, Isio. What was the experience like for you both as parents around the time you gave birth? How did you feel during those first few days of his birth?
We were just so excited at having him. When he was born, my husband would come to the hospital, take his son and lie on the bed with him on his chest and they will just sleep off. I think he even took paternity leave from work because I couldn't understand why he wouldn't sleep at home but will come to the hospital to sleep with the baby. He's been a blessing, joy, laughter, fun, he has just warmed our hearts. He is the most adorable thing and we love him to bits.
Those family photos you released were so so cute. Especially the one where you put him in a Christmas hat!
He was so tiny at birth, he weighed 2kg so even if we had gotten a kiddy Christmas hat, we couldn't fit it on his head. So we thought if he can't wear the cap, let the cap wear him (laughs).
What was the inspiration behind the photo shoot?
He was seven days old and even though I was still weak at that time, we just wanted to capture that moment. I'm sure when Isio is older and he sees those pictures, he would have a good laugh. We had fun doing it and we are looking forward to doing the next set when he starts crawling or when he can walk.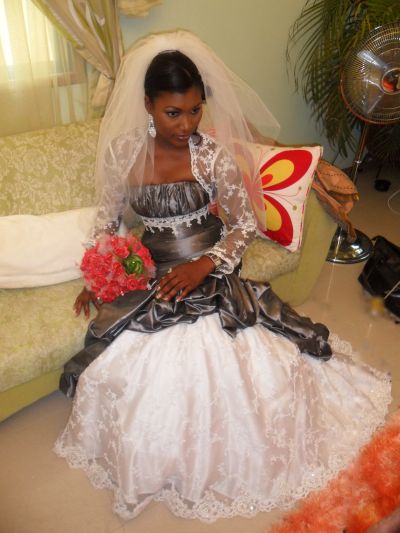 I saw a few of your wedding pictures online and I noticed you didn't wear the usual "white" wedding gown.
I'm a rebel (laughs). I never dreamt of wearing a white wedding gown.
Why not?
Because everybody wears white! Everybody has their unique picture of what they want their wedding dress to be like. I've been obsessed with "The King & I" and there was this lovely dress Mrs Anna wore, it was gold and green and I thought that was the most beautiful dress I've ever seen. My dress was made by Frank Osodi. He didn't think the mix of gold and green would go well so he asked me to choose any colour and he would mix it with white. Because I wanted to run away from white, I thought of a colour that would contrast with white so we came up with metallic silver.
When you look back at your wedding day and think of your wedding gown, how do you feel?
Every time I look into my wardrobe and I see that dress, I say a word of prayer for him. When I wore that dress, as far as I was concerned, I was a princess. I felt really good, I look at my album and I smile. I had the wedding of my dreams and I would not change it for anything.
It was great chatting with Ufuoma and from BellaNaija.com, we wish her the very best!
Ufuoma Ejenobor in 'My Mum & I'

Ufuoma Ejenobor in 'Edge of Paradise'