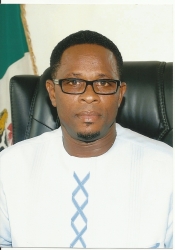 The Deputy Governor of Imo State Jude Agbaso has been impeached from office after a prolonged battle over the allegation that he demanded for and collected bribes.
Twenty five out of twenty six members of the Imo State House of Assembly voted in favour of the impeachment, Channels TV reports.
His impeachment comes just hours after the High Court dismissed the suit he filed, asking it to stop his impeachment by the state Assembly. He also asked the court to restrain the Nigerian Police from harassing him or acting upon the recommendations of the House of Assembly against him. His case was however thrown out of court earlier today for "lack of merit"
Agbaso allegedly demanded and collected the sum of N417 Million from a construction firm handling the reconstruction of Sam Mbakwe Road, Owerri. He however denied the allegation.
Following his impeachment, the Chief of Staff to the Governor of Imo State, Eze Madumere, has been cleared by the state House of Assembly to replace him as Deputy Governor.