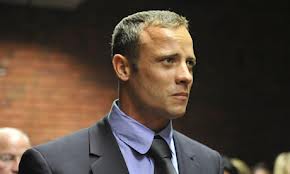 After challenging his bail terms in court, South African athlete Oscar Pistorius who shot his girlfriend dead has been granted permission to travel abroad.
The Olympic and Paralympic star would now be allowed to leave South Africa to compete as long as he complies with certain conditions and can also return to his home in Pretoria, where his girlfriend Reeva Steenkamp was shot and killed.
BBC reports that Pistorius also sought an end to supervision by a probation officer and compulsory drug and alcohol testing but the state opposed the application.
On February 22nd, Magistrate Desmond Nair set his bail at 1Million rand (£73,000), and Pistorius was ordered not to return to Silver Woods estate, where the shooting took place. He was also ordered to hand over his two South African passports, abstain from drinking alcohol and report to a police station twice a week.
BBC however reports that the terms were relaxed by Judge Bert Bam, who described the decision not to grant Pistorius permission to travel as "wrong".
In his defence, Pistorius's lawyer Barry Roux told the BBC that the bail conditions amounted to "house arrest".
"It is not as if the appellant is travelling for holiday in Mauritius; it's only to gain an income, there's no other reason," he was quoted as saying.