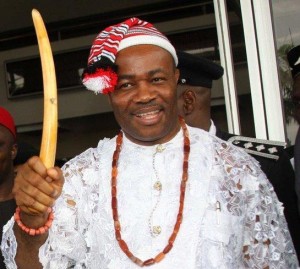 Just while there is a widespread outrage over the donation of a Toyota Prado SUV and 20 plane tickets to Annie Idibia at her traditional wedding recently, Governor Godswill Akpabio of Akwa-Ibom state is in the news again for another donation.
He was caught on the Channels TV camera on Sunday offering N1 Million each to the six state Chairmen of the Peoples's Democratic Party (PDP) from the South-South geopolitical zone who had converged in Port Harcourt for a party reconciliation session.
Before he announced the cash gift, the Delta State Governor, Emmanuel Uduaghan, made a comment that some action needed to be taken to reduce the hardship faced by party members.
"If you want to prevent our members from straying to other parties, you must put food in the stomach of our supporters," he said.
This was then followed by the announcement of the cash gift by Akpabio who said the N1 Million each to the party chairmen at the venue as lunch money was a way of placating them not to leave the party.
"My brother Governor, Uduaghan, said our members are hungry and that we must put food in their stomach so that they don't stray to other parties. I am giving all the state chairmen of the party N1 million each for Mr Biggs. Our members must not be hungry."
Watch the announcement of the cash gift in the video below: