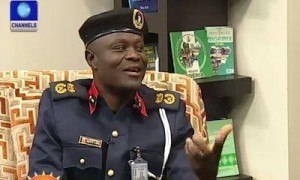 Officials of the Nigeria Security and Civil Defense Corps (NSCDC) who have previously been silent over the "My Oga At the Top" saga involving the Lagos State Commandant Obafaiye Shem have finally broken their silence.
They have defended him saying he committed no crime that deserves a punishment. One of the NSCDC officials at the Abuja Headquarters told Leadership that the choice to spread the weakness was connected to the commandant's resolve to take legal measures against those who defraud the government through oil theft.
"Do not be surprised that even the so-called chief executives of some agencies until now, did not know their websites. I am not saying that this is an excuse but I am saying that his personality should not have been dragged into the mud.
As you may be aware, until his resumption of duty in Lagos, the crime against Nigeria's economy was swept under the carpet. But how can this hero who means business in fighting oil theft, be paid this way? Those vandals should stop crying wolf over nothing."
Also, contrary to the Vanguard report that he was suspended which was earlier quoted by BN, he has said he wasn't, but is only on leave to bury his late father. He also claimed his wife never visited Channels TV Studio. "I am still the State Commandant of NSCDC and I am determined to work hard to expose the vandals across the State," he said.
Now that we know no disciplinary action has been taken against him yet, is this appropriate? Do you think he deserves some disciplinary action?