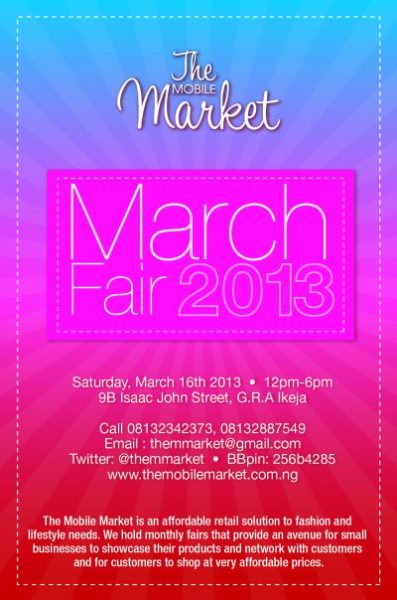 The Mobile Market, an affordable retail solution to fashion and lifestyle needs would be hosting its March Sale this month. The monthly fair provides an avenue for small businesses to showcase their products and network with customers and for customers to shop at affordable prices.
The Mobile Market has just launched their new website and one of the wonderful things about it is that vendors can be listed on the Vendor Listings page on their website. The listed vendors have their business info and contact details on the website which makes it easy for customers to contact them.
The Mobile Market is giving vendors who book stands for their upcoming March Fair the chance to win free listing on their website for a month. All they need to do is email, call or add on BBM.
Shopping vouchers would be given to some lucky shoppers on the day of the fair!
Date: Saturday March 16th 2013 Time: 12PM – 6PM Venue: 9b Isaac John Street, GRA Ikeja! From 12pm-6pm. Contact: For more details about The Mobile Market, to benefit from their services or to be a part of their fairs, Visit www.themobilemarket.com.ng | Call 08132342373 or 08132887549 | Email [email protected] | Follow on Twitter @themmarket | BB PIN 256B4285 __________________________________________________________________________________________________ Sponsored Content