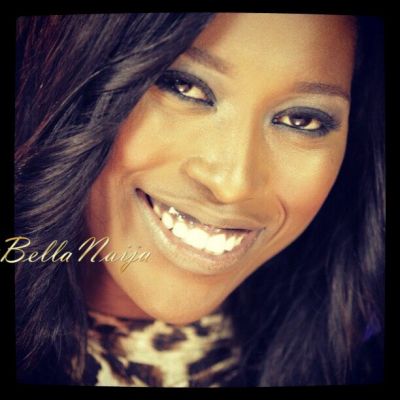 Vimbai Mutinhiri is a model, presenter and actress who burst onto the African stage as a housemate in Big Brother Amplified. Born in her home country Zimbabwe, she started her career as an actress at the age of 15 when she starred in a short film for the Zimbabwe International Film Festival titled "Who's In Charge". She went on to play a lead role in Zimbabwe's first soapie, Studio 263 and did some modeling while she was studying at the University of Cape Town, South Africa. In 2011, she took part in Big Brother Amplified which opened doors to bigger platforms. Now 26, she co-hosts Africa Magic Entertainment's daily entertainment and lifestyle news program, StarGist. During her latest trip to Nigeria, BellaNaija's Adeola Adeyemo caught up with her for an interesting chat on her career, her Big Brother experience and more.
Although this is not her first time in Nigeria, Vimbai is here for probably one of the biggest breaks in her career. She will be co-hosting the maiden edition of the Africa Magic Viewers' Choice Awards with IK Osakioduwa in Lagos later this evening and just like most Africans, she is very excited about the awards and the opportunity to be a co-host.
I know this is not your first visit to Nigeria but this time around you're here for something big. How do you feel at this point in time?
It's a bit exciting because it's our first African Film & TV Awards of this magnitude so to be chosen to co-host is really an honour. It's also a great honour to work with IK who is so well established and has a great reputation in the industry.
Why do you think you were chosen to co-host the awards?
I think I need to give the first testimony to hard work. Since I started hosting TV shows, I've been committed and I've worked really hard. I really do put a lot of work into it so I just like to believe that God saw my effort and thought that it was time to reward me and I'm really grateful for that.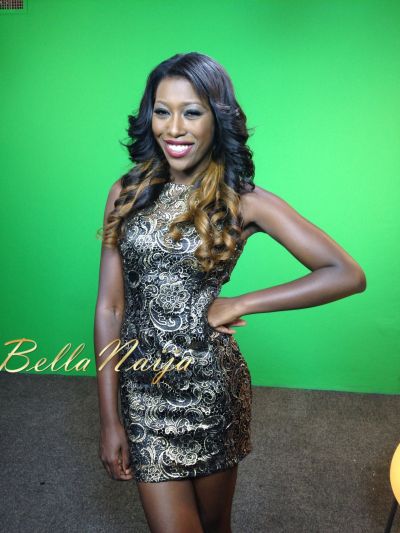 How Big Brother Amplified Changed Her Life
Let's talk about your journey to fame. What were you doing before you got into the Big Brother Amplified House?
My journey started when I was 15. I was involved in a short film in Zimbabwe. They needed a young girl to play the role of a young maid and when I auditioned for it, they thought I was good for the role. From there I became involved with Zimbabwe's biggest soapie called Studio 263. That is really where my journey with entertainment began.
Do recall your time in the Big Brother Amplified House and tell me about your experience.
It was one of the most difficult experiences I've ever been through. It teaches you the power of the mind because I think we're often reckless with our mind and with our mouth in our everyday life. But when you are in that house where everything you say or do is being monitored, it teaches you so much discipline but also a lot of respect. Sometimes we say things, even under our breath, but we don't realize how powerful the words are. It taught me a lot about myself as well, my strengths and my weaknesses but it also gave me more drive and inspired me.
While you were in the House, your character was tagged as snobbish and arrogant by some viewers. Why do you think you were perceived this way?
As viewers, it's impossible for you to see me from the moment I wake up till when I go to sleep so remember that there were certain moments that were captured and maybe they were moments that will be misunderstood. The other thing about my personality is I'm often very reserved until I feel free and comfortable so in my own way I'm a very shy person. In BBA Amplified, it was loud and crazy and sometimes when you're not being loud and crazy, you can be misunderstood for being snobbish when to be honest you're just feeling insecure at the time. It's also difficult to voice out your insecurity because the moment your housemates know that, they will use it against you. But I never thought of myself as better than anyone else in the house, I simply expressed a lot of my frustrations and I can understand how that could have come across as snobbish or arrogant. But I never intended to hurt anyone.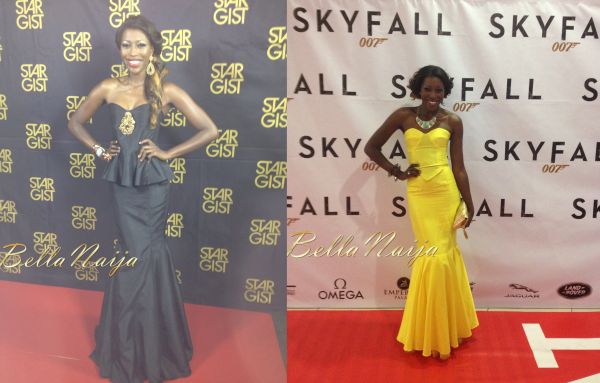 You're in Nigeria now and someone whom you had a lot of friction with in the House was the Nigerian representative, Karen Igho. You seemed to rub off on each other in the wrong way. Why was this so?
Karen has got a very strong personality and in my own way, I do as well. We didn't have the time to understand each other and it was completely the wrong environment to understand people because as much as you want to love someone, you're also thinking "oh, we're competing for the money". We were stuck in the house for so many days and at some point you're bound to argue. I could have argued with anyone but I think I was at my peak of frustration and unfortunately that person was Karen at the time.
How has the relationship between both of you been since you left the house?
I actually get along with her outside the house. I understand her and I can take time out and see where she is coming from. I've also learnt a lot from her. She's a go-getter and I like that fact about her. I've taken the positive and I'm just gonna appreciate the positive about her.
Last year, there were rumours that Karen refused to participate in a photo shoot with you and you released a statement concerning that. What really happened then?
This time last year, there was a designer in Abuja, 'Miss Dee' who wanted me to be on the cover of her magazine with Karen and the rumour was that Karen had refused to share a cover with me. She apparently had said that she couldn't work on the same set with me and because of that we didn't do the shoot. It blew out of proportion but when I spoke to her, she said she never said that but she just hadn't been available for the shoot. I guess there must have been a communication breakdown somewhere. Someone must have been malicious and tried to stir something up but it wasn't really a big deal.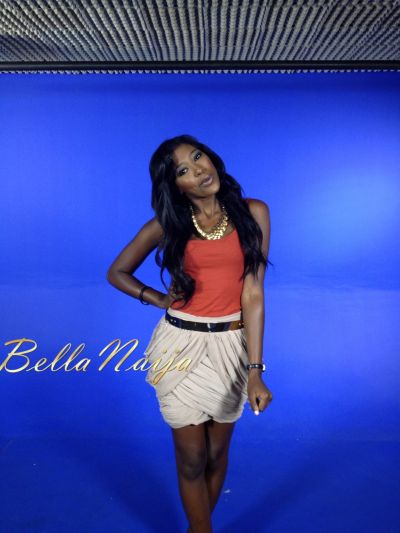 Participating in Big Brother Amplified must have opened doors to bigger deals for you. Tell me about some of them.
Just after I came out of the house, I was presented with so many options but I couldn't choose any one. I came out of the house in August and it took me till December to say to myself "OK, get serious and make a decision". I was in Zimbabwe then but in January, I moved to Johannesburg and I guess I was chosen by destiny because I happened to bump into the people who were doing auditions for StarGist. I went for the auditions and got the job.
I hear you've also gotten back into acting, and this time in Nollywood.
Yes, I have had time to shoot a movie by Chioma Opara. It's got Denrele Edun and also Barbz and Luclay who were in Big Brother.
Where was the movie shot and what was your experience like on the movie set?
It was shot in Lagos and South Africa but all my scenes were in South Africa. It was more difficult than I thought it would be because I kept wanting to present all my lines but I couldn't because my character was a shy and quiet girl. It was a bit difficult getting into the character but once we got into the flow it was fun.

Growing Up, African Entertainment, StarGist & More!
Tell me more about yourself, your growing up and educational background.
I was born in Zimbabwe but when I was two years old, my family moved to Yugoslavia in East Europe. Because it's not an English speaking country, at some point I had to go to the UK to start High School and later, my parents got tired and left Yugoslavia to move back to Zimbabwe. This was when I was 14 so my parents took me out of High School in the UK and we all went back to Zimbabwe. I later studied Politics, Philosophy and Economics at the University of Cape Town.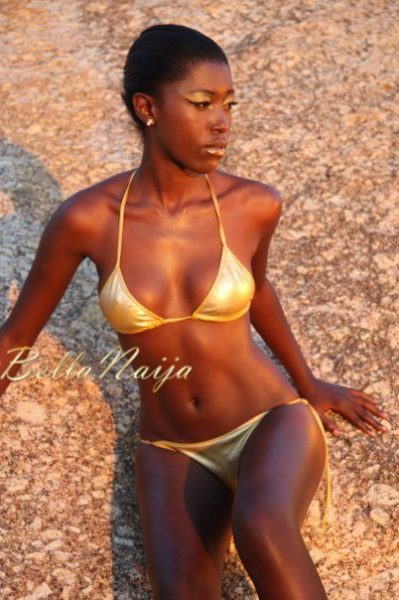 African entertainment has experienced tremendous growth over the past decade. In relation to your country, what is the Zimbabwean entertainment scene like now?
Zimbabwe has gone through a lot of economic difficulties over the past few years so entertainment stopped being a priority because a lot of people were focusing on bread and butter issues. It's only recently that there is new life being injected back into the industry. We haven't made movies in a long time but people are now going back into movie production. The music industry is booming, there are a lot of great artistes now coming out. It's still a journey. I guess it's up to people like me to give them some exposure so that the rest of the continent can listen to our music. It's still a very young industry and its developing.
On a wider scale, what are your thoughts on African entertainment?
African entertainment is not only the present but it's the future after the future. I'm so grateful to be part of a generation that has embraced our identity in the way that we have. Africans are taking over. We are getting there and I'm glad we are getting there by being ourselves. We are not imitating anything, it's just pure and authentic.
Tell me about your TV Show StarGist.
StarGist is a daily entertainment news show. We dish on celebrity news, the hottest events on the continent, celebrity profiles and we also profile some prominent businesses on the continent. It's really about the glamour and the excitement that is happening on the continent on a daily basis. I co-host with Lawrence.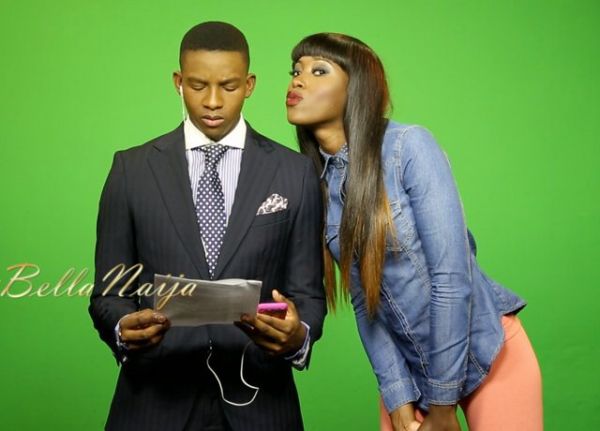 I'm sure there is more to you than TV presenting, acting and modeling. What are your hobbies?
My hobby is music. I'm learning how to play the guitar now. Maybe one day when I'm married and pregnant I would get serious in the studio but one thing a lot of people don't know about me is that I love to sing.

On a lighter note now, is Vimbai dating anyone presently?
Not at the moment. I usually get absorbed in whatever I'm doing and I just needed to give myself time to get good at it. StarGist was new to me and it deserved 110% of my commitment. Now I'm kinda settling in so maybe I'll start dating. Maybe I"ll meet someone in Nigeria.
Just what I was thinking. You've lived and studied in different countries and you're familiar with different cultures. Do you see yourself settling down with a Nigerian?
I do. Nigerian men are traditional African men but they are very exposed to the world and I like that. It's a good mix.
What is the most important advice you've ever been given?
To know honour, you must know humility, to know success, you must know failure, and to know blessing you must know poverty.

Those are strong words. Who told you this?
Pastor T.B Joshua.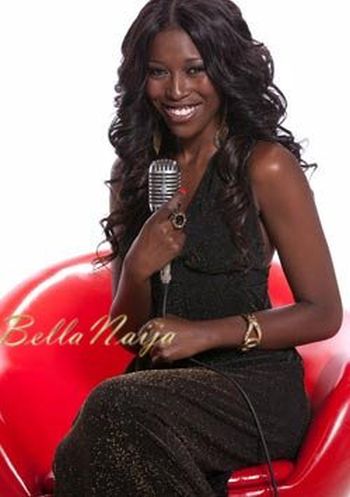 How did you meet him?
I met T.B Joshua at a time in my life when there was nothing happening for me and he gave me life changing advice. He's been a mentor, he's always been there for me, he's always available to pray for me, to listen to me. Sometimes there are some issues that are difficult for us to share with our parents but he's always been there to listen. He's been there for my entire family in time of need. He's a practical and genuine person and he's never led me astray.

Was this in Zimbabwe or Nigeria?
Here in Lagos, Nigeria. I had a crisis, I was going through a lot and my Mum was watching Emmanuel TV in Zimbabwe and said to me "you know what, you've got nothing to lose, why don't you just go to this place". So I applied online and I came to Lagos. I was in the Church for one week and it was a week that changed my life. In fact this happened a month before I went into the Big Brother House.
How do you keep in touch with someone who has touched your life this way?
He doesn't have a branch in South Africa so I'm a member of Redeemed Christian Church of God there and then when I have the opportunity to travel to Lagos, I'd come or I'd just watch Emmanuel TV at home.
Lots of Africans are looking forward to the first edition of the Africa Magic Viewers' Choice Awards. What is it going to be like?
It's going to be a fresh show with a difference. This is the first time this Award is happening so we need to set the standard very high. There are going to be some exciting surprises so I'd ask people to tune in at the beginning of the show and we've prepared something interesting for everyone at home which has a touch of humour. It's gonna be glamorous.
And what should we be expecting from you as the co-host of the Awards?
I love fashion so there's going to be lots of fashion from me. I'd be styled by a Zimbabwean designer True Blossom and Nigeria's House of Nwocha. That is exciting for me because I love fashion. On the continent, we don't really get to have much places where we can wear ball gowns so I'm gonna change like four or five times throughout the night.

On the top of your list, who are you expecting to cart away some awards?
I am really looking out for Genevieve Nnaji. She is an icon in the industry and because this is the first edition of the Awards, I feel this year should be the year for the icons. Let's reward these people who have gone a long time without really been celebrated and then next year we can look at the upcoming ones. She's come such a long way.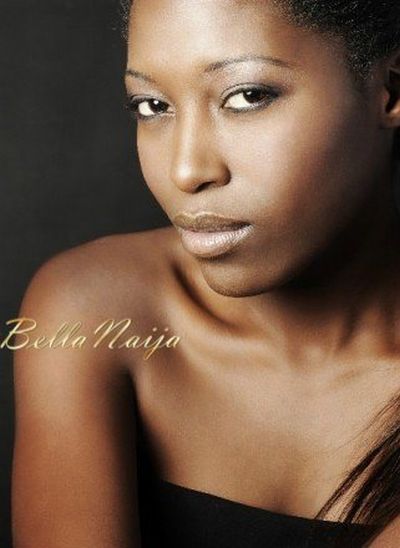 It was great chatting with Vimbai and from BellaNaija, we wish her the very best!