I'm decorating at the moment, and no one warned me about how stressful the whole process is. Add that to the pressures of my full time job, these days food and fast must go hand in hand. We all know when it gets to Nigerian food, those two words rarely go together because our food is a lesson in the labour of love. Whoever coined the phrase "Cooking is love made visible" must have been referring to Nigerian food.
Today we'll be looking at a Mediterranean inspired dish but with a Nigerian twist and most importantly fast! So, instead of reheating frozen food, or getting the takeout menu, or going to a restaurant, why don't I bring the restaurant into your home?
Do you only get to enjoy grilled fish at that special place you go to with your friends, family or significant other, and have you ever considered that you could re-create this in your home? Yes you can, with an extra dimension going beyond the chopped onions and red chili that is grilled and served with the fish you eat at joints. So, do you have green olives in your cupboard that you only reserve for serving with Martinis? How about I show you another way to use olives in a quick recipe you can enjoy after work.
This recipe serves one with an average prep time of 5 minutes. Cooking time is 10 – 15 minutes.
What You Need
1 Swordfish fillet – Tuna, Monkfish, Grouper, Croaker etc. If you have whole fish, simply score it with a knife on both sides and grill. If you have pre-cut pieces of fish in your freezer, let it defrost in the fridge overnight, or just before you go to work, bring it out from the freezer and place in the fridge.
½ cup of halved cherry tomatoes
1/3 cup of halved pitted green olives – If you can't find olives, you can use mushrooms, thickly sliced green bell pepper or chop a celery stick. Basically something sharp and tangy to compliment the sweetness of the tomatoes
1 clove of garlic
1 Ata Rodo (scotch bonnet or habanero pepper)
Olive oil
1/2 a Lemon
Chopped parsley
1 small red onion
½ teaspoon curry powder
½ teaspoon thyme
Salt
Seasoning cube
How To
Halve your cherry tomatoes and green olives. Follow the measurements stated and set aside. Chop the Ata Rodo, onion and garlic. In a dish big enough to hold your fish, squeeze in the juice of half a lemon, sprinkle in half a seasoning cube, salt, curry, thyme, and 1 tablespoon of Olive oil. Add your chopped ingredients from and whisk with a fork.
Place the fish in the dish and scoop some of the marinade on top of it, cover with cling film or foil paper, and leave to marinade in the fridge for 10 minutes. Coat your grill pan lightly with olive oil before placing it over high heat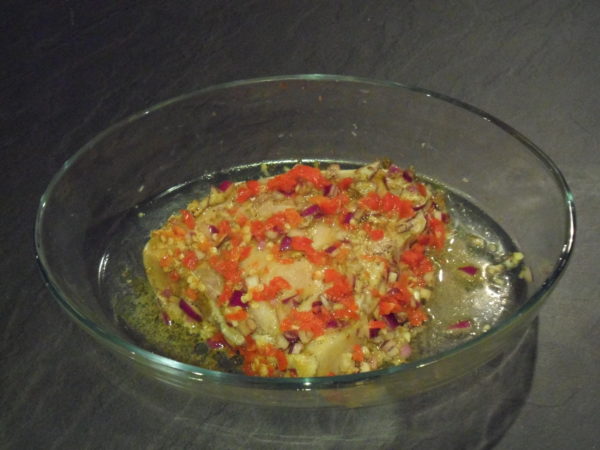 I opted for a grill pan, because I love seeing grill marks – personal preference. You can grill in an oven if you wish. Remove the fish from the marinade, and scrape off any bits, so they don't burn in the pan. Grill the fish over high heat for 3 – 5 minutes on each side. Depending on the thickness of the fish. Watch it closely, and turn every 2 minutes, so it doesn't burn. Remove from the grill and place in the oven to keep warm.
Empty your marinade into a hot frying pan and sauté for 2 minutes until the onions and the garlic soften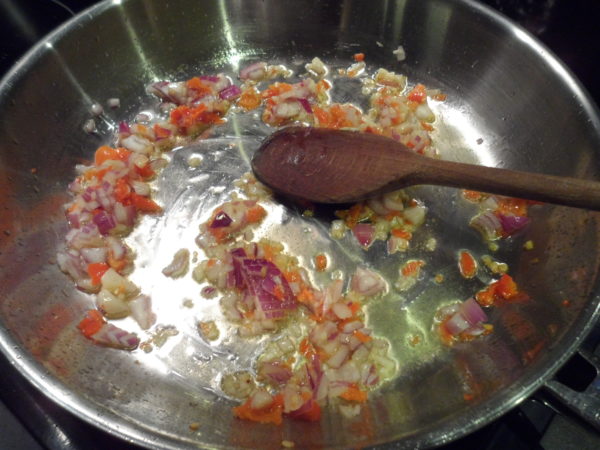 Turn down the heat, and add the tomatoes and the olives followed by a tablespoon of lemon juice and a tablespoon of water, to get some sauce. Cook for 2 minutes, be careful it doesn't dry up.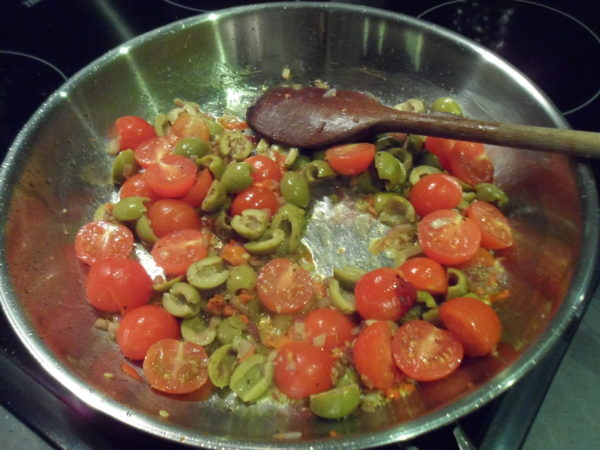 You may wish to add a little water or better still drain the juice left over in the grill pan if you want some more sauce. Be careful not to drown the sauce though, and also remember to taste for salt and seasoning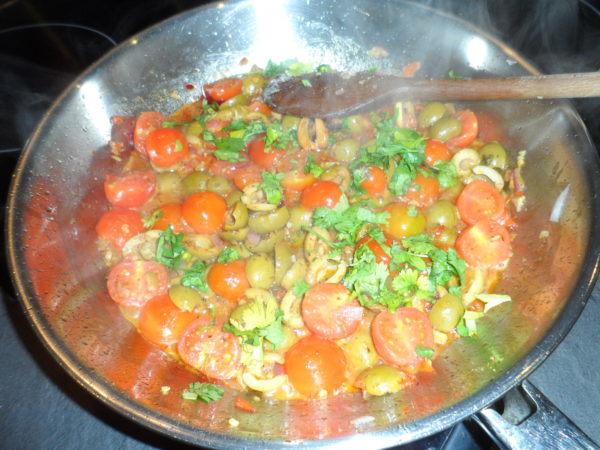 Sprinkle in your chopped parsley. About a tablespoon of parsley would do.Plate the fish and pour the sauce over it.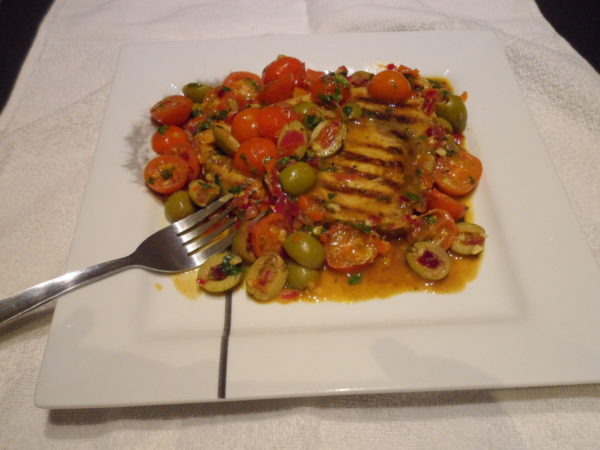 To prevent the fish from getting get cold while you make the sauce, I would advise that you grill the fish and make the sauce simultaneously…and there you have it Dooney's Kitchen quick weekday dinner.
If you are health conscious, this should do for a meal, otherwise a side of chips, or a small portion of boiled Basmati rice, Yam or a Baguette would do.Due to the brief cooking time and minimal effort this can serve as a romantic meal for two, simply double the ingredients.
In fact, I'm throwing down the gauntlet to our male Bella Naija readers. Surprise and treat your special lady with a simple meal even a cooking novice will get right. Your wine pairing options are Chardonnay, Pinot Noir/Grigio, Sauvignon Blanc or Cabernet Sauvignon to mention a few. I vote Chardonnay, but if you are going all out romantic and you don't want to serve everyday regular wine, up your budget and get something expensive. It's Friday night people, bring the restaurant into your home and dine in for two. Wink* wink*.
Next time, I am going to be heading down to Edo State to bring you a delicious dish from that area. Stay tuned.
_________________________________________________________________________________
Dunni Obata is an IT Project Manager by day and a cook the rest of the time. She loves entertainment and one of her bad habits is feeding people. When she's not cooking, she's watching the Food Network. Dunni is very passionate about Nigerian food and believes they have a lot to offer globally. Visit her blog – www.dooneyskitchen.com