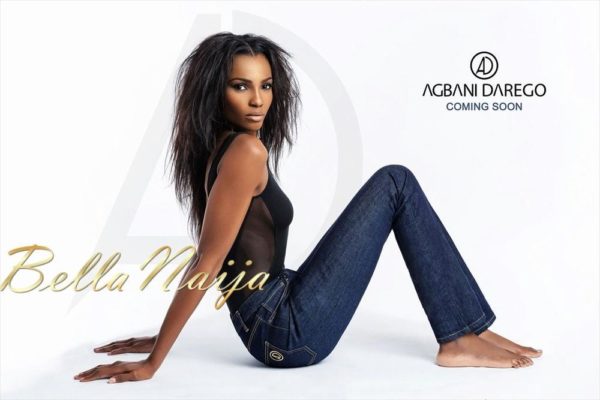 Agbani Darego is not just a beauty queen, she is a beauty queen with a smart entrepreneurial drive.
In January 2013, BellaNaija Style revealed that the 30 year old all-Nigerian sweetheart will launch her denim line, AD by Agbani Darego. Now we can exclusively unveil the promo shots for the line.
According to her rep, the denim line embraces a luxurious and chic aesthetic that's affordable with cuts and styles that are flattering to a range of body types.
In these promo shots, Agbani is seen wearing one of her jeans with a cut-out black top which features a sheer side, barely any make-up and wet beach hair. She also strikes another pose in a blush zip-up shirt-dress.
On her new venture, Agbani says it is a dream come true and while stylish, it is a comfortable line for every woman. She says "Launching AD by Agbani Darego is a dream come true for me. Jeans are my loved go-to everyday look and it's a love I share with a lot of young girls and women for its comfort and simplicity. AD by Agbani Darego is a line that caters to the ease we require of our personal style and it has been a pleasure creating a line that's intuitive to our body, style and pocket needs. I am excited about it and I hope that it will be well received."
AD by Agbani Darego will be available in stores and on-line in June 2013. The first products to be launched are its range of Jeans, Polo shirts and its Zip front Shirt Dress. Named after the Nigerian woman, the Jeans will come in four styles; Bola – "Trouser Leg", Aisha – "Classic Cut", Ify – "Boyfriend Jeans", Nosa – "Skinny Jeans" and in a variety of washes. Prices of products range from 6,500 Naira – 12,500 Naira.
Credits:
Photography: Obi Somto
Make-Up: Bimpe Onakoya
Stylist: Ebun Aboderin
Graphic Design: Otoide Ayemere | RVO Media
@AD_Jeans | www.AgbaniDarego.com