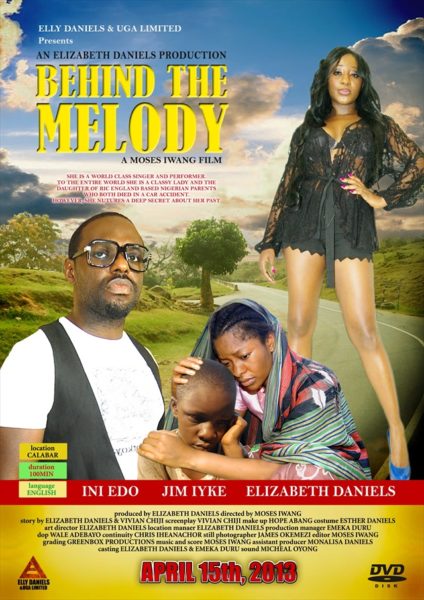 Add this movie to your must watch list!
In this Moses Inwang's directed flick "Behind The Melody", Ini Edo is Beverly – a famous singer with a troubling past. She stars alongside Jim Iyke and rising star Elizabeth Daniels.
With loads of drama, betrayal and blackmail, the movie sets about unraveling the mystery of Ini Edo's character's past.
Official Synopsis
Beverly is a world-famous singer and performer. To the entire world she is a classy lady and the daughter of wealthy England based Nigerian parents who both died in a car crash.

However she nurtures a deep secret about her past. Why does she keep having dreams about a certain young girl in an orphanage? The drama unravels further when a blackmailer who claims to know all about her past shows up, and she is forced to
make the most important decision of her life.
Exclusive Behind-the-Scenes Photos

Watch the Trailer

Credits
Producer: Elizabeth Daniels
Director, Music & Score, Editor: Moses Inwang
Screenplay: Elizabeth Daniels & Vivian Chiji
Make-up: Hope Abang
Costume: Esther Daniels
Art Director, Location Manager: Elizabeth Daniels
Production Manager: Emeka Duru
Continuity: Chris Iheanachor
Still Photographer: James Okemezi
Grading: Greenbox Production
Assistant Producer: Monalisa Daniels
Casting: Elizabeth Daniels & Emeka Duru
Sound: Micheal Oyong