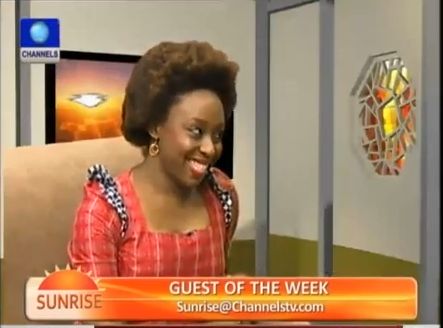 Chimamanda Ngozi Adichie's "Americanah" book press tour has kicked off its Nigerian leg! This weekend, we spotted the author on Channels TV's Saturday Morning Talk Show "Sunrise".
The interview started with an introduction detailing Chimamanda's academic pursuits including her undergraduate minor in Political Science. The author jovially but emphatically stated that she had no intention of running for political office though she is very interested, she says "it's not something I think I can do".
From there the discussion transitioned to various areas including when she stated writing (Between the ages of 4 and 5), reading culture in Nigeria, her passionate views as a "naturalista" (Chimamanda showed off a glorious honey-hued afro during the interview), the inspiration for her work and lots more.
Check on it.