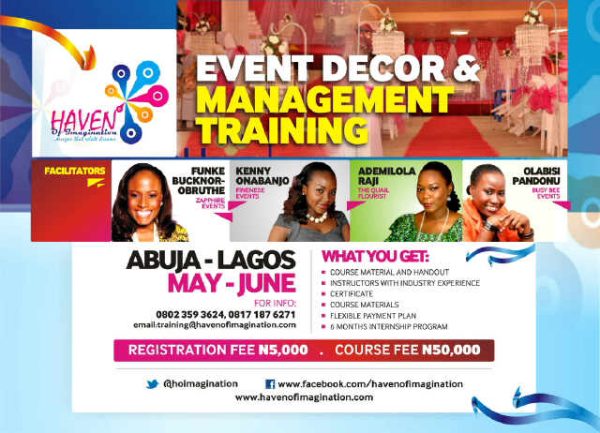 Do you wish to stay ahead of the curve; learn the newest trends, the latest best practices from some of the biggest brands in the Nigerian Event Industry? Then you need to be at the Event Decor & Management Training taking  place in Abuja and Lagos between May and June 2013.
Whether you want to find a job in the event industry, start a new event company or generate higher profits with your existing company, the classes allow for personalized, one-on-one instruction that gives participants a competitive advantage in the event industry.
At the training program, you won't just run into big brands, they will be your actual instructors for five days of learning and training. They will be your mentors and you will have a chance to attend their events for 6 months at your own convenience.
Facilitators
Funke Bucknor-Obruthe – Zapphaire Events
Ademilola Raji – The Quail Florist
Olabisi Padonu – Busybee Events
Kehinde Onabanjo – Finesse Events
Gbenga Oduntan – Bramax Designs
Bidemi Akinyemi – Amaris Diamond Event
Adetokunbo Kupoluyi – Purple Pebbles Events
What you get:
* Hands On Training
* Instructors with Industry Experience
* Complete 5-Day Course Packages
* Certificate
* Course Materials and Toolbox
* Interesting Payment Plans
* 3-6 Months on field training (i.e you attend our training)
* Access to decoration materials
* Mentorship from HOI events and other facilitators to start and grow your business.
* 100% Satisfaction
Event decor handout, Event planning and management handout as well as lunch will be provided.
Lagos
Date: May 4th – May 18th 2013 (Saturdays & Sundays).
Venue: Tom&asso opposite Anthony police station,Anthony village, Lagos.
Abuja
Date: May 25th – June 8th (Saturdays & Sundays)
Venue: Arcade Club Suites, Plot 68, Shehu Shagari way, Central Business Area, Abuja.
Registration Details

Pay the required  fees into any Diamond Bank branch Account No 0612350007715 | Acct Name: Haven of Imagination

Registration Form: N5,000
Course fee: N50,000

Click HERE to fill your Training form
Text your full name, email, teller number, phone number indicate Lag or Abj to  08023593624 | 08171876271 or send an email to [email protected]havenofimagination.com
Contact: For more information and  general enquiries, Call 08023593624 or 08171876271 | Email [email protected] | Visit the website www.havenofimagination.com
_______________________________________________________________________________
Sponsored Content