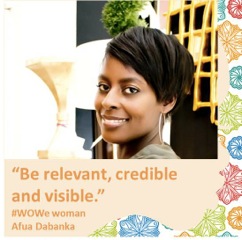 Following on from our post on Monday here's part 2 to "Networking: Your Secret Superpower – thanks for all the positive comments. Why not test out your new networking skills at WOWe next month! It's set to be a life changing event and it's causing quite a following on Facebook too with over 10,000 empowered West African women joining the movement.  Join us too!
4 Steps to Successful Networking
Access All Possible Networks
Online networks, social groups, business associates, professional associations and formal business networking groups are all great places for you to practice your networking skills, meet new people and build deeper relationships with those you know already.
Perfect Your Introduction
If you haven't planned and practiced this you risk it lacking impact or even worse turning into a rambling waffle that bores the person you've just introduced yourself to. You ought to have a 1 liner that explains what your business does including its USP, ready to fire into a conversation and ignite interest. If your introduction is good, people will ask more questions so don't worry that you won't be able to tell them everything you'd like to about your business.
Work Your Conversational Skills
Don't just talk at people, ask them questions about who they are, what they do, where they've come from – you'll be amazed at the amount of useful information people are prepared to share with you and you can often uncover synergies you'd never have thought of, just by listening carefully.
Give Something Back
You should always try to give what you can in any networking situation, be than connections, information or just a listening ear, whether or not you think you're going to get anything in return. It is essential that you try to do this with people you'd like to work with as it indicates a willingness to collaborate and support others. What goes around comes around eventually, even if not directly from the people you helped; although you'll be amazed at how far people will go to help you in return for a relatively small kindness that you offered them in the past.
Get started!
Win a ticket to Nigeria's hottest networking event! 
Understanding the give and take balance of successful networking is a critical business skill and acquiring the right influential contacts will really boost your business.
We're giving one lucky entrepreneur the chance to WIN A FREE PLACE to the Women of West Africa Entrepreneurship conference and meet a whole host of business gurus and successful entrepreneurs who can inspire them and teach them essential skills.
To enter simply post the below message on your Facebook wall:
I have the chance of winning a FREE PLACE at the amazing @WOWEAfrica event in Lagos next month! Please VOTE for me by LIKING and SHARING this post. 
The draw will take place Monday 20th May, so get sharing! For more information on WOWe please email [email protected], call +234 (0) 81 45999475 or visit the WOWe website. Join our exciting Facebook community.