Salut a Touts! How are you guys doing?
2 weeks ago or so when I posted my Thai Fried Rice recipe, I was going through the comments you guys mentioned that you wanted more "oven recipes" and baked goods. It was sign from God. It was the push I needed to finally do a proper baked post. You see, I hate baking, I really do. I don't have the patience for measuring and creaming butter. Who really has time for that? Well, Cheesecake Factory, Licious Desserts, and my friend Tolu of Cookie Jar clearly have time for that and are paying school fees from there. So, for the sake of BN Cuisine I overcame my fears and irritations….
Baileys… where do I start? To be honest I am not one of those "Oh Baileys on the rocks si vous plait!" I usually like it in something…Hot Chocolate, Cheesecake, frozen hot chocolate and of course Ice cream. However, I thought why haven't I had it in a cupcake? My personal bite of heaven?
Google is always a friend and I was informed that this idea I had was actually kinda old school. However, the same way I just found out, someone here to will just find out and keep it stepping to the supermarket, flour up their kitchen and allow the cupcake flow!
I PROMISE you this is pretty easy to do. However, for a "novice" like me you may find it somewhat time consuming but the results are worth it in the end. You would need a mixer for this project. If you don't have or can't get one, don't fret. Just pick a good hand mixer and you're good to go.
I highly recommend you have a spatula on standby. You can use this to scrape the  sides of the bowl or whatever you need to transfer. A piping bag is key also; but if you don't have one you can cut a left or right corner tip of Ziploc bag and treat it like a piping bag or just ask a friend that runs a bakery or cake business to give you a few disposable bags.
I used a real vanilla bean in this recipe – a whole one with some butterscotch and conduced milk flavouring. You can get vanilla pods from L'epicerie and La Pointe, Victoria Island in Lagos retails for between 990 to 1500 for two sticks. Yes, fresh vanilla bean is a pricey product worldwide! It is however worth every Kobo! Finally, you need a scale and or measuring cups. Where you do not have either one, just Google conversions.
If you have on hand any of the flavoured Baileys even better! Biscotti, caramel or even the coffee one would be a dream. I adjusted the recipe because I found it slightly dry and opted to bake the cakes at a lower temperature as my oven was on some steroids when I tried it.
So let's check out the recipe is below. This makes an average of 20 cupcakes.
What You Need
2 1/2 cups flour sifted
3 tsp baking powder
1/2 tsp salt
2 tsp cocoa powder (optional if you want a white cake)
1/2 tsp cinnamon
1 1/2 cups granulated sugar
180g or 3/4 of a cup plus 1/4 cup unsalted butter, softened (at room temperature)
2 whole eggs plus 2 egg whites, at room temperature
1/2 cup Bailey's Irish Cream
One vanilla bean seed scraped out or 2 tsp good vanilla extract
1 tsp butterscotch essence
1/2 tsp condensed milk essence
For the Bailey's buttercream:
1 cup/227g unsalted butter
4 cups/500g icing sugar
4 tbsp Bailey's Irish Cream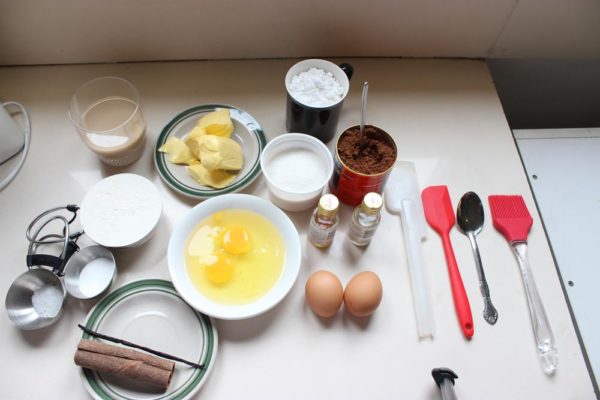 How To
You want to start by preheating your oven to 350F degrees or 170-175C. While that is happening, line your cupcake tins with cupcake liners and set aside.
Into a large bowl, sift together flour, baking powder, salt, and cinnamon and cocoa and keep to one corner. Do not add the sugar here. I was feeling smart and made the mistake guys… had to start all over again.
In the bowl of an electric mixer or in a bowl with your hand electric mixer, cream together sugar and butter until light and fluffy, about 3-5 minutes. You start out on a low speed to mix it the sugar in, then move to a high speed for it to cream properly.
Add eggs and egg whites one at a time, beating on low between each addition. Add vanilla, then the flour slowly in 3 additions, alternating with Baileys, starting and ending with flour.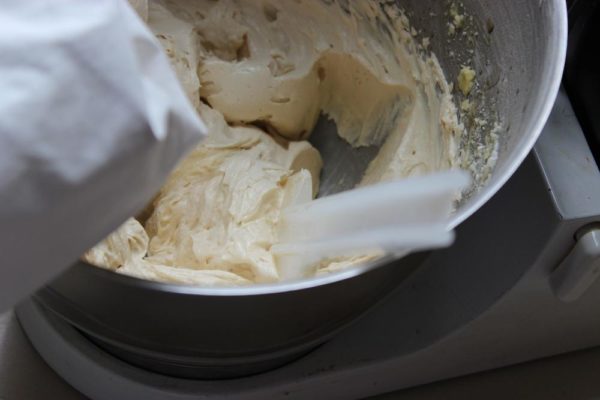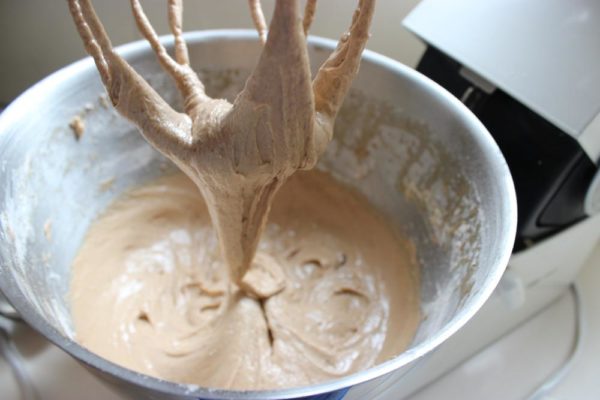 With an ice-cream scoop fill cupcake liners about two-thirds full and bake for 15 minutes, or until a toothpick comes out clean after you place it in the middle of one cupcake. Allow to cool in pan for 5 minutes, then transfer to a wire rack to cool completely. If you don't have an ice cream scoop, like me,  just use a regular spoon.  A scoop, however,  gives a rather precise measurement.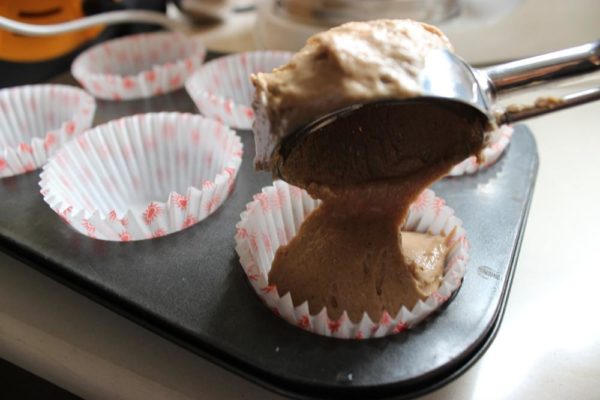 While the cakes are baking start making the frosting.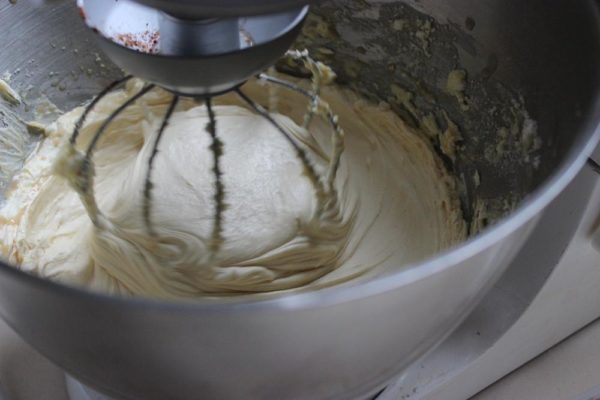 For the frosting, beat butter in an electric mixer until light and fluffy. Add powdered sugar 1/2 cup at a time, until completely mixed. Do it at a low speed first so the sugar doesn't powder up the whole place. Add the Bailey's and beat until well combined.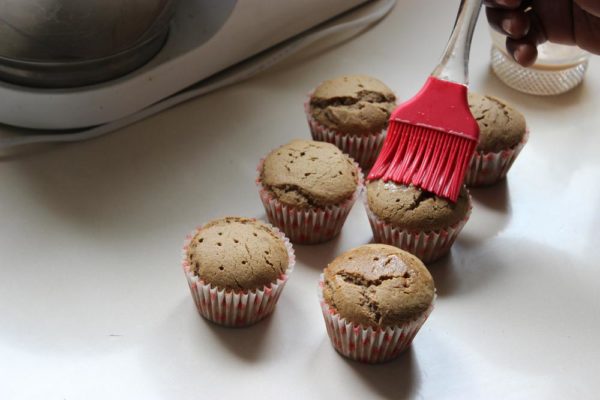 Before you frost, poke holes in the tops of the cupcakes and brush some Baileys on each before frosting for that extra assurance that it's a Baileys cake. Then put the icing/frosting you've made into a piping bag fit with a large tip that has spiky ends.
Again if you don't have all these things just use the Ziploc bag idea or use a spoon or palette knife to spread the icing on the cake. To decorate go for shaved or grated chocolate (I used dark here) some chocolate sprinkles, a decorative cocktail stick and a Hershey's Kiss. You could crumble some of your favourite cookies over it as well.
The icing/frosting recipe you may need to double or increase by an extra half so it would be enough if you want to be generous with the piping on each cupcake.
Yes yes… a mug of baileys to accompany.
Try it out at let me know! Again send your pictures to features@bellanaija.com. Oh, before I forget, Chef Fregz Special is here again. The next edition is at the end of July. The menu would be out next Friday. If you have never been for one you stand the chance to win a free meal so watch out for that.
____________________________________________________________________________________________
Chef Fregz loves to cook! He is a graduate of Le Cordon Bleu Paris Culinary Arts School in France and hosts monthly "Chef Fregz Specials" where he whips up a yummy menu with a different theme each time then everyone enjoys a taste.He also caters special events and private dinners. To find out more visit www.cheffregz.com.Chef Fregz provides premium private catering services. For bookings and orders email info@cheffregz.com @Chef_Fregz on Instagram and Twitter. Chef Fregz Page on Facebook as well.