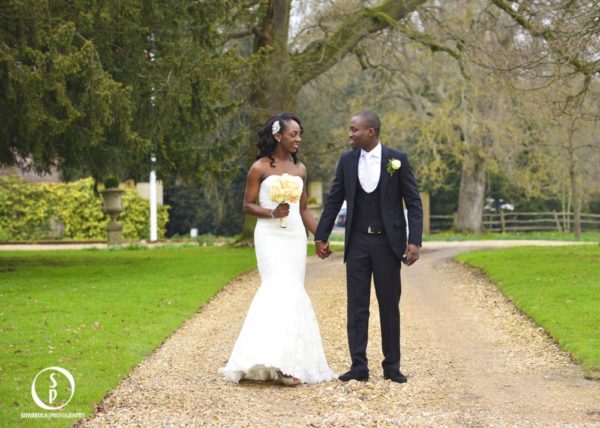 It's Friday and BellaNaija Weddings is rounding up our week with an absolutely gorgeous English Countryside Wedding.
Tomi & Sam's wedding was stunningly captured by Siyanbola Photography. Northbrook Park was the venue on the 24th of March 2013 as Tomi and Sam said "I Do".
Tomi and Sam's wedding was gorgeous! With the beautiful bride in her strapless embroidered tulle dress paired with sparkly Jimmy Choos and her husband in his dapper 3-piece suit. We totally love the picturesque location and of course, the intimacy of the soiree.
The Siyanbola Photography team tell us all about the wonderful day – "It was an honour to document the special day of Tomi and Sam on a cold but beautiful spring day in March 2013. The elegant setting of Northbrook Park and close family and friends meant this day was truly special and one to truly enjoy.
Tomi is a lovely and wonderful bride. I was very impressed as she braved the freezing cold in her beautiful dress to allow us to capture the wonderful images. Sam did a good job of keeping his bride close and warm. I feel truly blessed to have been a part of their wedding and want to thank Eniola who shot this wedding with me. I wish Tomi and Sam a happy married life, remember continue to fall in love with each other every day."
Congrats Tomi & Sam!
Surrey Wedding: Tomi & Sam from Dami Siyanbola on Vimeo.
Vendor List
Photography: Siyanbola Photography – www.siyanbola.com
Venue: Northbrook Park Farnham
Floral: MJR Weddings
Hair: Avoshair
Maekup: Nikki Adetoro
DJ: DJ Somebodi
_______________________________________________________________________________________
We love weddings as much as you do – get in touch for inquiries, inspiration & more!
E-mail: weddings (at) bellanaija.com
Instagram: BellaNaijaWeddings
Twitter: BellaNaijaWed
FB: BellaNaijaWeddings