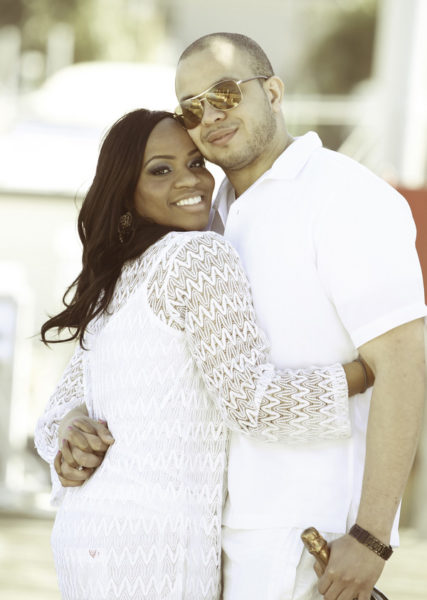 Aww…We absolutely love this shoot. For the past weeks, BellaNaija Weddings has been collaborating with Munaluchi Bride Magazine to bring you some of the best unions.
Today we have Ogo and Emeka's pre-wedding shoot by Keith Cephus Photography. Ogo and Emeka met through a mutual friend while he was visiting the U.S.A.
From the fly away with me theme to relaxing on yacht, these two prove love is truly sweet.
_____________________________________________________________________________________________
Bride-to-be: Ogo
Groom-to-be: Emeka
How they Met
From the bride:
Emeka and I were introduced to each other by his cousin while he was visiting the United States.  We had an instant connection which blossomed into so much that even the Atlantic Ocean could not separate us from one other.  After three and a half months of daily phone calls, endless Skype sessions, and countless Whatsapp messages, he flew me into London and officially asked me to be his girlfriend.
Thanks to our faith in God, we have coordinated a long distance relationship going back and forth between Europe and the United States.  He surprised me at my birthday dinner with his presence and a proposal, so of course I said "Yes!"  Well according to the guests, I said "I Do!"  Due to the complexity of our relationship with the distance, I wanted our engagement session concept to reflect us; our trials and tribulations with having a long distance relationship that despite the odds yielded in a successful and solid union.  Hence the concept, "By air, by land, and by sea…our Love goes the distance."  No matter where we physically are, our hearts are always with each other.
Our love has no sense of time, place, and distance.  I am grateful that Keith Cephus Photography allowed our vision to become a reality with his AMAZING work.  He was so excited when I discussed our concept with him and he contributed with his artistic talent and we are so very pleased with the end result.  Thank you so much Keith!
For more on the pre-wedding shoot, visit http://munaluchibridal.com/ogo-emeka-engaged/
Watch the fun behind-the-scenes video of the shoot

Credits
Photography: Keith Cephus
Videography: Delta Studio Productions
______________________________________________________________________________________
We love weddings as much as you do! Get in touch…
weddings (at) bellanaija.com
www.bellanaija.com/weddings
www.twitter.com/BellaNaijaWed
www.facebook.com/BellaNaijaWeddings
www.instagram.com/BellaNaijaWeddings