It started one summer…Vivian was visiting London and Williams was based there at that time. The rest is history! BellaNaija Weddings celebrates Vivian and Williams' wedding celebration – from the romantic surprise proposal to their traditional wedding in Asaba and their totally glam white wedding and reception in Lagos.
Enjoy.

The Proposal
by Vivian
It happened on my birthday, April 29th 2012. I had no idea I was going see my boo that day not to mention a proposal because Williams lives in the States. On the morning of my birthday, which happened to fall on a Sunday, I had just come back from morning mass and I was telling my mum how Williams hadn't called me to even say happy birthday.
While my mum was busy making excuses for him talking about the time difference, all I was thinking was "How Could He Forget My Birthday!"…
In split seconds I heard a Male Voice behind me say "Happy Birthday Baby, I didn't call because I was in transit" …In shock, I literally jumped out of my chair like I had just seen a ghost… I couldn't believe my eyes! Williams was standing right in front of me!
I thought having him around to celebrate my birthday was the highlight of my day …but little did I know!
Later in the evening, we went to Sip lounge for my party. The party was filled with family and friends, everyone was socialising, dancing and having a good time. Towards the end, everyone was asked to give a toast to me. Williams decided he would go last since he was my boyfriend. When it got to his turn, he started saying how I'm a very wonderful and loving person, and how I'm the best thing that has happened to him etc…
At this point, I was cold stiff to my bones, Williams was still talking but it felt as if all my senses had stopped working, so I wasn't hearing anything anymore… Before I could snap out of it, he was on one knee! With the cutest ring ever… (I just stood there mute, still not hearing anything)… Until he made a gesture with his hands which probably meant say something… That's when I snapped out of my trance and shouted YES!
***
On Saturday 13th April 2013, Vivian and Williams were joined together as one! Their special day started with their marriage blessing in church. Vivian walked down the aisle with accompanied by her dad. The gorgeous bride looked amazing in her A-line ballgown with a sweetheart neckline and detailing including beaded appliqué, soft tulle petals, micro-beading and Swarovski crystals. She completed her look with a bedazzled hairpiece and a glorious cascading bouquet. The groom Williams looked handsome in his tailored black tuxedo. With their marriage solemnization complete, Vivian and Williams  along with their friends and family moved on to the Zinnia Hall of Eko Hotel.
It was a glamorous event as the couple emerged from the grand staircase  on opposite sides. As they walked down, they kept their eyes locked on each other and then met at the foot of the stairs. From there, they danced and enjoyed all the happy cheers from their guests. Vivian and Williams' first dance was so romantic as they swayed together to the music. After cutting their wedding cake, it was time for the party! The bride changed her look once again, this time, she emerged in a sensational strapless sparkly dress . There were lots more kisses, speeches from the Best Man and Maid of Honour and then dancing time for all!
BN wishes Vivian and Williams a blissful and blessed life together forever.
Traditional Wedding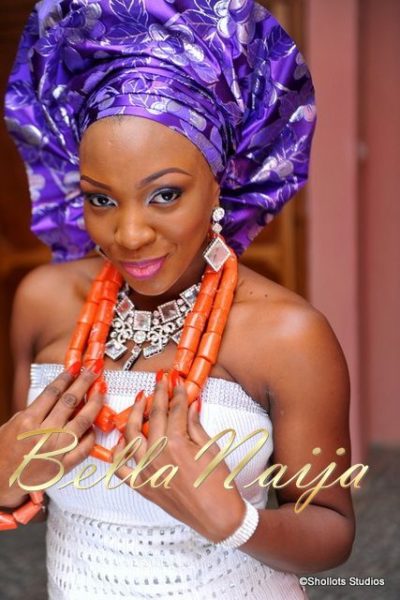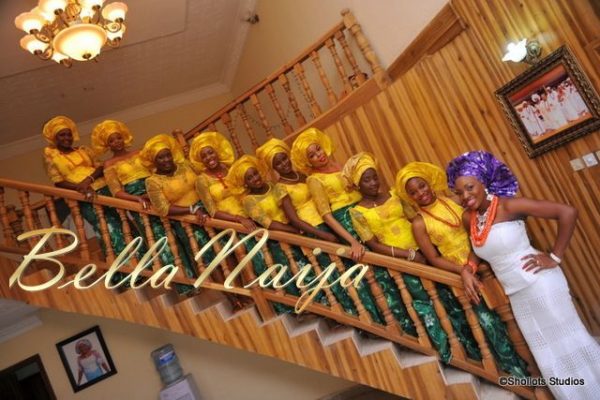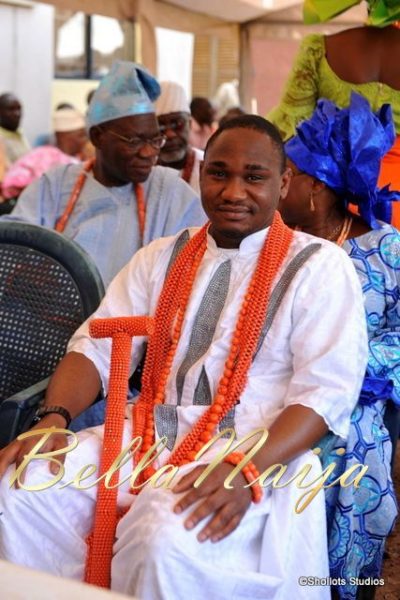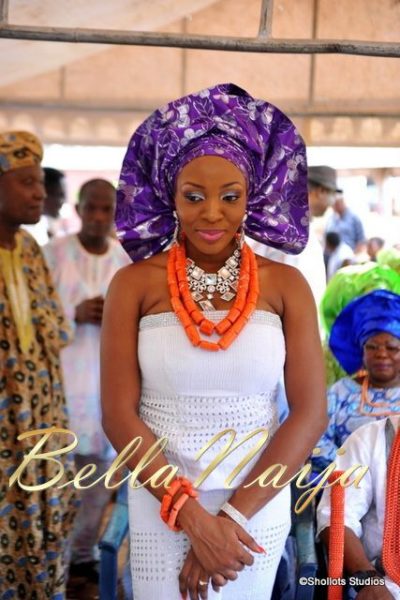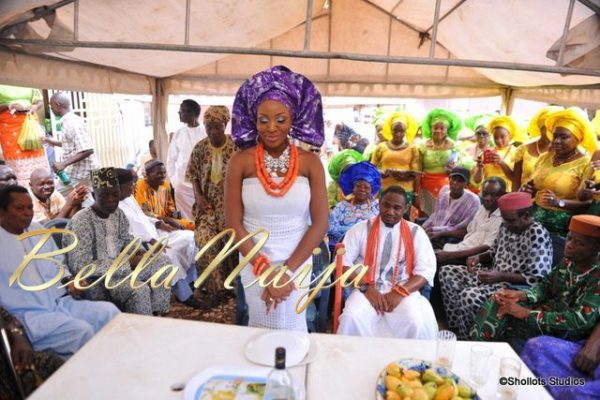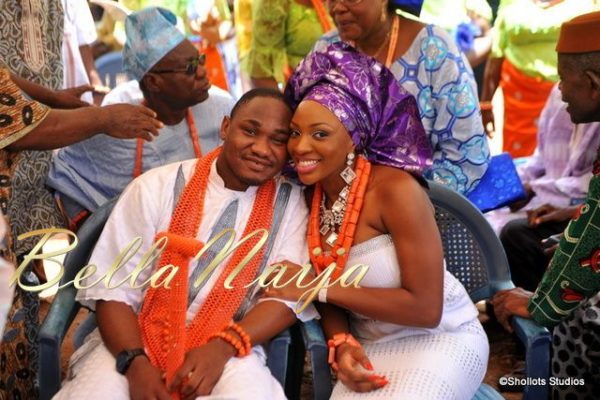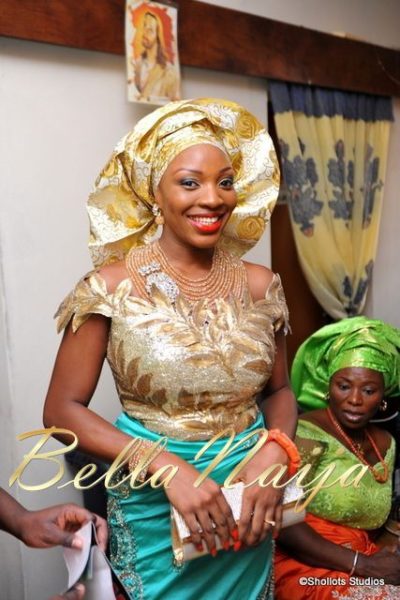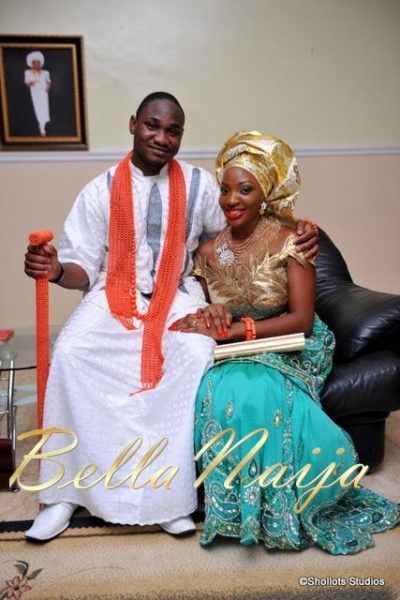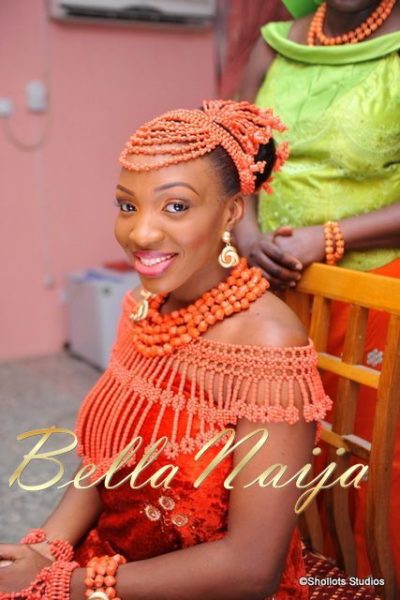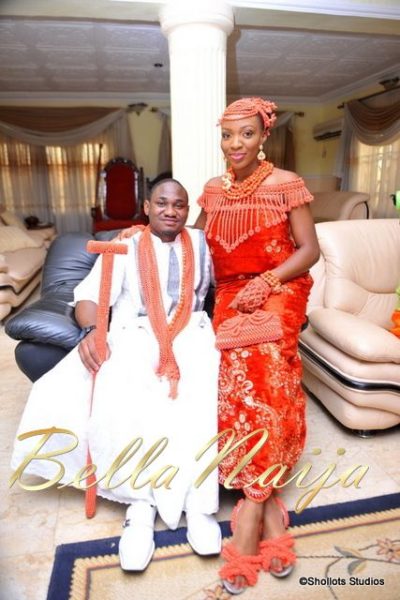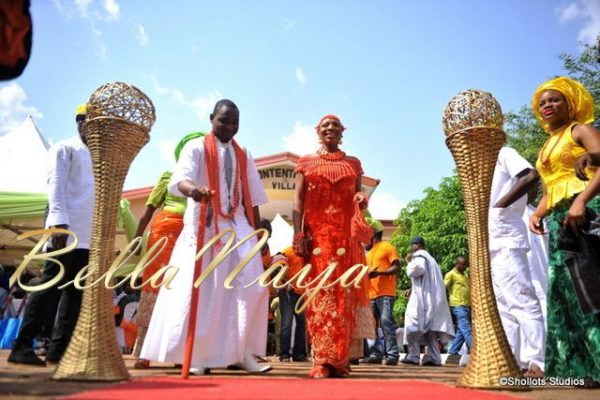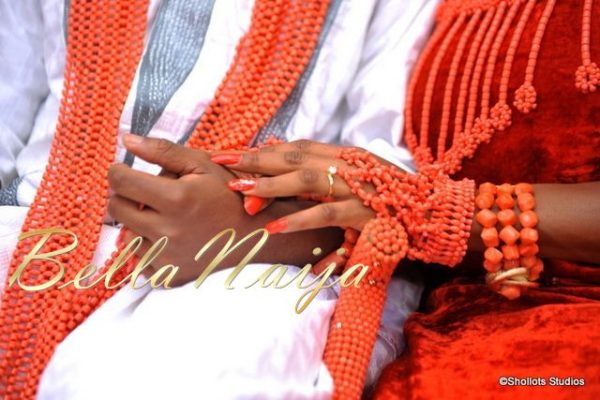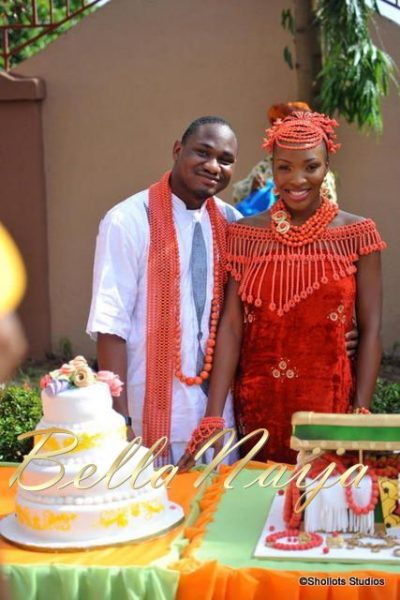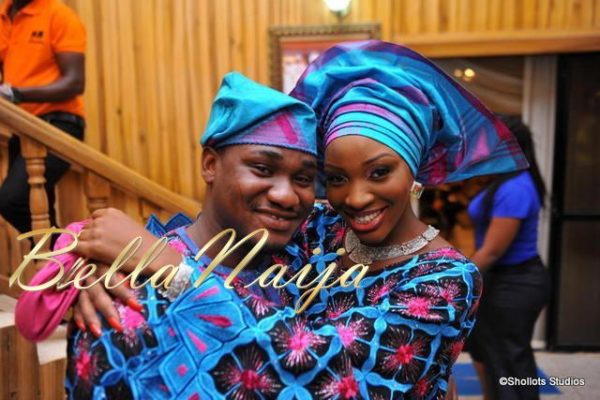 ~ Photography – White Wedding & Traditional Wedding: Shollots Studios – www.shollots-studios.com | Facebook Link
~ Photography – White Wedding: TY Magic / Akintayotimi – www.akintayotimi.com | Facebook Link
Wedding Details
Dates
Traditional Wedding: Saturday April 6th 2013
White Wedding: Saturday April 13th 2013
Venues
Traditional Wedding: Asaba, Delta State
White Wedding – Reception: Zinnia Hall, Expo Centre, Eko Hotel, Lagos
Colours
Traditional Wedding: Orange, Yellow & Shades of Green
White Wedding: Pink & Gold
Theme
White Wedding: Crystal, Sparkle & Spotlights!
Wedding Attire
Bride's Wedding Dress: Saison Blanche
Bride's Reception Dress: Jovani
Groom's Tux: Wilke Rodriguez
Bridesmaids' Dresses: Fablane by Derin Fabikun
Traditional Outfits: Golden Threads
Bride's Makeup: David "Dave Sucre" Onyedike for MUD Nigeria
Bride's Hair: David "Dave Sucre" Onyedike for MUD Nigeria
Vendor List
Planners: Vivica Chelsea Concepts
Cakes: Graces Cakes
Decor & Bouquets: Victoria F Integrated Services
Food & Drinks: Eko Hotel
_______________________________________________________________________________________
We love weddings as much as you do – get in touch for inquiries, inspiration & more!
E-mail: weddings (at) bellanaija.com
Instagram: BellaNaijaWeddings
Twitter: BellaNaijaWed
FB: BellaNaijaWeddings