Get ready to pick off your week on an amazing, oh-so-beautiful note!
BellaNaija Weddings presents Bisola and Edward's stunning wedding! There is something so special about college sweethearts or  university lovebirds as our naija people would say.
Bisola and Edward met in college and has been inseparable ever since. Here's their love story and beautiful wedding pictures captured by Fotos By Fola.
Enjoy!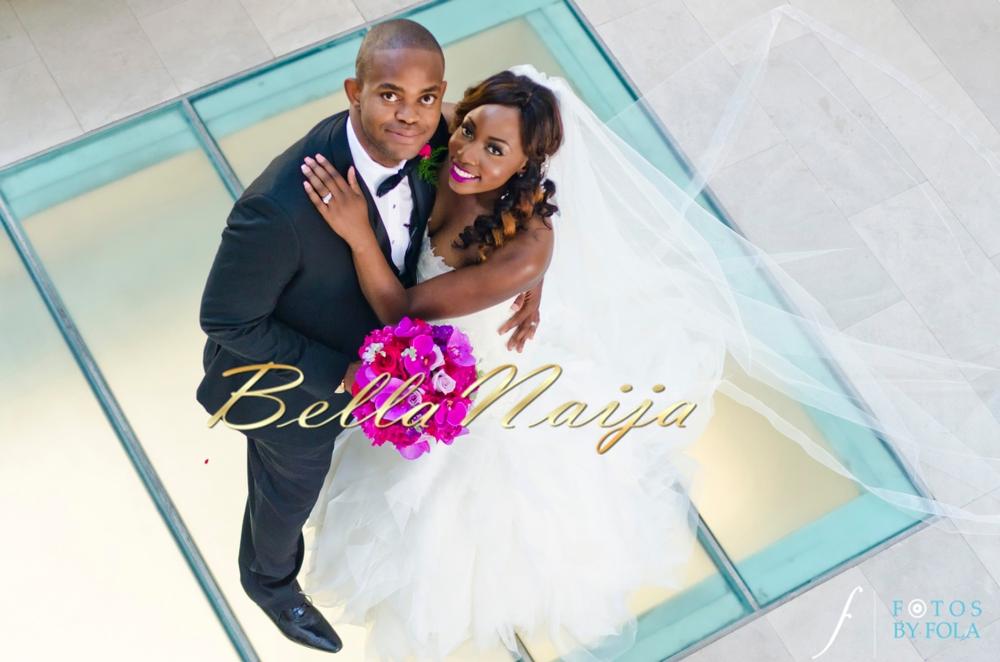 How Edward & Bisola
by Edward
It all began in September 2007 as I started my third year at Clark Atlanta University in Atlanta, GA. I was the Vice-president of the African Student Association (ASA)  when I had my first interaction with Bisola who was attending our monthly meeting for the first time. I was able to tell from her name tag that she was Nigerian. This automatically generated an interest as it usually does when I meet any Nigerian. We exchanged the customary greetings and almost immediately I noticed there was something about her that was different. It was not only the manner she carried herself with quiet pride, elegance and grace or the rare humble, kind and hardworking spirit she possessed. I could not explain it and all I wanted was to get to know her a little more. She became an active member of ASA and I seized this opportunity to increase the level of my interaction with her. We went out on our first date on February 16th 2008 and we have been inseparable ever since.
by Bisola
Edward and I met in fall 2007 at an African Student Association general body meeting in college. After the meeting, I was interested in joining the organization so I was told to give my contact info to the Vice President which was Edward. When I first met him, he seemed very shy but friendly and had a huge smile on his face. After our first encounter, we hung out a lot and I began to realize he was hilarious, genuine, caring, very smart, selfless and a gentleman which is very hard to find in college (haha). Knowing this, I decided to sweep him off his feet and off of the dating scene! And we have been joined at the hip ever since.
The Proposal!
by Bisola
When Edward and I knew that we wanted to spend the rest of our lives together,  we decided to take a 2.5 month pre-marital course prior to getting engaged. The morning of the second to last session, which was Sunday May 6th 2012, Edward said we were going to take a short surprise trip somewhere. After driving about an hour, I fell asleep and when I woke up, voila we were in Savannah! What a pleasant surprise I thought! He knows how much I love this city. We pulled into the parking lot of the historic Tybee Lighthouse (which was originally built in 1732). After we got out of the car, we found out the lighthouse was closed for the day but the manager said we could take a quick peak while she finished in the office and then we would have to come back down. We thanked her and walked up the 100+ steps on the spiral staircase. When we reached the top of the lighthouse, we were impressed with the stunning panoramic views of the city and nearby beach. After enjoying the views for about 15 minutes, Edward asked me to marry him with the exact ring I fell in love with 6 months prior and I started bawling. I was totally surprised. Edward also had a photographer at the top who took  pictures of us the entire time. It's funny because it was actually forecasted to rain that day but the sun started to peak out of the clouds when we got to the top. Afterwords, Edward told me he had actually made arrangements to have the lighthouse opened for us after hours and hired the photographer to capture everything! It was a beautiful engagement and one I can relive any time through pictures.
Planning the Wedding
Bisola's wedding dress was the first and only dress she tried on at the boutique. It was a trumpet silhouette with lace detail and a tiered organza train. The bust was adorned with real feathers, which was her favorite part of the dress – a perfect mix of romantic and modern. She knew it was the dress as soon as she saw myself in the mirror and I did not want to take the dress off. Bisola said, "I got REALLY excited because everything was coming together and I knew Edward would love me in the dress." "Initially, I wanted Edward and all of his groomsmen to wear grey suits since it would be a lighter color for our summer wedding but Edward was very adamant about wearing a black suit. We finally compromised, which is one of the biggest lessons we've learned from the entire wedding planning process, and made an appointment to try on formal black tuxedos. When he tried it on, I absolutely fell in love with how he looked in a formal black tux and bow tie! I didn't even want him to take it off."
As the bride organised her wedding, she has some great tips to share.
"Stick together as a team while planning your wedding. Sometimes family and friends tend to offer and at times insist on implementing their ideas on your big day but as long as you always remember that this day is about you two and work as a team, then others will back down."
"Attend a pre-marital course. Our course was very in depth – it brought us closer together and made us ask each other questions we never even thought of."
Bisola and Edward had so many special moments on their ceremony day – May 25th 2013 in Savannah, Georgia, the city the groom proposed in! The couple had the honor of being married by the groom's father. It was a moment the newlyweds loved because it really symbolized the two families becoming one – and added a personal and cultural touch to the ceremony. Their wedding guests were so in awe, asking how they can have their fathers officiate their wedding ceremonies.
When the groom's father said "I now pronounce you husband and wife" Edward immediately pulled Bisola in for a kiss. Since his father didn't say "now you can kiss your bride," they had to do it again. It was quite funny. And not to mention Edward had bright purple lipstick on his lips! LOL.
One of the groom's biggest highlights was dancing with his mother to the song "Because You Love Me" by Celine Dion. The dance was a total surprise to his mum, and one she really enjoyed as well.
Bisola and Edward did not have a traditional wedding but they made sure they infused Nigerian culture into their wedding day by changing into royal purple and lavender aso-oke bought by the groom's mom in Ikeja, Lagos.
BN wishes the couple the best in love, life and all the blessings of marriage.
~ Photography by Fotos By Fola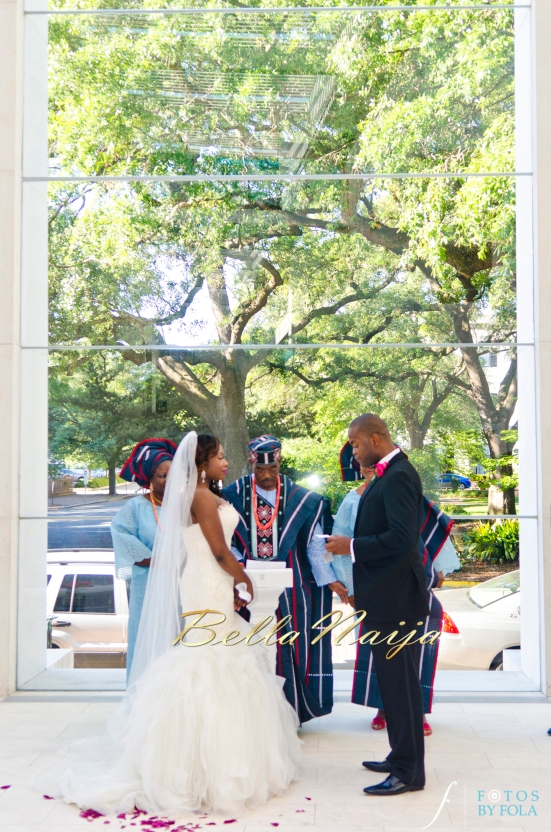 Wedding Video:
Wedding Details
Wedding Venue: Jepson Center for the Arts, Savannah, GA
Wedding Colours: Bold shades of pinks and purples: fuchsia, magenta, hot pink, lavender and deep purple.
Wedding Attire
Bride's Wedding Dress: Sweet Elegance Bridal
Groom and Groomsmen Tuxedos: Bridal by Lori www.bridalbylori.com
Aso-Oke for Parents & Couple: The Elect Aso-Oke – 77, Oduduwa Way, GRA, Ikeja, Lagos, Nigeria
Wedding Vendors:
Wedding Planner & Coordinator: Bisola Esiemokhai- Events by BE – [email protected] | www.eventdesignbybe.com
Day of Coordinator: Angela Davis-Bowman – [email protected]
Florist: Kato Floral Designs – [email protected]
Makeup Artist: Japanese Faces – [email protected]
Lighting: Audio Fixx – [email protected]
Hairstylist: Arlinda Sanderson – beautyresounds.vpweb.com
DJ: DJ Gee – [email protected]
Invitation Cards: Pink Orchid Press – www.pinkorchidpress.com
Videographer: Gabriel's Eye – [email protected] – www.gabrielseye.com
Photographer: Fotos by Fola – [email protected] –www. fotosbyfola.com
______________________________________________________________________________________
We love weddings as much as you do – get in touch for inquiries, inspiration & more!
E-mail: weddings (at) bellanaija.com
Instagram: BellaNaijaWeddings
Twitter: BellaNaijaWed
FB: BellaNaijaWeddings