Style has always been known to be transsexual. It goes beyond every tribe, sex, colour and language. Irrespective of the fact that we have clothes that are gender specific, today the line that differentiates them is getting even more blurry. Men have since adopted female fashion pieces like skinny jeans, wearing earrings and so have women with face caps, suspenders and baggy jeans.
Ever wondered how you can infuse the masculine side of style into yours? Well today, BN Style is going to show you just how to do that. It's very simple and you can easily get any of these clothing items from your boyfriend/brother's wardrobe (just make sure he doesn't know).
Boyfriend Jeans
The boyfriend jeans is already a style statement. It adds that baggy masculine feel to any outfit and the size of the denim is usually large and has distressed detail all over. A great way to wear this is to roll up the legs once or twice in a rough roll and pair it with high heels. The combination gives just the right amount of edge and femininity to the outfit. You could also alternate and go for a slim fit like Patience of Justpatience blog or a more baggy look like Foluke Kuye Huntoon of Stylepantry.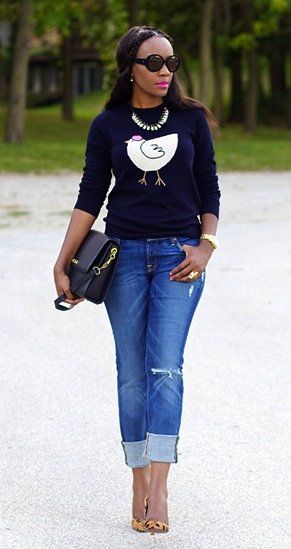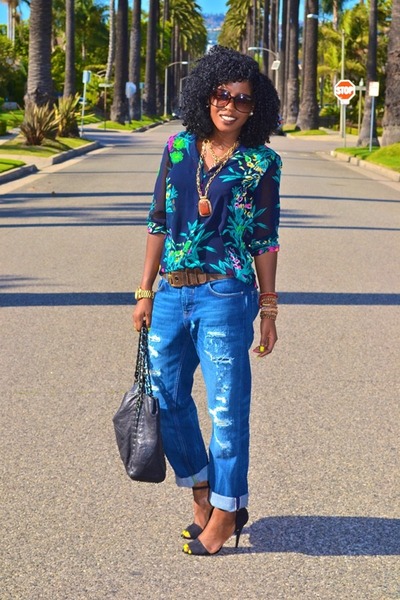 Suspenders
I know some of you may cringe at this, but using suspenders can give your outfit a fun look, especially if you're going for the preppy style. Suspenders were generally worn by men to hold their trousers up, but over time got incorporated in the suit ensemble. A great way to rock this elasticized accessory is to pair it with a pair of trousers and a shirt. You can also pair it with a short dress or a casual top.
Check out Madison of LadyOfFashion blog to see how to rock the suspenders look.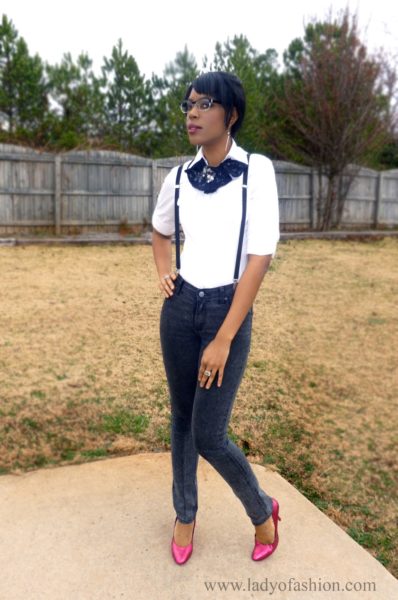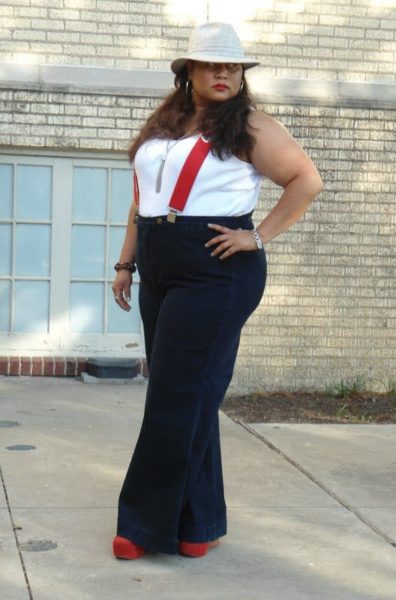 Shoes
Since the popularization of tassels, oxfords and other male shoes, women have since found a way to get in on the male shoes. The tassels are a great way to add that masculine edge to your outfit. They're comfortable, come in a variety of materials and for those who can't do without heels, they come with those too. Try a bright coloured pair like Nika of Facesofblackfashion.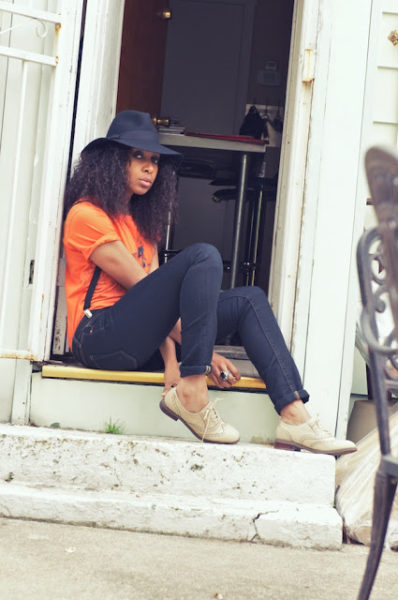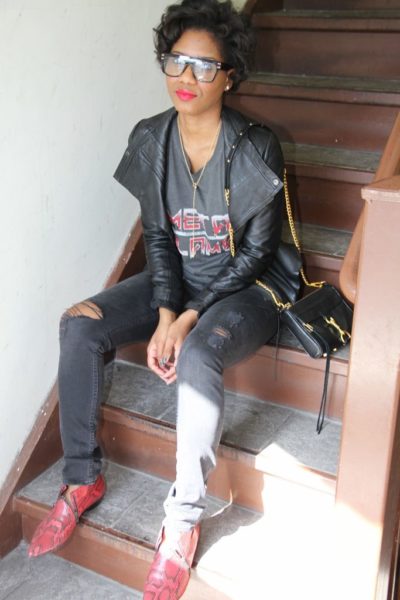 Fedora Hats & Face Caps
Face caps have always been a huge hit with the fellas and girls have successfully merged it with their wardrobe. The face cap can add a boost to your wardrobe and your look giving it that tomboy edge. For some extra swag turn the face cap to the side or backwards. Check out how to feminize your fedora hat like Toun Ajiboye of TounAjblog.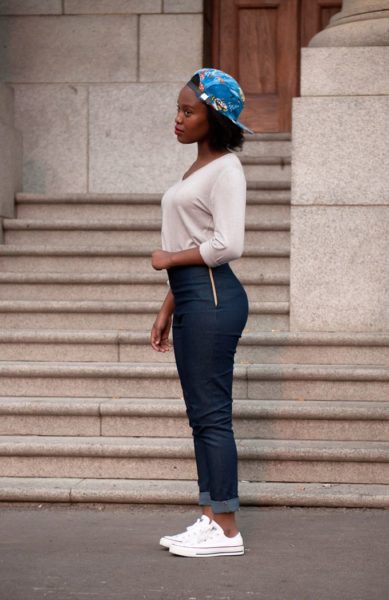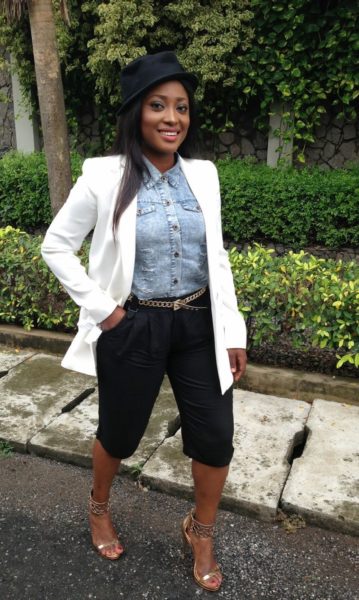 Wrist Watches
We've all at one time or the other tried on a male wristwatch just to see how it looks. Well some people take it further, they buy them. They add a little mucho to your wrist. They are chunky so they take up space and you don't need any extra jewellery. But like MsSole of LoveLifePearls here, you could also wear a slim bracelet to add some extra style to it. To still maintain the feminine aspect you can get it in a neutral or bright colour.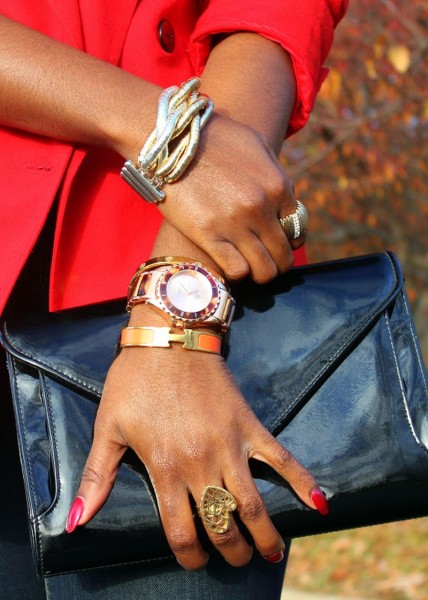 Boyfriend Shirt
Here is another boyfriend item you can snag. This style has been seen in Hollywood movies where the girlfriend spends the night and rushes out the next morning with her boyfriends shirt on. This time around it is more intentional.
To wear this look, get a slightly over sized shirt, probably in white and pair with a nice checked pair of trousers. To get that boho look pair it with a long skirt, some distressed jeans or a baggy pyjama trouser and you're good to go. Try going for the monochrome combination like MsSole of LoveLifePearls.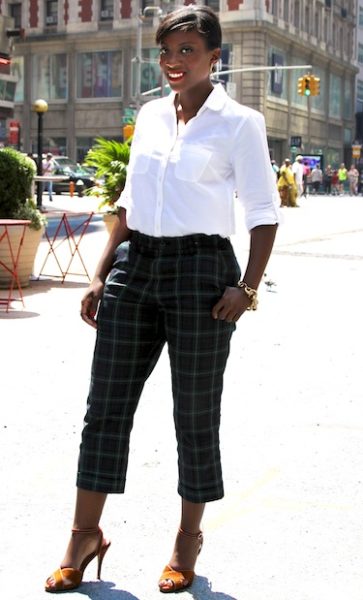 The Tie
Let's get the tie in on this. The tie can be incorporated into your style in a number of ways. Try using it as a slim belt to decorate your tops or trousers or you could wear it the usual way and just let it hang off your neck like a chain. It already comes in different colours, textures and lengths so it can be suitable for any preference.
You can also wear a bow tie with a twist like in the images below.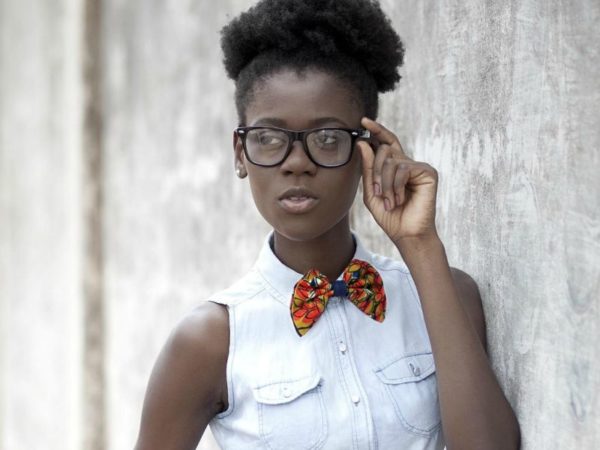 Boyfriend Jacket
Just like the boyfriend jeans or shirt, this style originates from the 'generosity' of the boyfriend. A cold evening, you're walking on the road together, he notices you're cold, still trying to impress you he ignores the fact that he's cold too and covers you in his jacket. Sweet right? Our next piece of advice might not be stellar, but you can keep that jacket and add it to your wardrobe. Tell him you want to always have something of his.
The boyfriend jacket is great for that baggy feel, it's almost like an over sized blazer. Be sure that it doesn't look too big on you. make sure it sits on your frame perfectly. Here, Agness of Ironyofashi dresses up her animal print top with a bright pink boyfriend jacket.
Styling clothes is all about how you wear them, so don't be afraid to always make it your own. Also a burst of colour would never do you wrong. Love to factor in male items to your clothes? Share your tips on how you wear them with us.
Photo Credit: Luux . Chictopia . Glamour . Woohair . Dapperlou . Lovelifepearls . IronyofAshi . Fasugar . Fromthereztothecity . Ladyfashion . FacesofBlackFashion . Tounajblog . Soulpretty . Cinderandskylark . Africaisdonesuffering