Over the weekend, Twitter was really buzzing.
No it's wasn't just about Arsenal FC's big loss (*coughs* #arsenalnymous), nor was it Prada's hideously expensive $ 100,000 coat that a few fashion bloggers were discussing. It was all about the celebrity feuds.
Pop star Lady Gaga and celebrity blogger Perez Hilton went head-to-head on the social networking platform.
And Nigeria had its fair share of celebrity Twitter feud. Entrepreneur/blogger Noble Igwe and fashion designer/style blogger Emmy Collins made the weekend so interesting with their "fight".
It all started on Saturday 17th August 2013 by 6:51 PM when Noble Igwe tweeted at Emmy saying "Someone said of all the red carpet pictures that you analyze, nobody is wearing ANYthing by you, not even a pocket square."

He followed up with another tweet "I really loved Emmy Collins' clothes, but sometimes reading his blog (Diary by Emmy) it comes off as a failed designer attempt at relevance."
Noble later followed up with a series of tweets.
Emmy Collins later responded to Noble's tweet after he said "Dear Emmy Collins , put up a blog post of 20 Nigerian celebrities rocking Emmy Collins on the red carpet in 2013 and earn my respect as a blogger."
Emmy sent out a light response to the later tweet saying "Lollll, but you must agree Emmy Collins pieces are properly tailored".

But the designer who has faced a lot of criticism since he started blogging, wasn't going to back down. He composed a tweet "Noble Igwe you don't really want me blogging, do you? My blog must have take (taken) a toll on your health. Blocking you in a moment too busy."

Noble then let out more tweets. Check it out.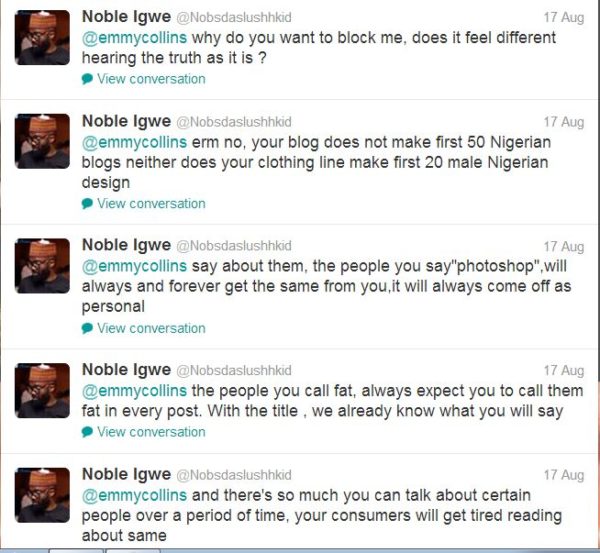 What's your take? Let us know!