I understand how the summer weather can affect makeup and that's why we have created this natural everyday look for everyone to try no matter your skin shade. I used minimal products, so you can easily find them and get your amazing finished look.
1.When creating a natural look, it is important for you to cater to your skin first before applying makeup. Drink a lot of water to give your skin a natural glow and keep it healthy. This ensures a beautiful finish to the skin when you apply foundation.
2. Before applying makeup, ensure your skin is cleansed and moisturized. Dirty skin can clog up your pores especially in hot weather and this would lead to pimples and spots.
3. Now, down to the makeup. I used ELF Skin Primer to help the  foundation stay on longer. ELF is a cheap product but it really does a great job in the summer. However, make sure you use one that is great for your skin. If you have oily skin try to stay away from oil based skin primers.
4. I filled-in her eye brows slightly with a Sleek Eyebrow pencil and then brushed over it with an ELF eyebrow gel. The eyebrow gel ensures all hairs are aligned nicely and also allows the eyebrows stay defined for longer in the heat. The eyebrows were then cleaned up using a studio sculpt concealer and an angled brush.
It's best to use a concealer that is in the same shade as your skin for a more natural look.
5. I then used an eye shadow base for her eye lids to ensure the eye shadow colour pops and stays on for longer. Only 3 different colours of eye shadows where used on her lid.
I used a skin coloured eye shadow to highlight under her eye brow which has a rich earthy tone. Be sure to use an eye shadow that is 1 or 2 shades lighter than your skin shade. I also used a dark brown eye shadow which was blended into her crease and lastly a lovely shimmery gold on  and under her eye lid.
Gold is a great colour for eye shadow and goes with any skin shade. Whether you're very light or very dark there's always the right gold for you. The reflectors on gold eye shadows bounce off the sun making your eyes glisten and pop.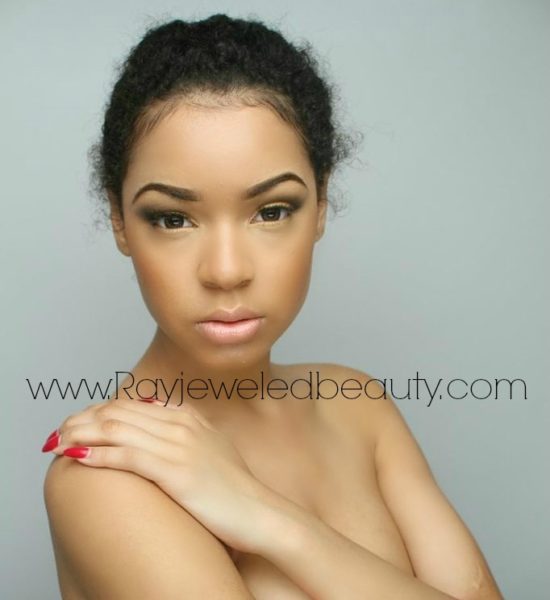 6. I then applied natural eyelashes on the model but alternatively you can just use eye lash lengthening mascara. I later used studio sculpt foundation, lightly using a stippling brush and studio sculpt concealer for under her eyes and any blemishes. Alternatively you can use a BB cream or you can mix your moisturiser with foundation for a lighter coverage.
For that extra glow you should use a bronzer. The one I have used here is the Sleek Contour Kit in medium. Using a bronzer makes the skin look youthful and glow without the makeup looking over done. If you tend to sweat a lot you can use blotting paper. Be sure not to re-apply makeup in the heat, your makeup can look caked and form wrinkles.
7. Lastly, I used a rose pink lip gloss on her lips that really complimented her skin.
And that is the finished look. A natural looking makeup look for those hot days. Be sure to let me know any makeup tip you may have for wearing makeup in the heat.
Photo Credit
Photography: Unistar Studios (unistarstudio.co.uk)
Model: Jojo Lara ([email protected])
_______________________________________________________________________________________________________
Rachel Odunuga is an award winning makeup artist/hair stylist and founder of Rayjeweled Beauty. Rayjeweled Beauty is a beauty company that caters for all types of people taking into account their skin shade and skin conditions. With this we also offer beauty classes when needed. We work on many clients which include brides. We are based in the UK but we also travel around the world when needed.
For bookings visit www.RayjeweledBeauty.com | Email [email protected] | Call her on 07956736261.