Today's beautiful couple – Biola and Hussein's wedding is absolutely tasteful and elegant in every single way.
The most amazing part? BellaNaija bride Biola planned it all in 6 weeks – her traditional engagement, Nikkah, and reception! WOW.
So today we're doing something different – as you scroll through the fabulous photos, you'll hear how the blushing bride made those choices – the cake, the dresses, the colours, why she had no bridal party? and more.
Enjoy & be inspired!
How Biola & Hussein Met
In 2008, a family friend asked me if she could give my number to Hussein, I said yes; he called a couple of weeks after that and we hit it off. Hussein and I dated for 5 years before the wedding. We did the intro just before he shipped out for his stint at Harvard in Aug 2011, and I got the ring when he came home for spring break in March 2012. I still didn't start planning then.
The Proposal
As unromantic as it sounds, there was no proposal. We just always knew where the relationship was going. Although, he bought me a beautiful ring without my input. But he ruined it by handing the box to me and saying "Ehen, see your ring". I then made him get down on his knees to do it right. We laughed the whole time! (Don't judge us) Lol
Wedding Fever
My dream wedding would have been a small elegant affair, with about 200 of our close family and friends. (I don't need to tell you how impossible that is in Lagos). We initially began planning in Dec 2012, but I couldn't handle the stress, so I abandoned the plans in February.
Fast forward 6 months to July, Hussein and I eventually began to firm up ideas for a small ceremony, and decided to stick to the initial dates to restrict the stress to a few weeks. The previous month, I had been in my friend, Feyi's bridal party and I had absolutely loved her wedding, so I caught the "Bridal Fever" again. I got the details of her planner, Arin, and we set up an initial consultation. When we told our parents we had decided to go ahead with the August date, it was exactly 6 weeks to the day. My plan was simple: describe my vision to a planner, sit back and let her execute it. The plan would have worked more perfectly, if not for family interference. The lessons I learned from the experience were tolerance and willingness to compromise.
***
How Biola planned her Gorgeous Wedding in 6 Weeks & All the Lovely Photos!
Bridal Choices: I should state here that I am not a fussy girly girl bride, hence the reason for most of my choices.
Nikkah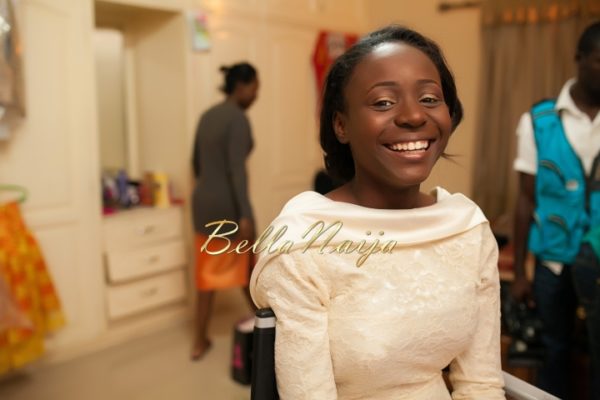 Makeup Artist: Omon of BeautyCook had done my friend Feyi's bridal makeup. Until then, I had not had one good experience with pro MUAs, I never like how I look afterwards. But Feyi and I have a similar skin tone, so I figured Omon would work. I was still sceptical on the day of the trial. I was amazed at how good I looked when she was done. I think she did a good job for the wedding too.
Dresses: I did not want dresses that were fussy or even overly bridal. You see, I have a peculiar style, and depending on you ask, you would get many different one-word descriptions. But I would describe it as "Understated Elegance" (Yemi, you can yimu till your nose falls off). I really wanted that to resonate at my wedding, and more importantly, in my dresses. I had a consultation with Ejiro Amos-Tafiri and she sketched my dresses! Unfortunately she had to go out of town, and couldn't start until three weeks before the wedding. Everybody told me I was crazy to go ahead with it. But I sort of felt an inexplicable kinship to Ejiro, and I really wanted her to make the dresses. Of course, it meant I had to do all my own fabric shopping (enter Designer's Muse), and I had one or two panic attacks. But in the end, I don't regret sticking with Ejiro.
Bridal Party: I decided against a bridal party because nearly all of my close friends and close female family members are older, and it just didn't fit right for me (I'm a Yoruba woman 🙂 Plus I just felt it would all have been a bit ceremonial, which I didn't want, I wanted them to have fun! Also, I knew I didn't have to give them a title to have them right by my side. Hussein also made it an easy decision because he really wasn't fussy about the whole thing.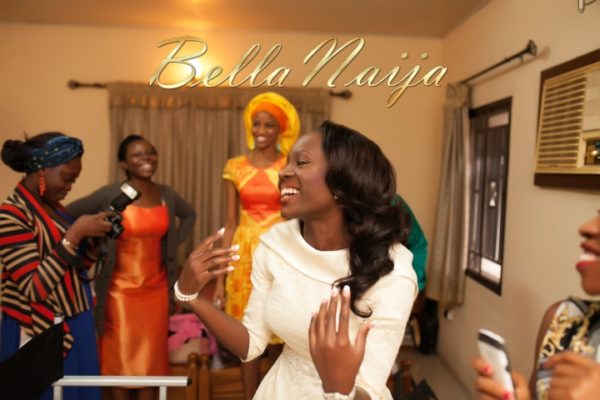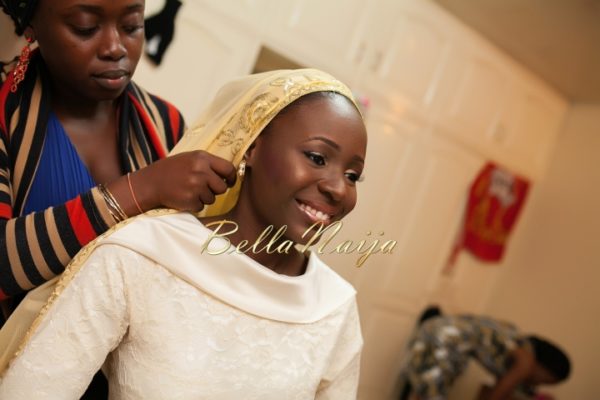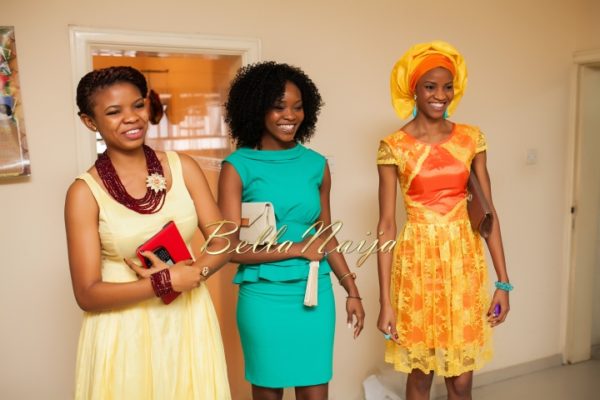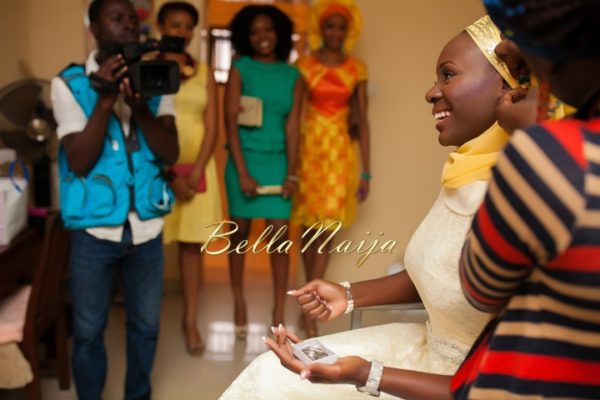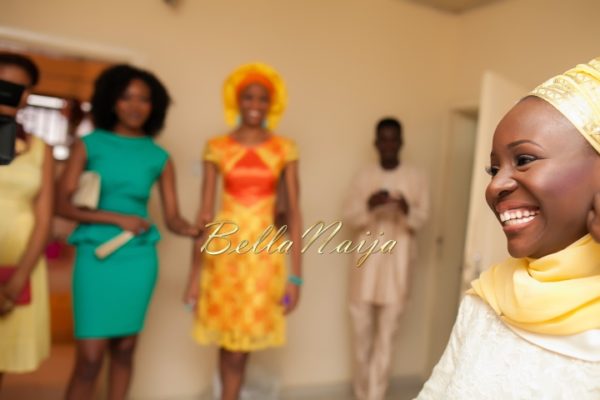 Wedding Color: Yellow is such a subtle, elegant colour. I can't really remember when I decided on it, probably sometime between adolescence and adulthood.
Bouquet: I decided against a bouquet because, again, I'm not a girly girl, I didn't want to have to carry one. Also, I really did not want to do the bouquet toss, I've always felt it was a good way to embarrass your single girl friends.
Venue: The venue (Civic Centre) was my parents' choice. Left to me, we would have done it in my father's compound, or the guest house in the estate.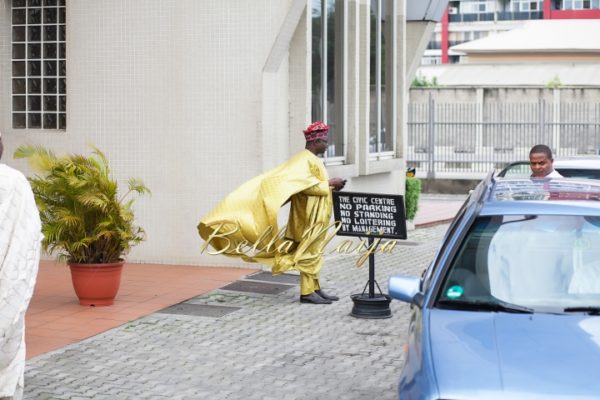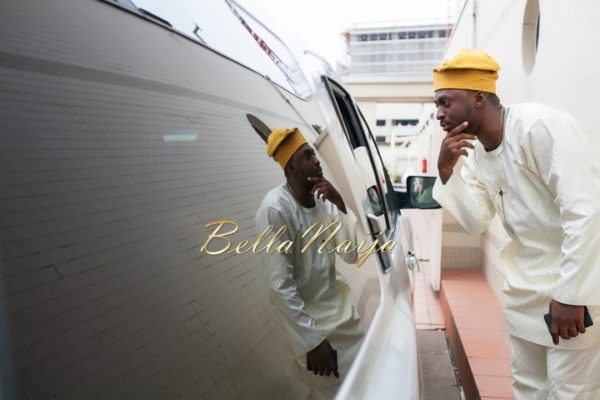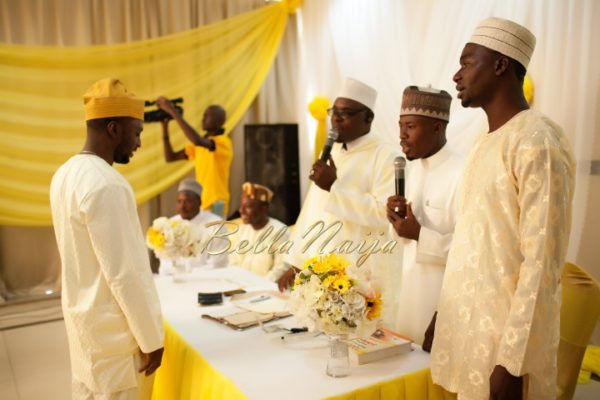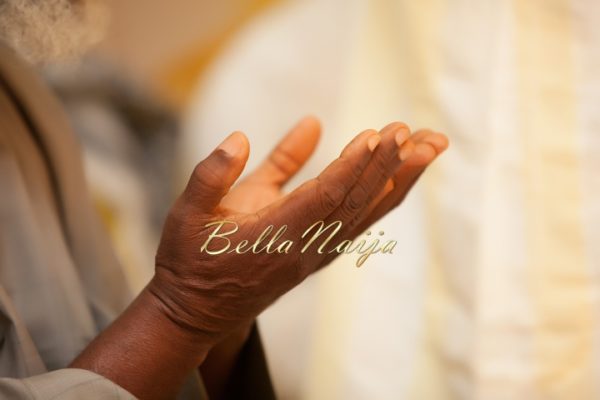 Aso Ebi: This was my gorgeous sister's idea. Left to me, my friends could have come in white if they wanted. Also, Designer's Muse made it fun.
Photographer: I had selected a photographer who started acting flaky the moment I made a deposit. I agonized over it, until I decided to get another photographer a week before the wedding. Enter, Lumi Morgan. Although I had to spend a lot more money than I had budgeted on photography, trust me when I say it was worth every penny.
Cake: I have always loved the Ombre concept! It was a eureka! moment when I stumbled on a pink ombre cake on www.theknot.com – Every bride-to-be should bookmark this website  (Editor's Note: Every bride should bookmark BN Weddings – www.bellanaija.com/weddings too – 🙂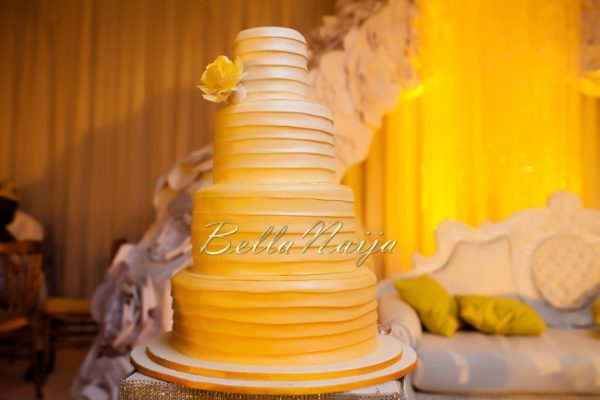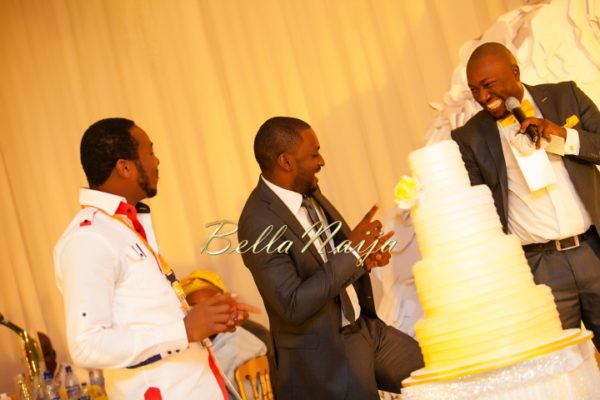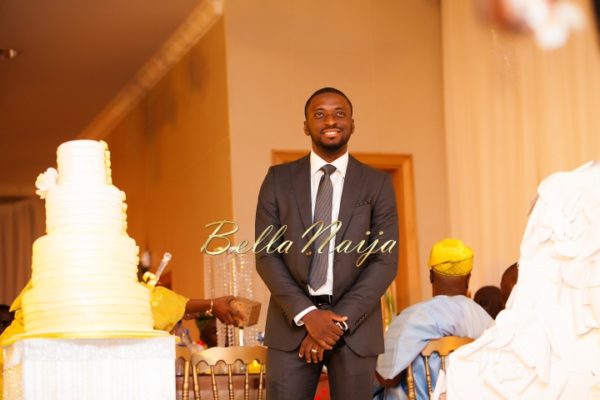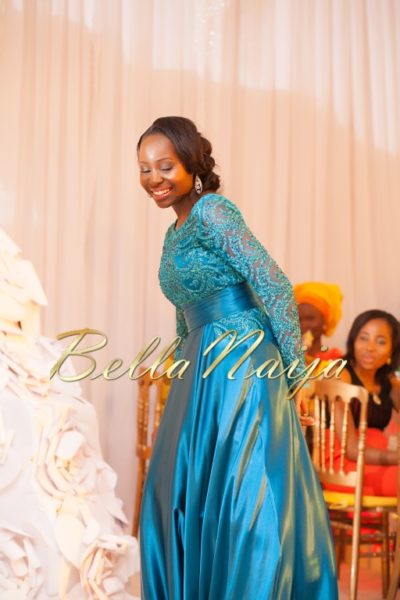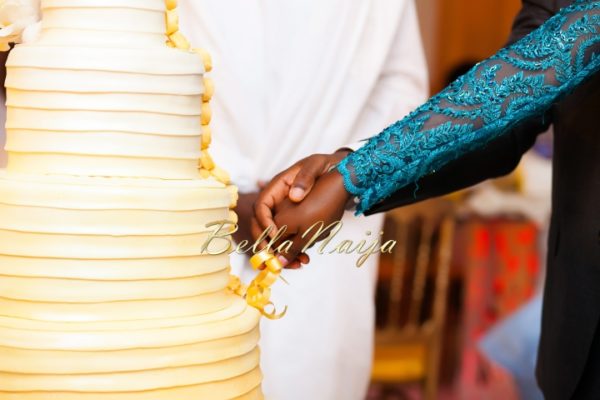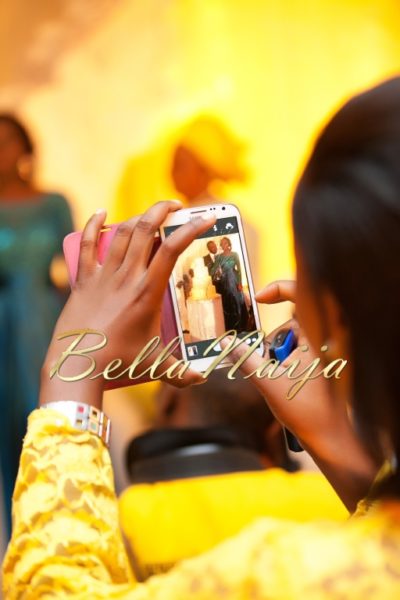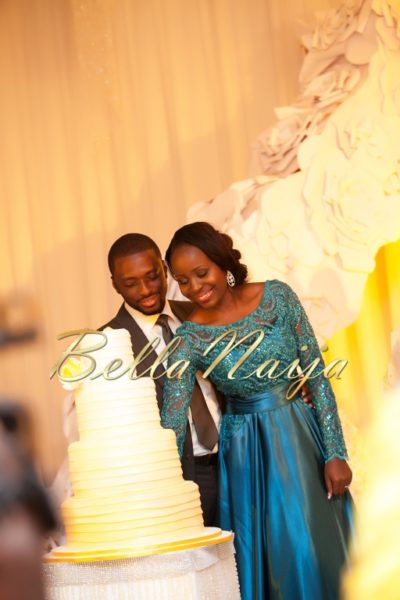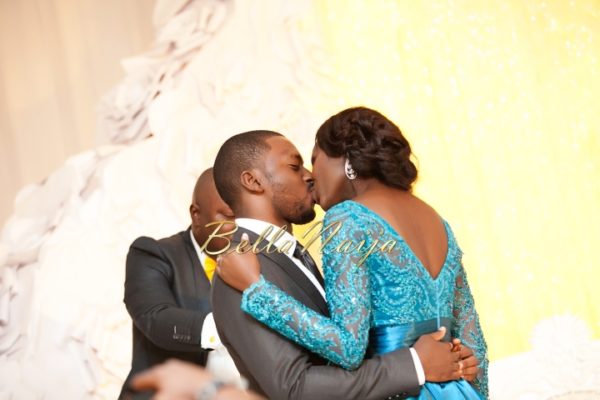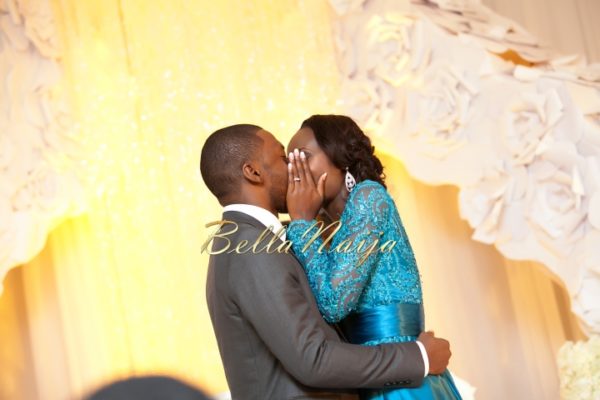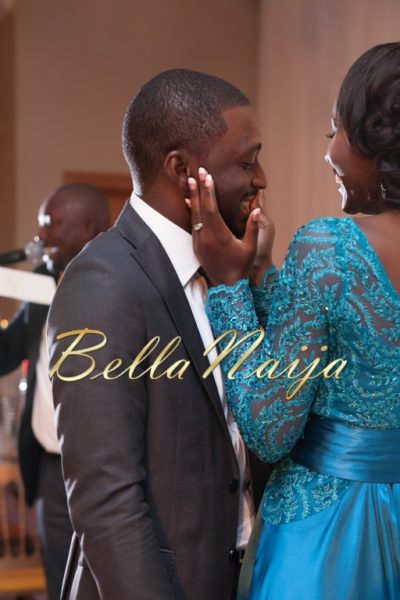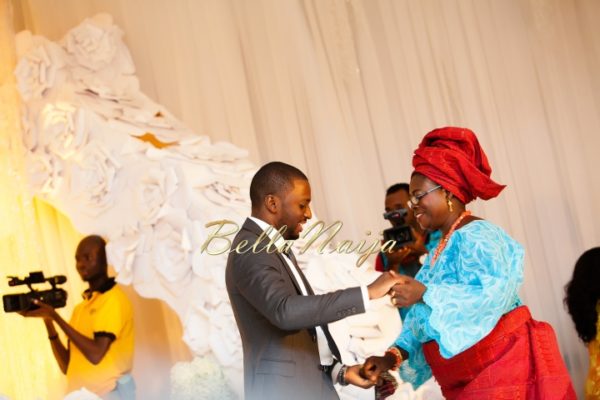 Father-Daughter Dance: I'm a huge country music fan. And I found my father-daughter song, "I Loved Her First" by Heartland back in 2008, when I first found country music. I cried the first few times I listened to it. I nearly started crying when my dad and I danced to the song. It was very emotional.
First Dance: For our first dance, we chose Jason Mraz's "I Won't Give Up". Everytime I listen to the song, I feel like it was written for us. The song is so spiritual and it conveys our determination to stick it out, a determination every couple should feel. During the dance, it felt like we were making vows to each other.
Engagement Outfit: I decided to do a blouse instead of a buba because bubas never look good on me. So I chose the blouse with loose sleeves. I got the fabric from Designer's Muse (DM).
The Beads: I just wanted something different. Bolaji of Nouva Couture does different. She crocheted this baby!
Update – Let's talk budget! Beautiful Biola wanted to share the financial part of the planning process
Back in December 2012 when I first caught the "Bride Fever", my family and I had a very open discussion about the wedding budget. My dad, who would rather spend his Saturdays parked in front of his TV watching Arsenal get trounced for the umpteenth time than attend a wedding, was upfront. He did not see the point of spending a lot of money on a wedding.
He said he would give us N2m and disbursed half the following day. My sister and my mum were not happy to say the least. Me, I was okay. I am more my father's daughter than I am my mum's (not in the soccer fanaticism). As I said, I had always wanted a small wedding, and I knew Hussein and I had set aside N1 Million (combined, not each) for the wedding. My mum offered to add N500,000. So essentially, I had a budget of N3.5 Million. I'm a numbers girl. I drew up my spreadsheet (there are so many wedding budget spreadsheets online, just Google!) and I fit in the most important aspects of a wedding in it. i.e. the venue, food, drinks (cheap cos I had a dry party), my outfits 🙂 etc…
You would notice here that I did not include money from my in-laws to this initial budget. In fact I did not include money from anybody outside of my parents' commitments and what we had set aside. It was because, unless I received an outright commitment, then I could not bank on it.
Fast forward 6 months to July when we made the decision. I took my budget to my initial consultation with Arin (planner extraordinaire), and I had a very honest open discussion about my budget with her. In fact, I asked if she could work with the budget, and she assured me that she could. I had invested the money my dad had disbursed, so I immediately liquidated this (plus interest), and what we had set aside too. This was enough to get the ball rolling. I was a total Nazi about that budget, let me tell you. If my sister, Yemi suggested anything to me that was outside my budget (and she suggested plenty!), I immediately told her to drop the money, and she does or she goes to my dad to guilt-trip him into dropping it. Also, a big decision Hussein and I made was that cash gifts we received before and during the wedding would be used to replenish our savings, and not for the wedding (this is tougher than it sounds, but we did it).
Now the venue, I don't need to tell any Lagos resident that unless you're a big man's daughter, venues often take the largest chunk of a Lagos wedding budget. So I had decided a way-around: We use our compound or the guest house in the estate. This way, we only spend on the rental of domed tents (no need for N1m marquee, no rain in August), Air Conditioners, Fans, Rugs and tables (the chairs were in the budget because I wanted Chiavari :)). I think I estimated that all this would cost between N300,000 to N400,000. My dad wasn't having any of it. Left to him, it didn't befit a wedding ceremony. My response was: "ïf you want befitting, you gotta pay for befitting". The budget just could not handle a Civic Centre. It would have been a stretch to even do any of the nice cheaper ones. So I told him if he did not want any of my cheaper options, he had to pay for the venue separately. He paid for Civic Centre. My father-in-law wanted more guests, so he paid for the smaller hall, the extra food, drinks etc… I did not want an MC, my father-in-law did, so he paid for Larrie Peniel (who did a good job, by the way).
What is the secret to keeping a wedding within budget? A good planner (and a firm bride). The planner needs more than just organizing skills. The most valuable skill to you is the planner's negotiation skills. A planner must have experience and connections, relationships with good vendors. That's what Arin had. She got prices that were sometimes a 100k cheaper than what I had gotten when I was shopping around in December. This is not an exaggeration. Arin is worth her weight in gold. Unfortunately, I couldn't afford to pay her that. I was such a satisfied customer that I paid her a bonus. Albeit a very small one, but still!
***
Hope you enjoyed our lovely wedding today. If you were inspired, we'll love it if you share!
~ Photography by Lumi Morgan | 08075355479 | lumimorgan "at" gmail.com
Wedding Details
Wedding Date: 18th August 2013
Venue: Civic Center, Lagos
Wedding Attire
Hair & Makeup: Omon of Beautycook Studio
Fabrics including Aso Ebi & Reception dress fabric (except aso-oke):  Designer's Muse | SMS: 08035962268 | BB Pin: 2AEFEF60 | designersmuseng "at" gmail.com
Engagement Jewellery: Nouva Couture
Bridal Belt for Nikkah: Omote's Jewellery
Groom for Reception: Charcoal suit by Zara
Aso Oke for Engagement: Molbaks Alaso Oke
Nikkah and Reception Dress: Ejiro Amos-Tafiri | 08037795790
Vendors
Event Coordination: Arinola Idowu for Savvy Events | Contact: 08090962030
MC: Larrie Peniel
Decor: Arin Idowu of Savvy Events in conjunction with Aquarian Touch
Ombre Wedding Cake: Dream Treat – Awolowo Road, Ikoyi
Food: Kemabom
Drinks & Cocktails: Sunset Cafe
Dessert: Liscious
Small Chops: 12 baskets
Invitations: The Wedding Store
DJ: Baggio
______________________________________________________________________________________
We love weddings as much as you do – get in touch for inquiries, inspiration & more!