black|Up, the first professional Makeup Artist brand created and specialized for black and ethnic skin, has once again transformed the cosmetics experience with a new range of products.
The upscale cosmetics line of unprecedented elegance and luxury, brings yet again another season's MUST-HAVE. They are the cream to powder foundation, CC Cream (Colour Control or Colour Correcting Cream), vibrant blushes and makeup artist brushes.
Perfection is the one word that defines these new products. They will give you the much desired flawless look that will make your man say those three words you've always wanted to hear — "Oh là là". The new range is everything makeup should be silky smooth and long lasting. And the new makeup artist brushes ensures it stays that way.
Here are the four brand new black|Up products worth putting on your shopping list. The unique cream to powder foundation, innovative CC cream (Colour Control or Colour Correcting Cream), new vibrant blushes and make up artist brushes.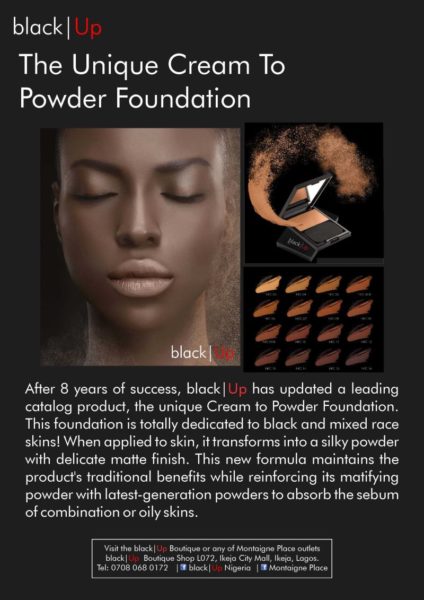 After 8 years of success, black|Up has updated a leading catalog product, the unique cream to powder Foundation. This foundation is totally dedicated to black and mixed race skins! When applied to the skin, it transforms into a silky powder with a delicate matte finish. This new formula maintains the product's traditional benefits while reinforcing its matifying powder with latest-generation powders to absorb the sebum of combination or oily skins.
black|Up has developed the very 1st CC cream suitable for dark skins. This is an innovative beauty product that revolutionizes the beauty ritual of women of colour. It targets dark skin's specific problems of excess sebum, uneven skin tone, unbalanced skin, lack of radiance, dark creamy texture captivates immediately.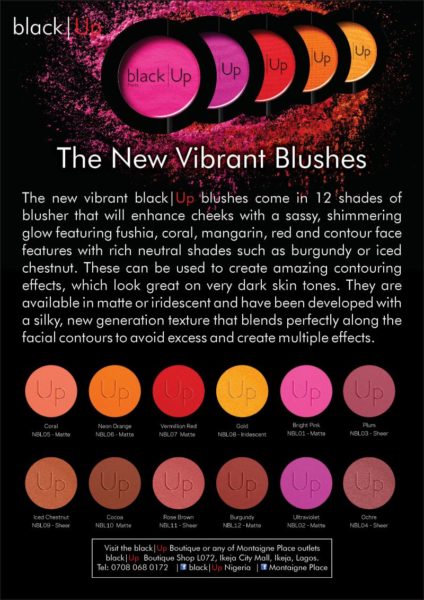 The new vibrant black|Up blushes come in 12 shades of blusher that will enhance cheeks with a sassy, shimmering glow featuring fushia, coral, mangarin, red and contour face features with rich neutral shades such as burgundy or iced chestnut. These can be used to create amazing contouring effects, which look great on very dark skin tones. They are available in matte or iridescent and have been developed with a silky, new generation texture that blends perfectly along the facial contours to avoid excess and create multiple effects.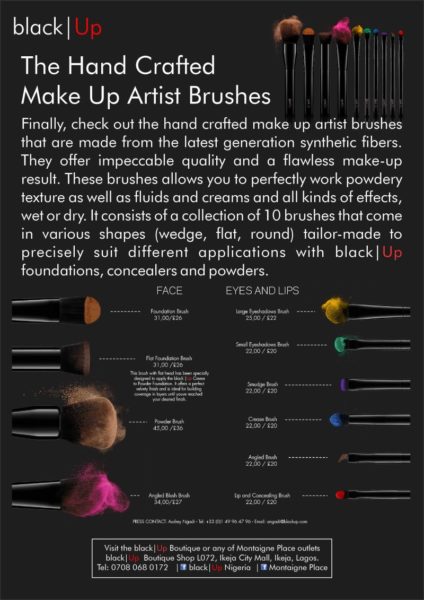 Finally, check out the hand crafted make up artist brushes that are made from the latest generation synthetic fibers. They offer impeccable quality and a flawless make-up result. These brushes allow you to perfectly work powdery texture as well as fluids and creams and all kinds of effects, wet or dry. It consists of a collection of 10 brushes that come in various shapes (wedge, flat, round) tailor-made to precisely suit different applications with black|Up foundations, concealers and powders.
The first international stand alone black|Up boutique was brought to Nigeria in June 2012 by Montaigne Place, the exclusive partners and retailersof the black|Up brand. Montaigne Place is a clear leader in the beauty industry, making beauty history for over a decade.
Visit any of the black|Up Boutiques or any of the Montaigne Place outlets
black|Up Boutique
Address: Shop L072, Ikeja City Mall, Ikeja, Lagos.
Tel: 0708 068 0172
Like black|Up on Facebook: black|Up Nigeria | Like Montaigne Place on Facebook: Montaigne Place
Visit Any Of Montaigne Place outlets:
Address: Plot 226b Muri Okunola Street, Victoria Island, Lagos
Tel: 01 270 5596 | 01 270 3735 | 01 894 1717, 0803 713 0408
Facebook.com/Montaigne Place | Facebook.com/Murad Nigeria
Or Visit any of Montaigne Place outlets nationwide.
Montaigne Place
Address: Shop 16, Palms Shopping Centre, 1 Bis Way, Lekki Expressway, Victoria Island, Lagos.
Tel: 01 851 7774 | 0806 486 3969
Montaigne Place
Address: Shop 8, Air Side, Departure Level, New Murtala Mohammed, Local Airport, Lagos.
Tel: 01 279 9889
Montaigne Place
Address: Shop 10 Land Side, Departure Level, New Murtala Mohammed, Local Airport, Lagos.
Tel: 01 448 2230
Montaigne Place Shop
Address: Ikeja City Mall, Shop L033, Obafemi Awolowo Road, Alausa, Ikeja
Tel: 0819 045 0712
Montaigne Place
Address: Shop 8, Adebola Shopping Mall, 53 Isaac John Street, GRA Ikeja, Lagos.
Tel: 01 270 7913
Montaigne Place
Address: Shop B7, Adeniran Ogunsanya Shopping Mall, Adeniran Ogunsanya Street, Surulere, Lagos.
Tel: 0813 029 5258
Montaigne Place
Address: Silverbird Entertainment Centre, 1161 Memorial Drive, Cadastrial Zone, Central Business District, Abuja.
Tel: 0819 180 7807
Montaigne Place
Address: Grand Towers Abuja Mall, Plot 232 Cadastal Zone B14, Dutse, Abuja.
Tel: 07045334520
Montaigne Place
Address: Ground Floor, Worldway Plaza, 129 Aba Road, Port Harcourt, Rivers State.
Tel: 084 462 975
Montaigne Place
Address: Genesis Center, Shop 2b1, Tombia Street, Gra Phase 2, Port Harcourt.
Tel: 0819 045 0711
Montaigne Place
Address: Happy Bite Plaza, 1 Stadium Road, Opposite Air Force Base, Aba Road, Port Harcourt, Rivers State.
Tel: 0819 180 7805
Montaigne Place
Address: Shop G39 7 G40, Polo Park Mall, GRA, Enugu
Tel: 0704 533 4519
For Press Contact email Ono Bello | PR UNO at [email protected]
______________________________________________________________________________________
Advertorial – Sponsored Content