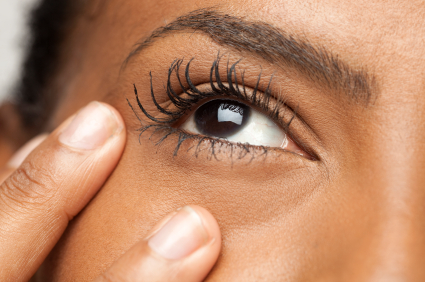 I remember when I was young and had a full forehead of eyebrows. Then, I didn't care what people saw on my face, but my sisters did. One fateful day, my sisters sat me down and asked me to pick between a razor blade and tweezers to pluck my eyebrows into shape. I had heard about the pain that accompanies tweezing, so I gladly went for the razor.
Sadly, a razor blade is more difficult to control when you aren't a professional. When my sisters were done, I was left with a patchwork of short and long eyebrow hair. I never really recovered, but I thank God for eyebrow pencils.
Even though I enjoy drawing perfect brows, every now and then I see that one girl that has full and healthy eyebrows that make me feel like building a time machine and stopping myself from getting rid of my natural eyebrows. Oh well, we are already here, and frankly if PHCN cuts the light while I'm mid-time travelling, dinosaurs might come back.
Today, instead of feeling bad and saying the girl with full eyebrows "is probably mixed race", here's one of many great recipes to help you get back what you lost – full eyebrows.
What you Need
Castor Oil
Witch Hazel
Cotton Swabs
A Clean & Dry Mascara brush 
How
1. Start off with a clean face. Take a cotton ball and apply the Witch Hazel to it sparingly then rub on your eyebrows. The substance gently exfoliates and cleans while removing build up from makeup etc. Be sure to use 100% natural Witch Hazel because other types may irritate sensitive skin.
2. Take a clean mascara brush and use to brush the eye brow hair upwards. This aids distribution of the hazel and lifts any fine hair that may not have been touched by the hazel.
3. Take a drop of Castor Oil and rub into the brow gently. This aids moisturizing and strengthening. Try not to add too much to your brows so they do not look oily.
You can also adds some Castor Oil to your eyelashes to aid in growth as well.
4. Track the progress of your brow growth from start to finish so you can see the progress as you go along. In the case of tweezing, shaping etc, switch to using a small eyebrow scissor to occasionally trim stray hairs into shape.
Remember that this isn't set in stone and there are a lot of other methods and recipes for longer eyebrows. If you have any tips on how we can grow our eyebrows, don't forget to share.
Photo Credit: Healthyyounow.com | iHearb.com | Charbearbear.com | Firstaidmonster | Wellwellbeauty.com