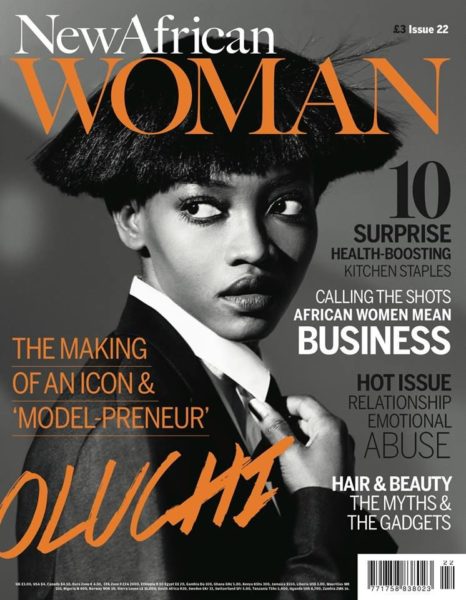 With the impending launch of her TV Show "Africa's Next Top Model" which is currently being filmed and produced, real estate investments and more, Nigerian supermodel Oluchi keeps expanding her business interests.
Oluchi is the cover girl for New African Woman Magazine's October 2013 issue!
This edition focuses on amazing African women calling the shots and shattering the glass ceiling. Look out for more scoop on the October 2013 issue of NAW on BN. Right now, it's all about Queen O!
Check out the covers and cover shoot which was shot by Remi Adetiba.
Bonus!
The concept of the shoot was to interpret this into various leadership roles from corporate executive to queen (on a life-size chessboard). Each video is scored with a different song by Fela Anikulapo-Kuti.
Menswear

Queen

Military

Portrait

Cover Shoot Credits
Photographer: Remi Adetiba
Fashion Stylist: Prince Riley
Hair: Alyn Martin
Makeup: Romana Lai
Portrait in Background: Special commission for NAW shoot by Borbay
Studio: Image Powerhouse Studio, NYC
Dress: Tanzania's Mustafa Hassanali