Closures have become a must-have hairpiece for every hair conscious woman. The use of closures are not restricted to women with natural (un-permed / un-relaxed) hair and those with scanty or reseeding front hair-lines only but can be used by every woman.
It has become common knowledge that our natural hair textures do not always blend well with Indian, Brazilian or whichever hair type you choose for your weave. So, if you're having trouble with blending bald spots, thinning edges and breakage, closures are your best alternative. Here are a few things you should know about closures.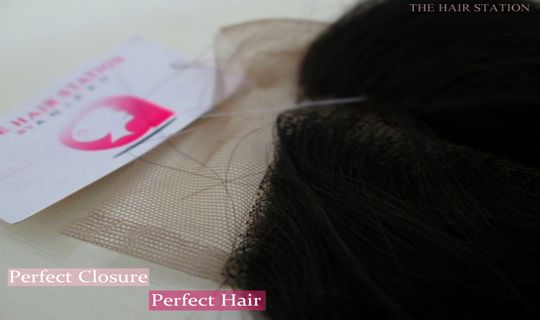 1. You have to remember that lace closures are not frontals; however, a frontal can be considered a closure. A lace frontal is a hairpiece with an ear-to-ear coverage area intended to mimic one's own hairline.
2. The first thing to remember when choosing a closure is to know that all closures are not made equal. They are of different sizes. We recommend lace based closures because they lay flatter and are more breathable.
3. Closures are limited to the crown in terms of coverage area. Though the back of a frontal can be sewn or clipped-in with ease, the best and suggested application method for the hairline of a frontal is bonding. Liquid or tape adhesive is applied sparingly to the thin transparent lace mesh around the frontal & secured directly in front of the edge of the natural hairline. Swiss lace frontal pieces are practically invisible when applied correctly.
4. A common mistake that women with little hair make is using glue for their closures instead of sewing it in. This is bad and could lead to hair loss. It is advisable the closures are sewn and not glued to avoid loss of hairline and destruction of closure.
5. Those who are very familiar with wearing weaves know that the most important part of it all is to make sure the area at the front hairline & crown area is well blended.
6. Many who wear sew-in or bonded weaves use the lace closures to cover the top area of the head where the weft hair (track hair or weaving hair) is bonded/sewn down. Closures are used to cover the area that is known to many as the "horseshoe" and can be worn as a protective style to avoid leaving any hair out with a full head of weave.
7. You can apply closures with weaving thread or with liquid/tape adhesives. No one will ever know it's not your natural hair growing out of your scalp.
8. Next, you should be sure that after picking the right material for your closure, it is tinted to match your scalp. Tinting your closure ensures that once applied to your head, you can properly part, pull back, twist, and style the hair any direction you desire.
9. Always ensure a skilled professional installs the closure for best results.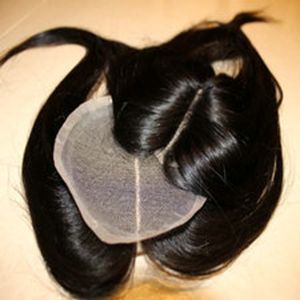 There are many other types of closures apart from lace. Check them out.
Silk Closure: This is a silk base with individual strands of hair as opposed to wefts. Its freestyle parting offers versatility and the fabric is thicker and more durable than the lace closure. It also has a demarcation line (the point at which the skin and closure meet), is more visible than lace closures, easily conceals natural hair underneath and has a tendency to be light in color but can be tinted. Its knots aren't (usually) visible and don't need to be bleached due to the density of the silk. Plus it is breathable i.e it allows for some ventilation to go through the hair.
Skin/Polyurethane Closure: This closure has a thin, flexible silicone or polyurethane base that provides the illusion of a scalp It is not breathable but very durable, accommodates various attachment methods and is not suggested for wear in hotter climates due to lack of ventilation.
Monofilament Closure: This closure is a mesh with the highest durability of all closures. It is applied in a single (mono)- strand (filament) method and the hairline is undetectable, ideal for hairstyles with full bangs and stiffer than lace so the original shape is maintained effortlessly. This closure has an almost completely transparent base, increases a realistic look and the natural scalp shows through.
Combination/Hybrid closure: This features more than one material is monofilament based for increased longevity with lace at the edge for an inconspicuous front hairline. The density is heavier on the monofilament portion & lighter on the lace. Its lace combined with flesh-tone silk is another combination representing the natural scalp & hairline. It is breathable and the silk can be dyed if desired.
Invisible Part closure: The Invisible Part Closure is composed of machine-wefted hair sewn onto a net/mesh base. It has a split oblong-shaped design, is positioned and affixed around an actual part in client's hair.
Its part must be straight but can be secured at an angle and its depth of part can be manipulated with no hairline included.
Don't forget to comment on any tips or information you might have on types of closures and how to maintain your closure. Have a great day.
_____________________________________________________________________________________
Anirah is a women oriented brand. We are creating an experience that projects value in all that a woman desires. The Hair Station is the first product of Anirah which is a one stop solution to all a woman's hair needs. With The Hair Station we have created an atmosphere that offers high quality hair extension pieces, hair care products, hair styling tools and hair accessories. Visit their store at 2nd, Floor Pentagon Plaza, 23 Opebi Road Ikeja Lagos or visit their website at www.anirah.com

Photo Credit: Anirah Hair
Additional Photo Credit: Zimbio