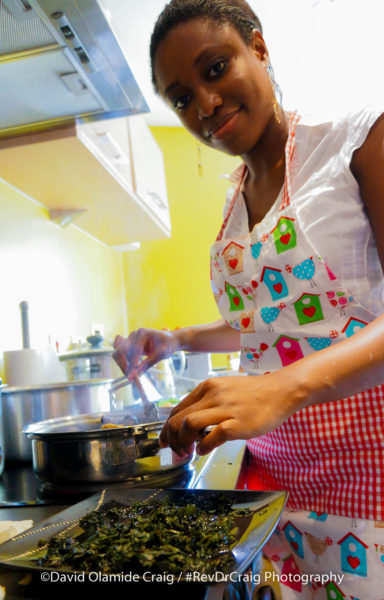 Will it be unpatriotic of me to start with the sentence I find Italians totally fascinating? Honestly, I really do. My cousin Adun calls them White Nigerians and I laughingly agree. With keen observation, you can't help but find some semblance to us, some sort of kindred spirits connection.
Making a Nigerian styled Pizza – The inspiration behind this experiment came from 'Puff Puff'. Italians have their own version called Zeppole. I remember sitting outside a small family run ristorante a few steps from Piazza Navona and the waiter passed by with this plate of what looked like puff puff. I squealed in delight (yes, i love food like that) quickly asking him what that was.
Despite finishing off a generous portion of the utmost delicious Lasagne, I asked for Zeppole. The plate arrived with this puff puff that was doused with cinnamon and icing sugar. It was good.
With my humorous opinion of a similarity between Italians and Nigerians, I decided to explore a fusion of food and cultures by creating a Nigerian styled Pizza. I mean, everything on a Pizza, has a possible Nigerian substitute. Funny how no one has thought of doing so before.
I have seen a couple of pizza recipes written by Nigerians and it is just a replica of a Western Pizza, nothing indigenously Nigerian. In the spirit of experimenting, I decided to give this a go.
What You Need
Pizza Dough
1kg of '00' grade plain flour
a pinch of salt
650ml warm water
2 sachets of dried fast action yeast
1 tablespoon of sugar
4 tablespoons of Olive oil
Ata din din – fried red stew will serve as Pizza Sauce
4 large tomatoes
1 small onion
1 small stump of Ginger
2 pieces of Scotch bonnet pepper
1 Tatashe – red bell pepper
Sunflower oil – use your choice of vegetable oil
For herbs I used Efinrin – scent leaves (substitute with basil)
1 teaspoon of curry powder
1 teaspoon of dried thyme
2 Knorr chicken cubes
Salt
Nigerian Toppings
Kilishi
Goat Meat – cooked
Beef – cooked
Pomo (cow skin) – cooked
Cow Leg – cooked
1 tablespoon Suya spice
1/2 Red onion
Dried chilli flakes – substitute with dry pepper
Wara – local Nigerian cheese (substitute with Indian Paneer/lumpy cottage cheese)
1 piece Ata rodo – scotch bonnet/habanero pepper
2 pieces of Green Shombo – green chilli
Uziza (hot leaf) – another herby addition
A taste of Italy
Mozzarella – what is a pizza without at least one Italian ingredient?
How To
You start with the dough first as it will need 45 minutes – 1 hour to rise. '00' grade flour is the best for making pastry or pasta. Alternative terms are type 00, Tipo 00 or Pastry flour.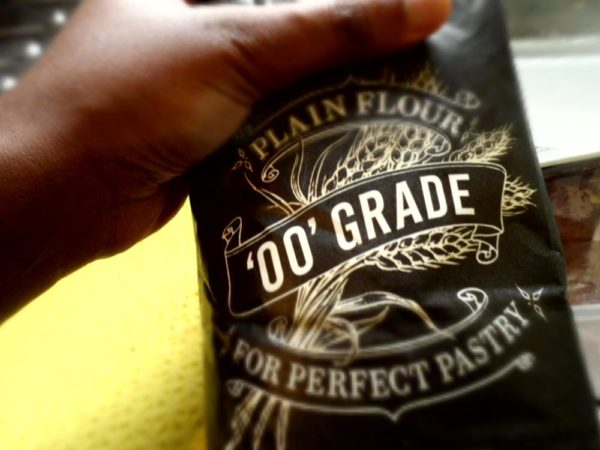 Sieve the flour into a big bowl and add a pinch of salt.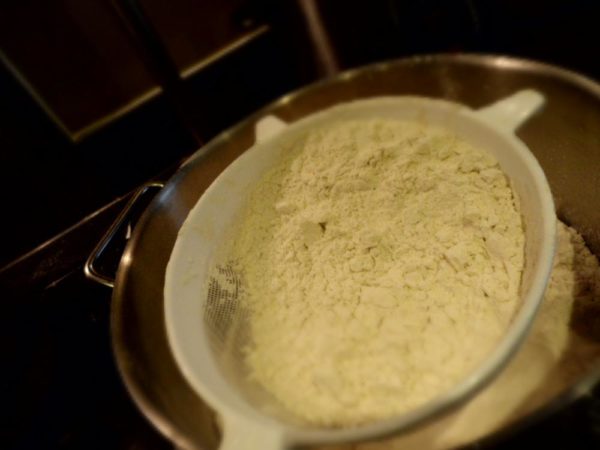 In a cup, mix in 650mls of warm water, the yeast, sugar and olive oil.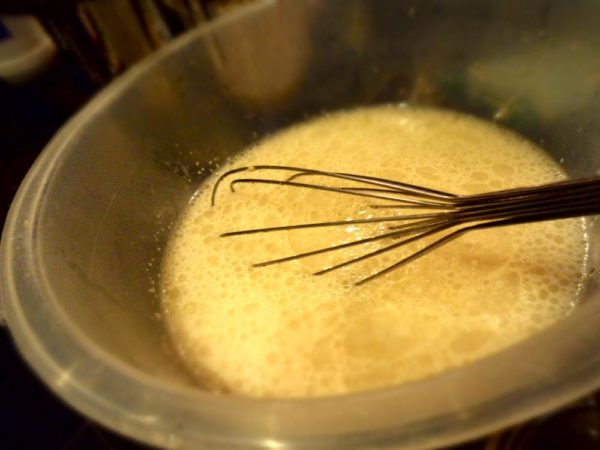 Leave for 10 minutes to allow the yeast to activate, which will cause the solution to turn frothy. It MUST be frothy, if not, this means the yeast is not active. Wait a few more minutes, if nothing changes, I'm afraid you have to dump the mixture and make a fresh batch. Ensure that the water is warm. Not hot (will kill the yeast), not cold (it won't activate the yeast), but warm.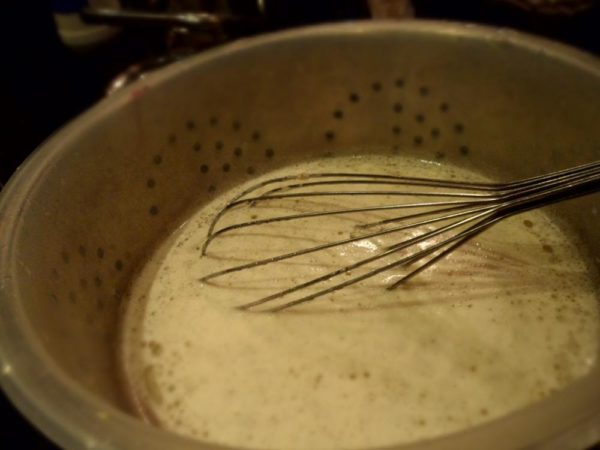 Make a well in the flour, add in the frothy yeast mixture and combine with your hands. This is a very sticky dough to start with. Don't panic. Rinse off your hands, cover the bowl with a moist tea cloth/napkin and leave in a warm place e.g kitchen cupboard to allow the dough to rise for 45 minutes to 1 hour. I found 1 hour to be the better option.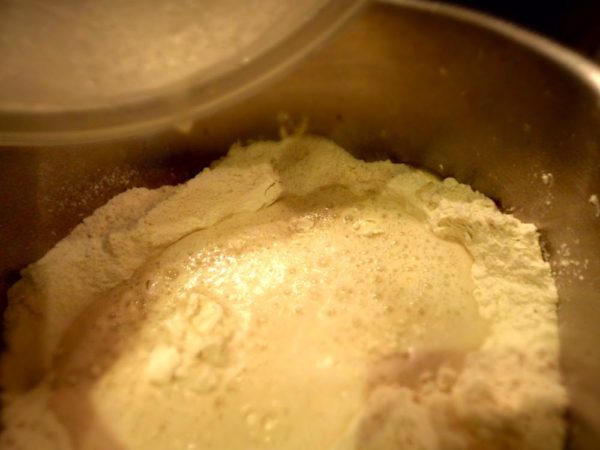 It should look like this after an hour.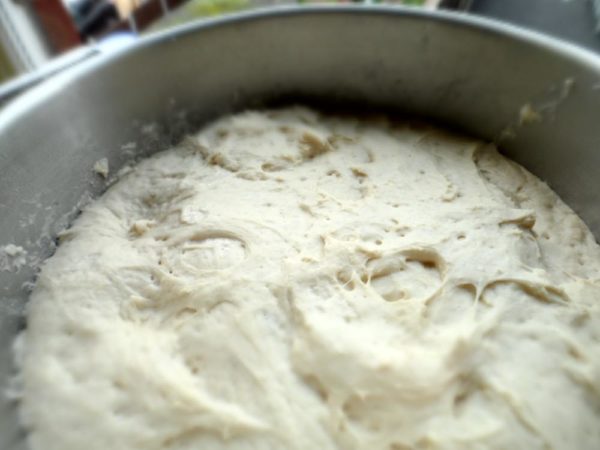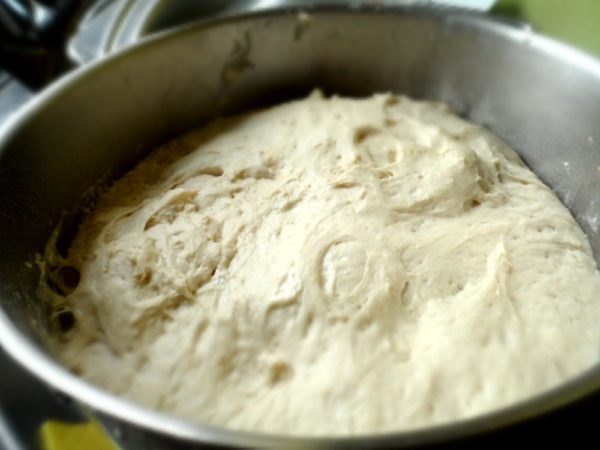 While the dough is rising, make the 'Ata din din'. This is the stew commonly served in Nigerian homes.
Blend all the fresh ingredients, and boil down till it reduces to half its volume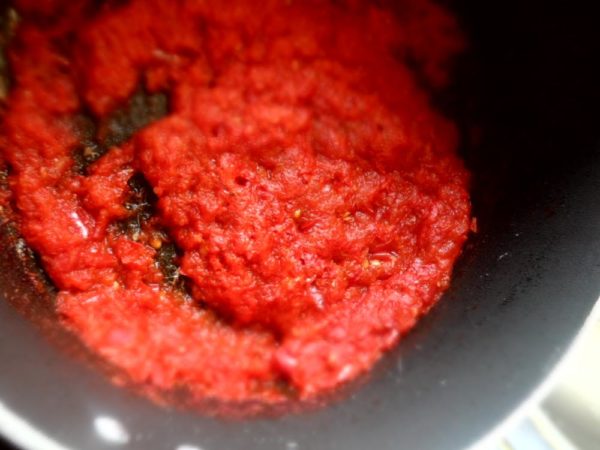 Heat up a little olive oil in a pan, add the pepper to the pan plus all the seasonings listed above. Fry the pepper until the oil takes on an orange colour. Fry the stew till it becomes thick.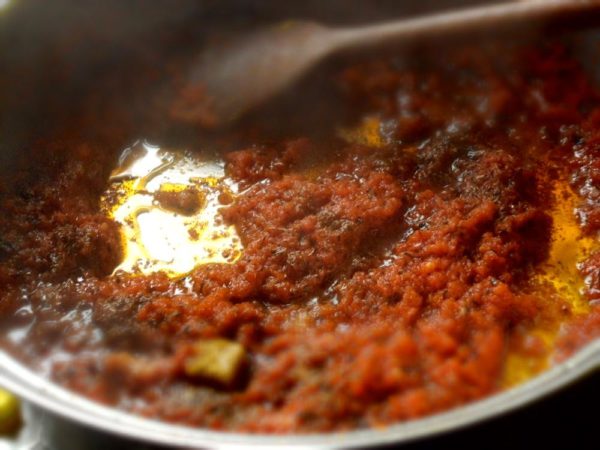 Add beef stock or water to dilute it, to take on the consistency of a sauce. Remember, if it's too watery, it will soak into the dough. If it's too thick,  it will burn when the pizza bakes. Once it has diluted, add chopped 'Efinrin'. This will give the sauce an amazing scent. Remember to taste for salt and seasoning cubes. I only had dried efinrin, so I soaked it in hot water, blended it and added to the sauce.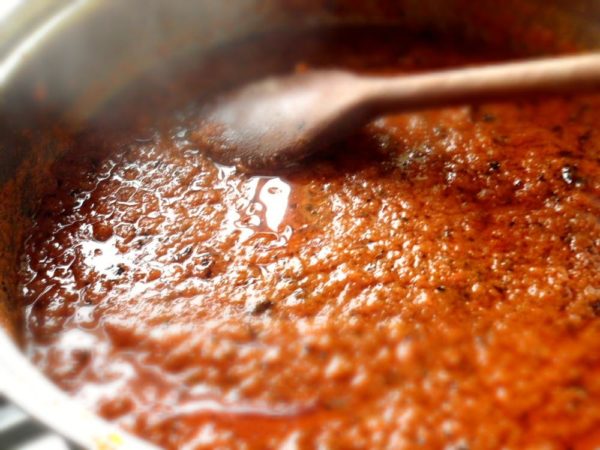 Now to the toppings.
To prep the 'Kilishi', I simply shredded it into bite sized chunks and soaked in 1/4 cup of hot water for hours to soften. It is advisable to do this step hours before you start as Kilishi is very hard like beef jerky and needs a long time to soften.
It will go from this…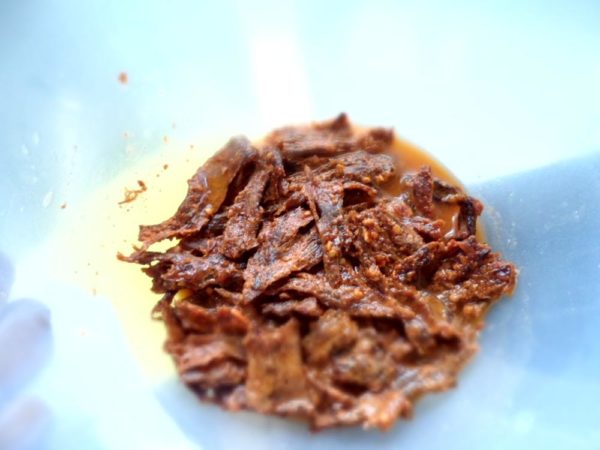 to this…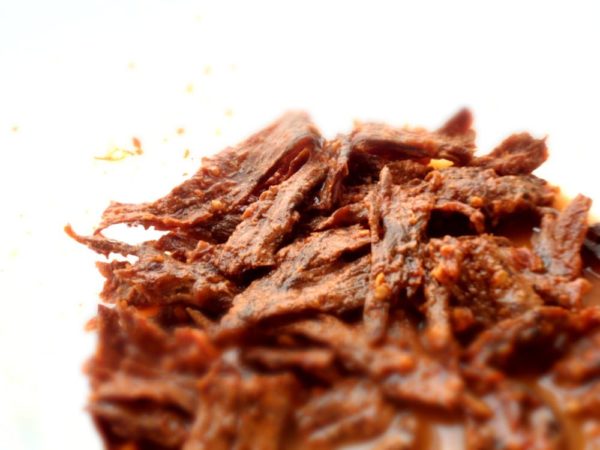 Chop the boiled meats, pomo and cowleg into cubes, lay on a baking tray sprinkle over suya spice, chopped red onion, dried chilli flakes (or dry pepper) and a little olive oil.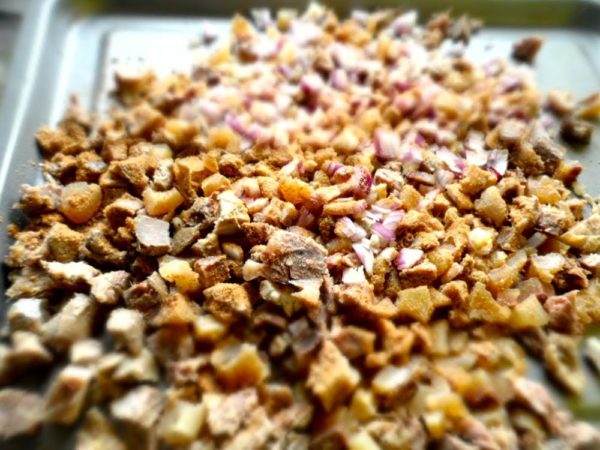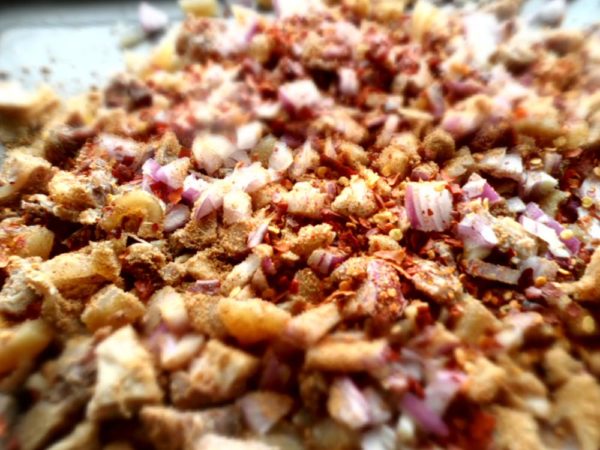 Alternatively you can fry the meats, but grilling is the healthier option.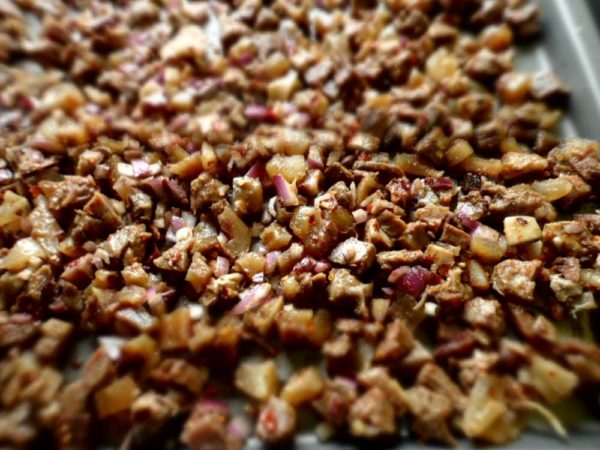 Cheese – a very important ingredient in pizza. Of course, we have a local Nigerian cheese called 'Wara'. It is commonly sold in Kwara State, some parts of Oyo state and in the North. After hundreds of hours of research, I made Wara from scratch. This is proper Wara. If I tell you how I made it, I may just have to kill you. Cottage cheese or Indian Paneer are good substitutes. For Bella Naijarians who live in Nigeria, and can't source Wara easily, you can buy cheese at many local supermarkets. You can also make homemade cheese close to Wara in taste and texture.
I have a quick and simple recipe with instructions on the blog. All you need is milk and vinegar/orange juice (no, this is not what I used to make Wara. Still not telling.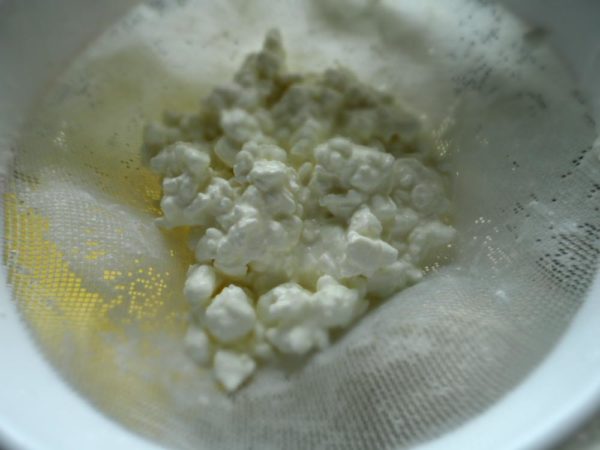 Pizza without an Italian ingredient at least will be sacrilege against the Italian Culinary gods. Huge culinary sin and I don't want to offend the Italians. No siree. Besides, Wara doesn't melt in the stretchy manner common with Mozzarella. Mozzarella tastes a little like Wara anyway so it was a good combination. You need to add grated Mozzarella, therefore place in the freezer to solidify just before you start on your dough, making it easy to grate.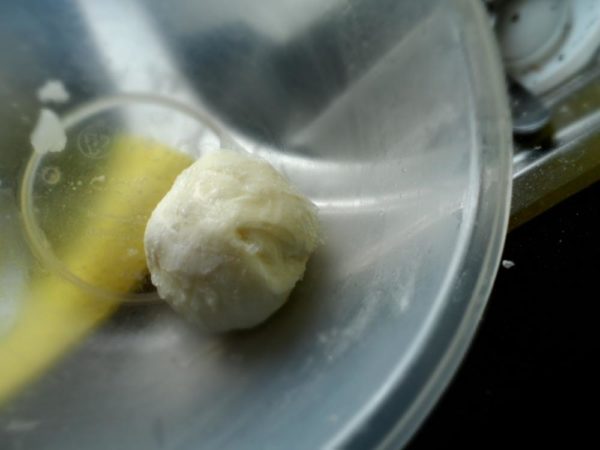 Now back to the dough. Sprinkle flour over the work surface, and with your floured hands take the dough out of the bowl, and mould into a ball. Knead for a couple of minutes with your hands, sprinkling more flour when the dough starts to stick to your hands or the work surface.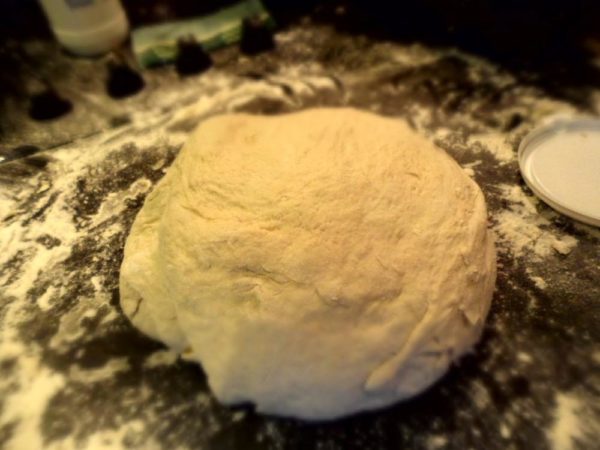 Knead until the dough feels very soft and elastic. You can feel all Italian chef with your self my lifting the dough with your clenched fists, making circular motions with your hands and stretching the dough between both hands making a bigger circle with each rotation. I had so much fun doing this, too bad I don't have a video to show for it.Tear off a decent sized chunk and flatten it out. Then lay it across a pizza pan. I improvised and used the cover of my biggest pot.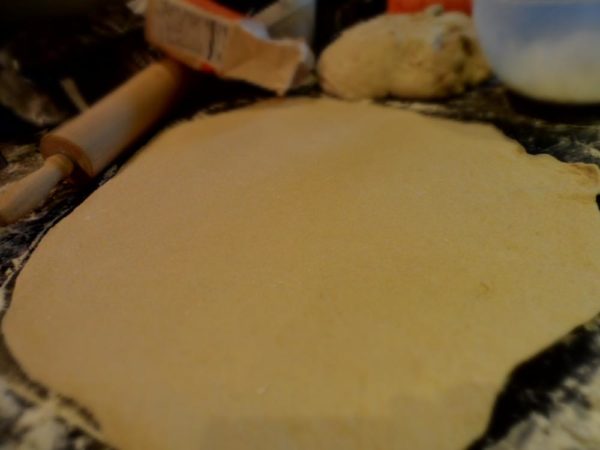 Keep the rest in the freezer. It can last for weeks, simply let it defrost and roll out another batch of pizza dough. Easy peasy.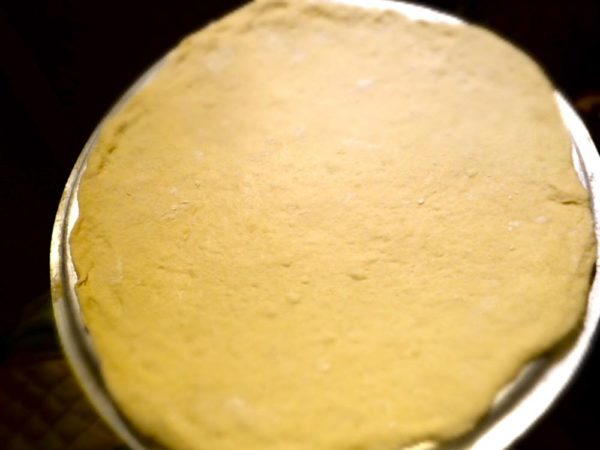 Using a spoon, spread the fried ata din din all over the dough leaving the edges out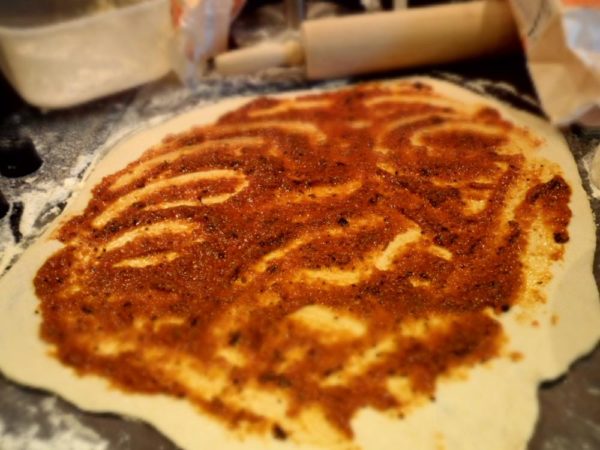 Add the toppings, starting from grated Mozzarella then lay over the kilishi, sprinkle over the grilled assorted meats interspersed with big crumbles of Wara.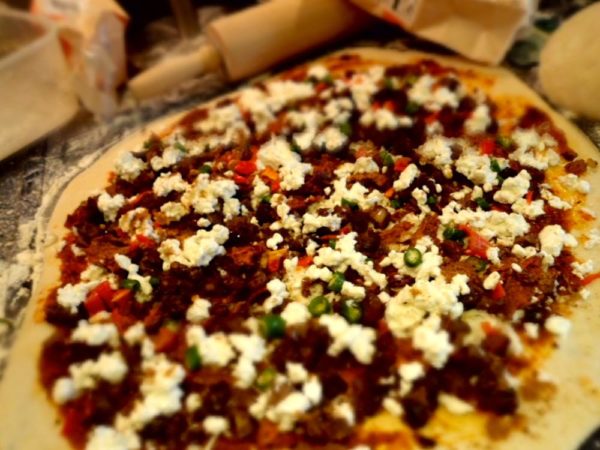 Finish off by adding chopped ata rodo, green shombo and chopped Uziza leaves. For extra seasoning, I sprinkled over a teaspoon of Suya spice.
See the representation of the Italian flag (red, white and green) and the Nigerian flag in the toppings?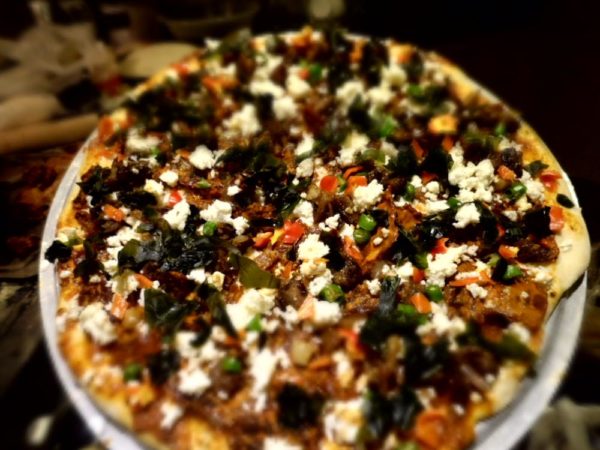 Bake in a hot oven for 15 minutes. Don't leave it in for too long, otherwise the kilishi will turn hard and chewy, whilst the uziza leaves will dry out to much and crisp up.
Here is my result.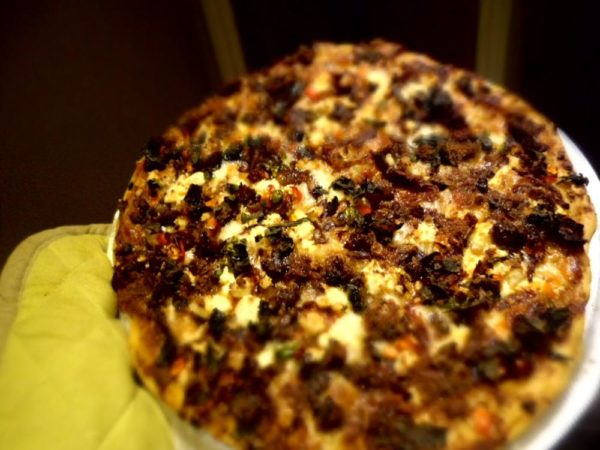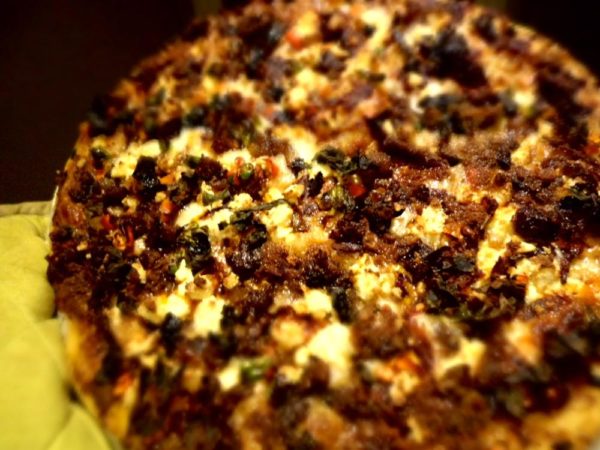 People, this was really really good. Prior to Sunday evening, if you had asked me where I had eaten my best Pizza, without hesitating, I would have said a family run Pizzeria in Sirmione (a small town along Lake Garda), made by a 60 year old Italian grandmother. Scratch that, this is THE BEST Pizza that I have ever eaten.
It was spicy, tasted familiar, smelled familiar. The ata din din, the meats, chopped peppers, the cheese, efinrin, the suya spice and the uziza leaves came together beautifully. Absolutely gorgeous. Slice after slice, I wanted more, doing a very poor impression of Azonto and Skelewu in the process.
Celebrating my successful kitchen experiment, I sat back and finished off a sizeable chunk with a chilled glass of my special Zobo drink. My Sunday ended on a very good high.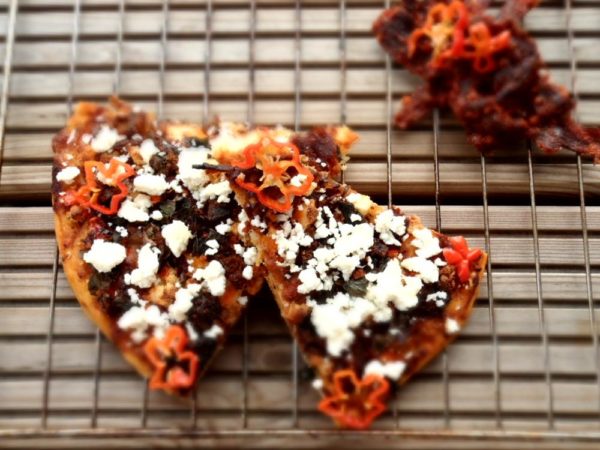 When you take a side of Kilishi, a chilled glass of Zobo + pizza slices, you get a platter of food that will make most any customer happy (Nigerian or not). For adults, you can pair this Pizza with a Zobotini (zobo martini – oh yeah, I made that too), Zobo Margarita or a Zobo Sangria.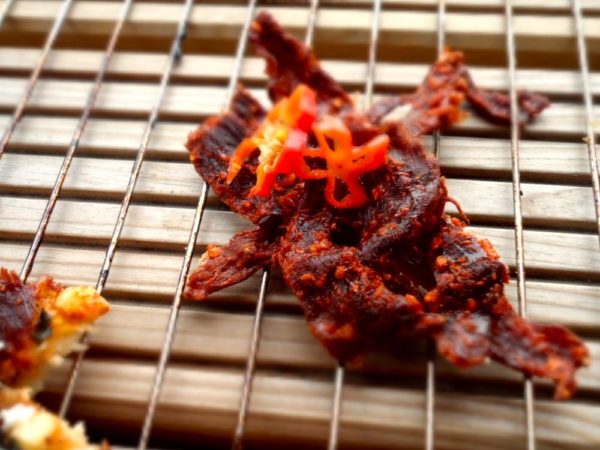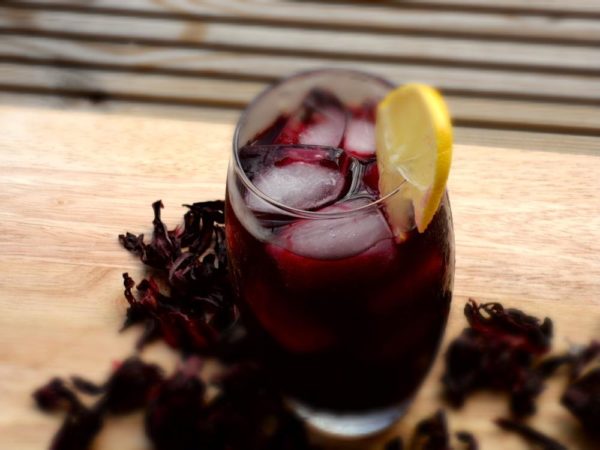 I put this question to you Bella Naijarians. Would you be happy to pay for this in a restaurant? If so, what should be the price tag? I accept Naira, Pounds, Dollars, any currency.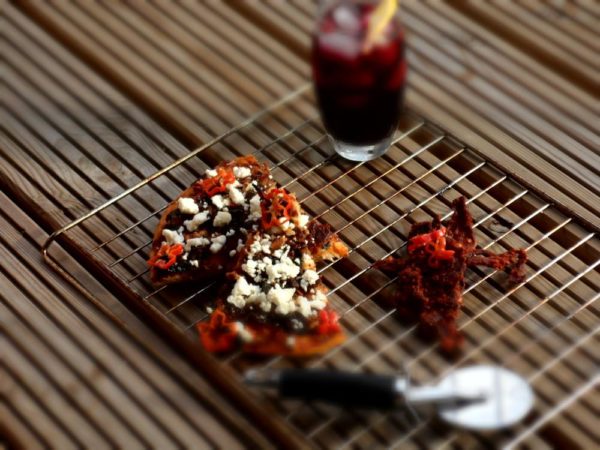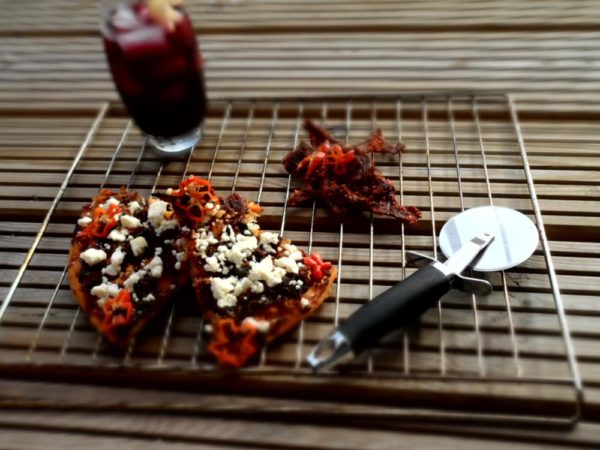 Another question to you guys. If you had to design your own Nigerian styled pizza, what toppings would you use? I am already thinking ahead, making a fishy deluxe 9ja style pizza. My toppings would be stock fish, smoked fish, red prawns and ground crayfish. As these ingredients go beautifully with palm oil, I would use my famous Buka Stew recipe for the sauce.
I am very interested in hearing what you guys can come up with. Let us throw it down to the Pizza places in Nigeria. We deserve better than what they currently serve. There are tons of local ingredients to get inspired by. Until then, in my best Italian accent – Passa un buon fine settimana. (Hope you have a good weekend).
P.S – to save on space, after quite a long post, I have added extra hints and tips on the blog. Especially for doubting thomases who may not believe this tastes as good as it looks, I have all the answers there to prove it. Arrivedecci (goodbye).
Don't forget I am now bringing The Dooney's Kitchen Experience right into the comfort of your own kitchen, via a never been done revolutionary service called an e-Cooking Class i.e. an Online Real-Time Video Cooking Class. From start to finish of any dish of your choice, I will be virtually in your kitchen, guiding you through the steps, as if I was cooking the dish myself. A fun and personal experience that goes way beyond reading a recipe. Or you can sign up for a physical hands-on cooking class. If you no longer want to just salivate over my food, I now offer a meal drop off and pick up service, including the service of a Private Chef for intimate dinners and small gatherings. Keep in touch!
_________________________________________________________________________________
Dunni Obata is an IT Project Manager by day and a cook the rest of the time. She loves entertainment and one of her bad habits is feeding people. When she's not cooking, she's watching the Food Network. Dunni is very passionate about Nigerian food and believes it has a lot to offer globally. Visit her blog – www.dooneyskitchen.com