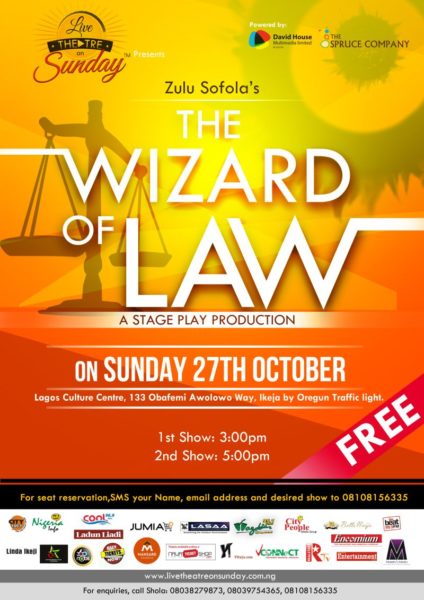 This weekend there is going to be an amazing stage play for all the theater buffs and if you missed the other productions of this play, now is your chance.
Get ready for the showcasing of Zulu Sofola's play titled "The Wizard of Law". This production is part of the 'Live Theatre on Sunday' series initiated in 2008 by Davidhouse Multimedia Limited.
The play will feature talents in the Nigerian entertainment industry including Oluwole Muyiwa Moses (Amusa), Tomiwa Kukoyi, 1st Runner Next Movie Star 2011, Adebola Ogunshina, Tobi Clegg and a bunch of other amazing thespians. The play is directed by Leke Gbolade for Blacksoul Performance Company and produced by Adenugba Oluwanishola for Davidhouse Multimedia Limited.
About the Play
The Wizard of Law tells a tale of Ramoni, an old lawyer who has fallen on hard times but tries nonetheless to impress his wife even though he is penniless. In an attempt to keep up appearances, Ramoni falls into the hand of an unscrupulous merchant who tries to rip him off. His dilemma then degenerates into further misfortune, leading to many more mishaps as he desperately seeks a court case to redeem his loses. Ramoni then deploys many antics and of course the "wizardry" he uses to get out of the debt.
How to Attend
The show is free to everyone but subject to seat reservation. To attend this production kindly send an SMS with your name, contact number and the show you will like to attend to.
Come out and enjoy this great play.
Date: Sunday 27th October 2013
Time:  2:30PM and 4:00PM
Venue: Lagos Culture Centre, Lagos State Council for Arts and Culture, 133 Obafemi Awolowo Awolowo Way, Ikeja, Lagos
______________________________________________________________________________________
Sponsored Content