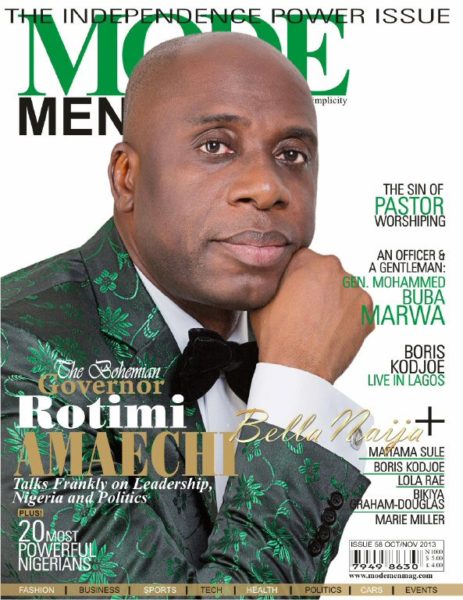 Rotimi Amaechi, the Governor of Rivers State covers the October/November issue of Mode Men Magazine.
Looking sharp in a grey blazer with green embroidery, a white shirt and black velvet bow tie, he speaks candidly on leadership, Nigeria, family and politics.
BellaNaija.com has exclusively obtained excerpts from the interview. In August, the very out spoken Governor boldly aired his views on Nigerian politics on BBC's Hard Talk (Click here to watch). Once again, he is saying it like it means it.
On political disagreements – Someone told me that "they will use Federal might against you" but I don't know what "Federal might" is. When you are fighting a political war, it is a political war and it means you disagree; but they act as if they are fighting a war against another nation.
You don't command forces against citizens. It should be against other nations. Institutions in Nigeria are personalized. It's the same thing with the PDP.
The pro-Jonathan people today will sing another song once a new man comes along. The problem is that we have no institutions in Nigeria. It is "chop, I chop" institutions that we have.
On quitting politics for his children – I would like to quit politics to spend time with my children, but they tell me "Daddy, it's too late. We are all grown up now. Don't quit because of us. If you want to quit, you can; but we shouldn't be the reason".
On plans after retirement – When I retire, I will become a farmer or teacher, but first I will go to school to get qualifications to teach.
The full interview is available in the new issue.
The new issue also includes a list of nominees for this year's Men of the Year Awards. They include Steven Keshi (Super Eagles coach), Tony Elumelu (Investment exec), Ice Prince (Rap star), OC Ukeje (Actor), Audu Maikori (CEO Chocolate City Entertainment) and media personality Olisa Adibua.
Biola Alabi (MD, M-Net Africa), Chimamanda Ngozi Adichie (Author) and Mo Abudu (CEO Ebony Life TV) also make the Women of the Year Awards nominees list.