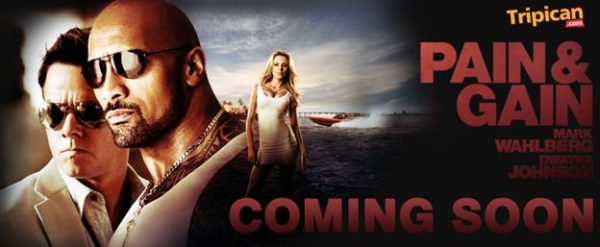 Tired of living in debt, three trainers set off to change their luck by coming up with a plan to to rob a billionaire. Sounds easy right? Well one thing they didn't count on is their involvement in a criminal enterprise, the billionaire wanting his money back and a whole lot more!
Tripican.com presents Pain & Gain.
Synopsis
From acclaimed director Michael Bay comes "Pain & Gain", a new action comedy starring Mark Wahlberg, Dwayne Johnson and Anthony Mackie. Based on the unbelievable true story of a group of personal trainers in 1990s Miami, a trio of bodybuilders in Florida who, in pursuit of the American Dream, get caught up in a criminal enterprise, extortion ring and kidnapping scheme that goes horribly wrong.
Cast
• Mark Wahlberg as Daniel Lugo
• Dwayne Johnson as Paul Doyle
• Anthony Mackie as Adrian Doorbal
• Tony Shalhoub as Victor Kershaw
• Ed Harris as Ed Dubois
• Rob Coddry as John Mese
Pain & Gain International trailer

Pain & Gain Interview with Mark Wahlberg & Dwayne Johnson

Mark Wahlberg Training for Pain & Gain

5 Things you Should Know about Pain & Gain
1. Yes, It really is based on a true story. At some point well into "Pain and Gain," the movie pauses momentarily and a title card comes up and says, "Yes this is a true story." And most of "Pain and Gain" is true. The actual case is even grislier and weirder, if you can imagine it.
2. Dwayne "The Rock" Johnson gives his best performance ever. Dwayne is fantastic in this movie. Johnson plays Paul Doyle, based on a character named Jorge Delgado, who goes from a former alcoholic and prisoner to a born again man of God to a complete and utter monster. It's a performance that is, like the rest of the movie, delicately nuanced and a complete cartoon and Johnson looks like he's having the absolute time of his life.
3. You might quote it for days. Most of the things I cannot repeat on a family-friendly website, but just know that, after you see "Pain and Gain," you're either going to be labeled a "doer" or a "don't-er." And trust me, you want to be a "doer."
4. The soundtrack is great. While Bay only seems to casually observe the movie's early 90's setting, playing it fast and loose, he does manage to drop some choice cuts on the soundtrack. It would be a crime worthy of the Sun Gym gang to ruin some of the songs because they act as punctuation to some of the movie's best sequences.
5. It's quite long. "Pain & Gain" is over 2 hours. Although it is very exciting, fun and action packed. At the end of it you will feel exhausted but you will turn to your friends and say, "That's A Movie!"
For movie tickets and more information please visit www.tripican.com
Content Credit: News.moviephone.com