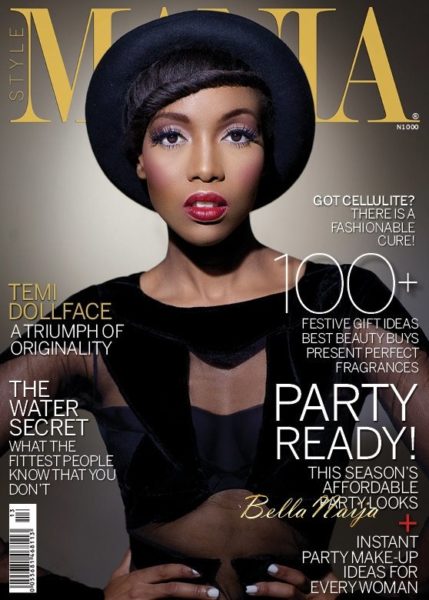 Give it up for Temi Dollface.
The Nigerian music star covers the December 2013 issue of StyleMania Magazine. Rocking her signature hat, she is seen on the cover in a black sheer outfit by Maki Oh.
In an exclusive interview with the publication, she shares her agenda, influences, and the purity of her distilled genre of music.
Inside the issue, there is also a feature on Kaline Akinkugbe, a rising star in the Nigerian alternative music scene.
A profile on Keziah Jones on his journey, inspiration and 6th studio album. Also in this edition is a rounded take on the 2013 Lagos Fashion and Design Week, StyleMania has highlighted the trends with keen emphasis on ideas to move the fashion industry in Nigeria forward.
In the spirit of the season, they have drawn a list of gift ideas for everyone and also expressed various party looks for different personalities in women. For fashion, they have taken a party moment and a cultural illustration to express the joy of the season.
Happy Holidays!
Credits
Cover
Photographer: Kelechi Amadi-Obi
Fashion Editor: Godson Ukaegbu
Make-up: Bimpe Onakoya @ Maybelline Cosmetics
Cover Dress: Maki Oh
BeautyMania
Photographer: Kelechi Amadi-Obi
Make-up: Bayo Haastrup @Khuraira Cosmetics
Model: Nneka Edozie
FashionMania
All That Glitters
Photographer: Kelechi Amadi-Obi
Fashion Editor: Godson Ukaegbu
Make-up: Lola Maja-Okojevoh
Hair: Zubby Eneoma
Models: Doyin Haastrup & Ono Bello
Guest Appearances: Ohimai Atafo, Emmy Collins, Bridget Awosika, Sound Sultan, Olisa Adibua, DJ Sose + More
It's A Wrap!
Photographer: Kelechi Amadi-Obi
Stylist: Ituen Bassey
Stylist Assistants: Khadijah Eniafe & Ify Onyido
Make-up: Funke Ajogbor
Hair: Zubby Eneoma
Model: Makida Moka