It's that time of the year again.
When we spend our 13th month salary even before we've earned it. That time of the year when there's a seeming unending hustle and bustle. Places like Victoria Island are blessed with even more traffic. Promotions that promise you that you will never see a sale like it again and so your wallet will be emptied out like magic.
I come as Santa's… well pretty grown helper. The idea is to help give ideas on how to make this season's cooking tastier and best of all really way simple to do!
We'll kick off with an easy starter of my noodle crusted prawns with a sweet ginger and chilli sauce. This is the kind of dish you want to serve as the first course or lay across a nice platter for your family or guests in general to pick up with maybe a glass of champagne or fresh juice, before the jollof and orisirisi starts to flow.
You can make this dish up to a stage and freeze them so all you're doing is frying on the day of your Christmas lunch or dinner. Saving you time and making you look like an Iron Chef all at the same time.
If you can spend that December cash please go ahead and buy jumbo tiger prawns, especially if you are doing it for a few people. If you are making for a lot more people you can use regular large tiger prawns, so you have more to go around and you wont spend so much.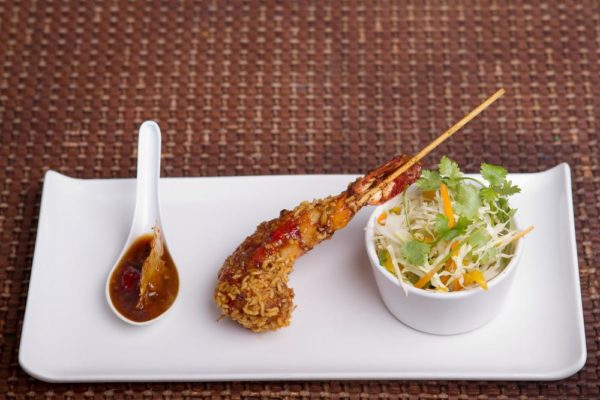 Yes, the crusting on the prawns is what you're thinking but we would just call them "instant noodles" for now. I mean you can use any brand you like but let your preference do the choosing when you are at the market.
You'll need (This recipe serves 6)
6 Jumbo Tiger Prawns cleaned and deveined
300g instant noodles
3 eggs
100g rice flour or purpose flour
Oil for deep frying
Kebab sticks for threading
Seasoning Mix
1 tablespoon sesame oil
2 tablespoons light soy sauce
1/2 tablespoon crushed garlic
1 teaspoon fresh or powdered coriander
Ginger Chilli Sauce
1 tablespoon ginger puree or grated ginger
2 scotch bonnet chillies deseeded and finely chopped
1 tablespoon hoisin sauce
4 servings spoons sweet chilli sauce
2 large cloves of garlic
1 tablespoon sesame oil
4 tablespoons rice wine vinegar (or use white wine vinegar if you don't find rice wine)
How To
Start by making sure the prawns are well cleaned and deveined. You devein them by ruing a knife down its spine and removing the slimy black thread that's its digestive tract it can be poisonous so yea.. clean up!
In a bowl, toss the prawns and all the seasoning mix ingredients together ensuring all the prawns are covered int he seasoning and leave to marinate for at least 30 minutes and overnight in the freezer max! Once you bring them out it's not advisable to re-freeze.
While the prawns marinade and develop all that flavour, place your "instant noodles" in a food processor and pulse it till becomes like cake sprinkles. If you don't have a food processor place the noodles in bag and bash it with a rolling pin or the base of a heavy bottle or back of a heavy spoon.
Place the flour in a bowl, and in another, place the eggs beat them slightly with a dash of water. Use another bowl for the crushed noodles. Take your prawns and thread them with the kebab sticks. This makes it easy to drop in the hot oil, allows it to still and have a straight-ish form.
Start by dipping it in the flour dusting off the excess, then into the egg bath then into the noodles. Press the noodles well into it by squeezing it round the prawns with the palm of your hand. Ensure it's well crusted with the noodles. Set aside in the fridge to firm up a little.
While that's happening, place the oil for deep frying or if you have an air fryer you have the #fitfam winning ticket but if you don't… Santa will give you gym card for Christmas that is valid till July next year – so you have ample time to burn off the ororo!
In a small saucepan place the ingredients for the ginger chilli sauce in a pot and add a bit of water and set to boil and once it's boiled, leave to cool and serve warm. You could puree all this for a finer consistency.
In the hot oil, carefully place the sticks of prawns in the oil. You want your oil hot but not smoking hot so it cooks all the way through since you are frying much bigger prawns.
You do not want the noodles to brown and leave the prawns raw in the middle! Food Poisoning would not be your portion.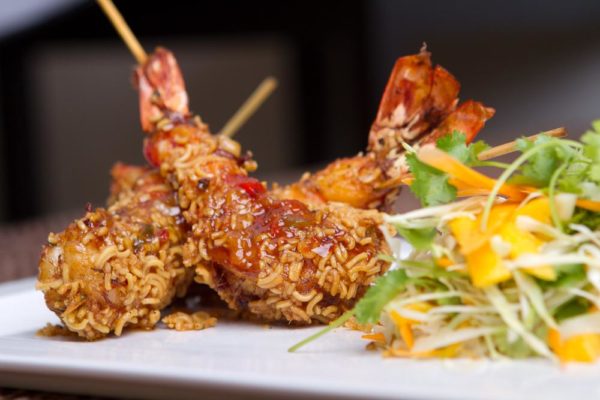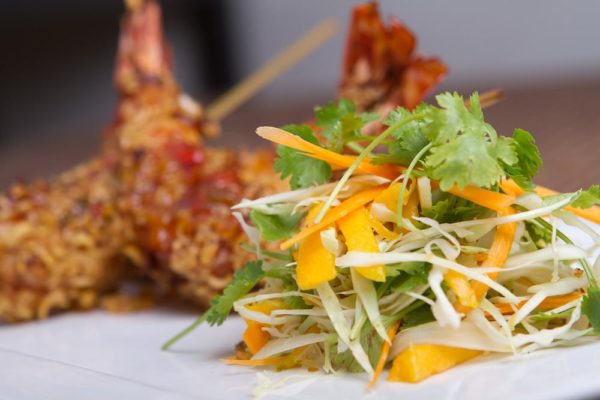 Allow the prawns cook for about 5-7 minutes. Take out and drain on kitchen paper and serve with the sauce and a small salad. I used some cabbage, mango and coriander to keep with the Asian theme.
Remember you can make the prawns noodle coated, sticked and freeze up to 3 days in advance. Make sure once you defrost you do not refreeze and that you fry and serve once it thaws properly.
I hope I have helped with your Christmas planning today?
Have a lovely weekend.
Ciao!
Photo Credit: Obi Somto for Chef Fregz
_____________________________________________________________________________________________
Chef Fregz loves to cook! He is a graduate of Le Cordon Bleu Paris Culinary Arts School in France and hosts monthly "Chef Fregz Specials" where he whips up a yummy menu with a different theme each time then everyone enjoys a taste. He also caters special events and private dinners. To find out more visit www.cheffregz.com. Chef Fregz provides premium private catering services. For bookings and orders email info@cheffregz.com – @Chef_Fregz on Instagram and Twitter. You can check out the Chef Fregz Page on Facebook as well.