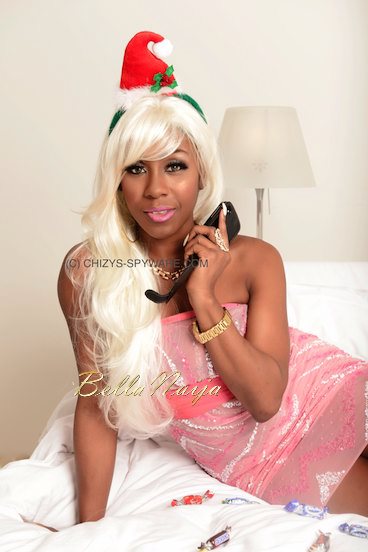 UK based Nigerian musician May7ven is the cover star for Chizy's Spyware Magazine's New issue.
The daughter of Nigerian football icon Segun Odegbami opens up about her music, plans for 2014 and her versatile style.
For the editorial spread, the singer/songwriter flaunts her girly and sultry personas.
Check it out!
Read Excerpts from the interview
On her style being compared to Lady Gaga & Nicki Minaj's: "I do not intend to be boastful, but my style has been out before they were; Lady Gaga has only been around since 2010, while I have been around since 2006. My hair turned white a few years before Nicki Minaj or Lady Gaga's hair turned white. If anything, I am influenced by the Grace Jones and Lil Kim of this world."
On plans for 2014: "2014 should be renamed "year 20 & May7ven". It is going to be worse next year for people who do not like me because we will be putting out a lot of songs, new videos, and my album will also be out in 2014. My style will develop even more; it will blossom more than what you already think is crazy. So, be warned, you have not seen anything yet."
On the 5 most important items in her handbag: "I never leave my house without my make-up kit in my bag, my dairy, my wallet, cash point cards and glasses. Everything else is junk."
On the most expensive clothing she has ever bought: "It was a jacket that was previously owned by Michael Jackson. By the way I am Michael Jackson's biggest fan."
On the craziest thing a fan has ever done for her: "A fan had been trying for a few years to get my phone number; he eventually tricked his way into getting it through family and friends. That was so crazy. I also get the occasional marriage proposal."
On the accessory that makes her feel sexy: "My underwear. There are certain types of underwear which regardless of what I'm wearing on top, once I know I have got this thing underneath, I feel really sexy."
On the last time she used public transport: "This week actually, I used the train to rehearsals. Before now, I was very spoilt. For 15 years I never took public transport because I have always had a car. I had a car accident 2 months ago, hence I had to get rid of my car.
I started taking cabs everywhere. There was one incident where I was in a cab for so long trying to get somewhere that was not very far, the cab driver said "why be in the cab, why not just jump on the train?" I got on the train and arrived at my destination in 10 minutes. So now, anytime I need to go somewhere and I don't want to be late, I just jump on the train."
On collaborating with Alexandra Burke: "She contacted my management team in November 2012 with the intention of working with me, D'banj or Wizkid. She was a fan of the music and wanted to get in the afro beats circle.
Admittedly, I think she has got one of the most amazing voices, but I was never a fan of the music she put out, so I chose not to work on the project. I was also aware that these other guys (D'banj and Wizkid) also refused to work on the project for their own reasons.
Her team were persistent, so I thought "what harm is there anyway", as long as I can make the song credible irrespective of what the song is like. I eventually worked on the song and she loved it. In a nutshell, it was a cool and interesting project to work on."