Hi guys,
Happy New year once more (in case you're reading for the first time ignore the once more). How are those diet and numerous new year resolutions going? Godspeed o!
I haven't been doing so much cooking lately. I think I am still recovering form my Christmas roller coaster so when I look at the kitchen I just see some place where someone else has made me food – no time to be frying chicken. Also Bunmi Alaga (my trainer) has almost used Holy Ghost fire to get me back to her plan, so my life revolves around salads, chicken breast and copious amounts of water. Yes, feel free to say a prayer of strength for me. #TeamLepkaOrDieTrying.
In the search of what to post this week, my best bud Tayo Ola just got in fromObodo and I dragged him from his house to follow me and run errands and when it was time to get things for this post, I confessed to him that I was a bit confused as to what to do. So, like a good friend he became my sounding board, and after all my rambling and beating about the bush we decided, "hey?! how about you make Jerk Chicken!?"
Now jerk chicken is a 'thing' for us because we usually have these jerk chicken sandwiches when I go and visit him. So we thought why not recreate that experience? My mind was made up and by the time I was done cooking and shooting, I settled down to eat. I think I had tears in my eyes because it was just too scrumptious!
You can use chicken breasts for this recipe I just decided to use the leg meat. Do not worry; the chicken breast wont go dry because it's cooking in sauce, and quite frankly it's less oil in your dish at the end of the day. If you can grind your cinnamon bark fresh for this recipe please do. Invest in a coffee grinder or spice grinder. Recipes like this that call for toasting whole spices before powdering. I used it here to powder my spice mix before adding it to remaining ingredients to process. I did small "ojoro" here. I used my spice mix called "our seasoning" it varies from time to time but the base is always the same. I used it here as well. However, you can substitute for any good all purpose seasoning mix you have or just use a seasoning cube or powder like Aromat or Knorr Classic.
I recommend this recipe for that next small "turn up" you're hosting at yours. Whether it's a dinner party or you are having your husband's family over, this recipe is a sure winner and all you need to do is blitz up a bunch of stuff, pour over chicken, forget for 4 hours to a day. Place in an oven, boil rice add beans and boom… you're ready!
You do not even need to make a sauce, although if you think you need more sauce I would explain how you can achieve that. This dish can be as spicy as you want it to be, just add more pepper. However, I didn't want mine over board in the fire department.
Coconut cream is stated in the recipe. Please, please, please try and find coconut cream as opposed to coconut milk. If you do not find coconut cream well… then, milk it is.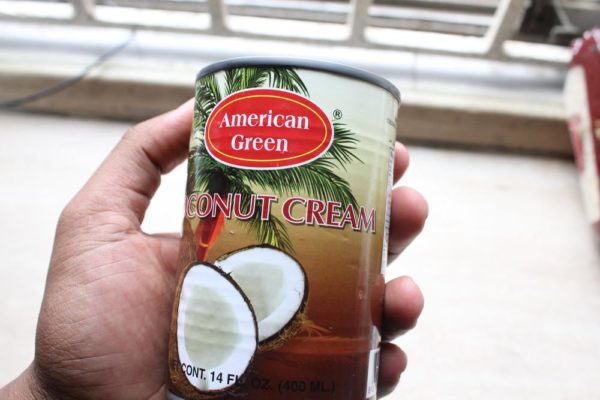 Whatever you do, just make this as soon as possible and experience a delicious piece of Jamaica and tell yourself you're at Montego Bay or one village where the mama has made this Jerk Chicken for you and life is really great!
Now, on to the recipe.
Serves 4-8 (Depends if you're serving one or two pieces per person)
What You Need
8 pieces of meat leg (a mixture drumsticks and thighs)
Jerk marinade
5 cloves of garlic
1 Knob of ginger root peeled sliced into chunks
Medium sized spring of spring onions, washed and cut in half
Handful of fresh Coriander
3-4 Scotch Bonnet pepper or Habanero aka Ata Rodo Peppers (add more if you want a fiery dish!)
1 large Onion quartered
2 Teaspoons cinnamon powder (I blitzed some cinnamon bark for fresher tasting cinnamon)
2 teaspoons Whole black peppercorns
1 heaped tablespoon All Purpose seasoning mix
2 1/2 tablespoons mixture of Coriander Seeds, Mustard Seeds and Fennel Seeds
1 tablespoon Cayenne Pepper
1 teaspoon ginger powder
2 Teaspoons Smoked Paprika or Regular Paprika
1/2 teaspoon Nutmeg
1 tablespoon Dark soy sauce or 2 Tablespoons Light Soy Sauce
1/3 Cup Fruit Vinegar or Cider Vinegar or Malt Vinegar
200ml Coconut Cream
2 tablespoons Mustard Oil
2 tablespoons Coconut Oil
1/2 Cup Rum
1 Knorr Classic Cube
2 tablespoons Dark Brown Sugar (has to be dark brown sugar!)
Salt to taste*
Be very careful to season with salt at the end because most of the seasonings are salty already, but just to give balance to the marinade salt is needed.
Rice and Peas
3 Cups long grain Basmati Rice (please its never going to be Basmatic Rice)
1 clove of Garlic
Half of a medium onion
200ml Coconut Cream
Enough water to cover
200g kidney beans (from a can is fine)
Salt to taste
How To
Place the chicken in a roasting tray that has some depth, slash the flesh of the chicken so the marinade can get through and set aside.
Get your whole spices (cinnamon, cloves, and corinader-fennel-mustard mix) and toast them in a pan for about 40 seconds or till fragrant. Place in spice grinder with all the other powdered spices and blitz till its a fine powder. (if you do not have one, just use the smaller attachment of your blender the crayfish one)
The Spices
Place the powder spice mix along with all the other jerk marinade ingredients in a food processor and process on high speed for about a minute and a half. It would not be extremely smooth so do not fret. its better that way.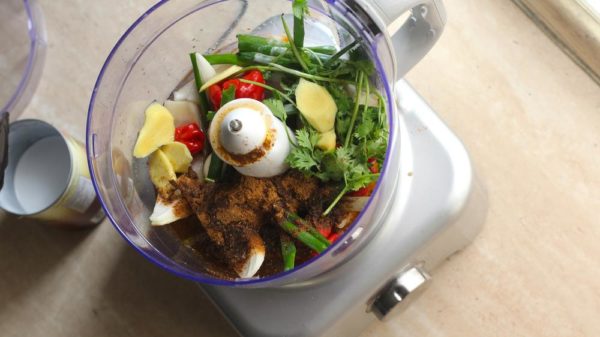 Take the marinade and pour all of it over the chicken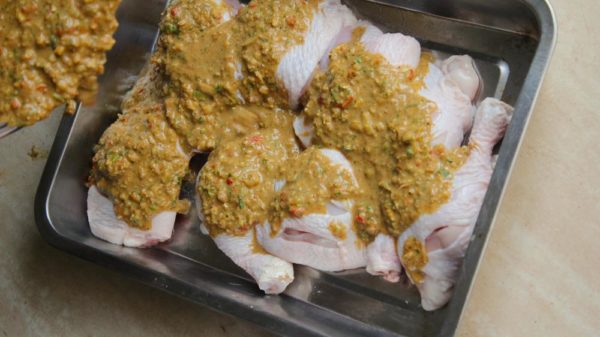 With gloves or a spoon mix it through the chicken and leave to marinade for 2-4 hours or over night in the fridge or in the freezer for up to 3 weeks. If you're going to freeze for a while just do all the marinating in a freezer/ziploc bag and dump in the freezer till you want to cook it.
After marinating, place the chicken in pre-heated oven at the middle shelf at 200°C/392°F for 1 hour. The chicken would be very tender. Cook for 15 minutes  less if you are using the breast meat. The chicken should come out with a dark crust on the top and thick sauce beneath and the oils have separated from the mix.
While the chicken is cooking, saute the onion and garlic in the oil. Then add the rice and seasoning. Add the coconut cream and top with just enough water to cover about two inches above the rice. Place on the smallest hob or on a low heat for about 10-12 minutes. When the liquid starts to dry up, cover the rice with foil and turn off the heat and leave to steam for another 10 minutes till done. This is the secret to non-mashy Basmati rice. Run a fork through the rice to fluff it and add the kidney beans to it and its all done!
Now you are ready to eat. Like I said earlier on, the sauce from the oven is alright but if you want more, just strain the excess oil from the thick sauce and add some chicken or vegetable stock (water and seasoning cube would be fine too). Add some more coconut cream and allow to simmer till it naturally thickens or thicken with a little cornflour. However, the jerk sauce from the oven is intense so you do not need too much to make your day.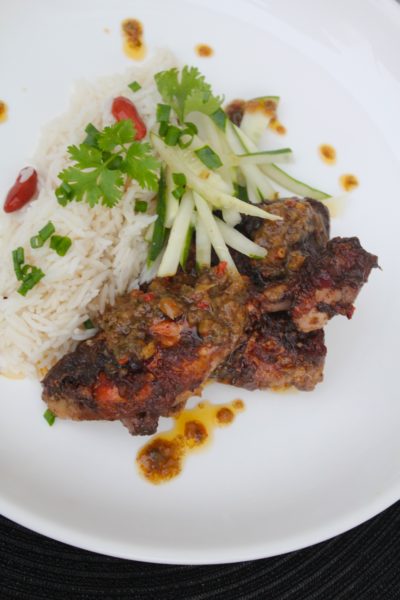 To serve, place your rice and chicken on the plate. Top with some spring onions, coriander and you could add some fresh chillies if you want too. I garnished with some flash pickled cucumbers. I soaked the slithers in some vinegar olive oil some salt and sugar for about 5 minutes. I wanted some zing to counter that sweetness and fire from the chicken and rice.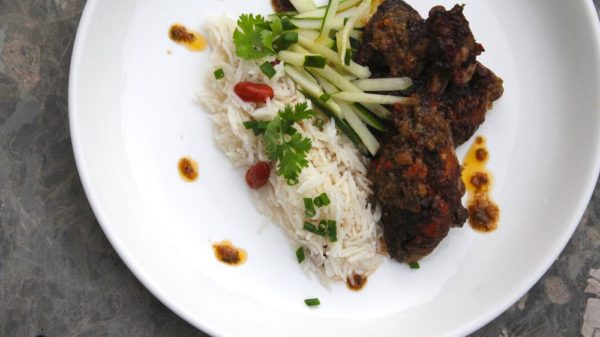 Before I run a special shout out to Femi "Mallam" Sawyerr for helping out when I cooked and shot this dish. Also, Adebayo Rotilu of Tweleve 05 Photography for breaking all his own protocol and lending me his "babies" to shoot my food and believing in me enough to shoot all by myself!
Go ahead and be great in your kitchen this weekend!
God bless you as you do so!
Ciao!
___________________________________________________________________________________
Chef Fregz loves to cook! He is a graduate of Le Cordon Bleu Paris Culinary Arts School in France and hosts monthly "Chef Fregz Specials" where he whips up a yummy menu with a different theme each time then everyone enjoys a taste. He also caters special events and private dinners. To find out more visit www.cheffregz.com. Chef Fregz provides premium private catering services. For bookings and orders email [email protected] – @Chef_Fregz on Instagram and Twitter. You can check out the Chef Fregz Page on Facebook as well.