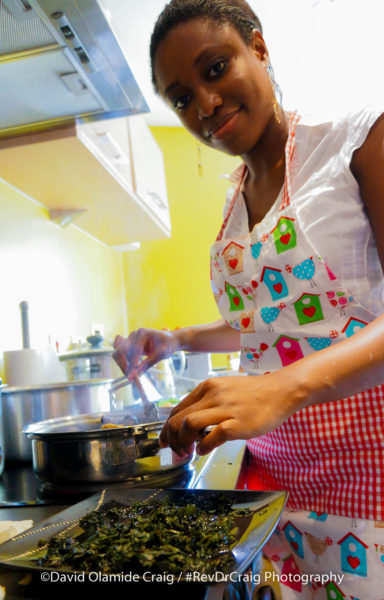 I am journeying down to Rivers State, bringing you two distinctive delicacies from that part of Nigeria. I think the local lingua name for this soup is Odu Folu or Buru Folu (corrections are welcome). I had eaten this soup before at a restaurant in Abuja, but couldn't remember the name. Last year, I was discussing with the members of SYTYCC (shout out to the group owner Bola Coker) on Facebook, if I could make soup using cocoyam as a thickener without adding any vegetables, as I seem to really enjoy the taste of cocoyam paste in soup.  The comments I got back were varied, I even thought this could be something new that could be introduced in Nigerian food, until someone left a comment and said 'oh Dunni, that already exists'.
It is called Native soup eaten by the people of Rivers Statue using fish and seafood. Off to do some research, and on seeing pictures, I realised I had eaten it before. My good friend Chiby Iroegbu is from Rivers State, Ikwerre to be precise, making her the easiest person to go to for an authentic recipe. I said to her, 'Chiby, give me the recipe, tell me how your mum made it' and she gladly obliged. Sadly Chiby's mum is no longer with us and I hope I did her memory justice. This post is dedicated to the late Mrs Onuegbu.
Rivers state being a coastal region, I can understand why this soup is made with so much fish and seafood. A bountiful plate I must say. In my research, I came across some recipes using meat, which Chiby easily discounted as un-authentic. She gave me a possible list of fish and seafood to use. On the list were a fleshy fish like Tilapia or Croaker. If you live abroad, I guess Sea bass, Red bream or even Grouper will work. For seafood she advised to use mussels, clams (ngolo), periwinkles (isam), prawns, shrimps and possibly crabs, but her mum didn't use crabs. Nevertheless, in the spirit of experimentation, I intend to make this soup using an assortment of meats, just because I loved it so much. I can decide to call it Dunni's Meaty Cocoyam soup or something.
Onunu is another interesting delicacy from Rivers State. Interesting because of the way it is prepared. I mean, we all know pounded yam, but this is yam pounded with boiled plantains and then finished off with Palm oil. Onunu is served with a spicy fish pepper soup. I decided to prepare it for this post, to showcase another delicacy from Rivers State, and surprise, surprise, it went down very well with native soup. In my household, Onunu will no longer be served with only fish pepper soup, it can be served along side any local soup of your choice. Here's how
You will need
Tilapia (or any type of fish you have)
Mussels
Ngolo (clams)
Prawns
Large Shrimps
Periwinkles
Crayfish
3 pieces of Cocoyam – to be used as a thickener
Yam
Ripe plantain
Palm Oil
Fresh pepper – ata rodo or chilli
Chopped red onion – 1/4 of an onion
Salt
Seasoning cubes
Scent Leaf – basil or efinrin
I left out Stockfish deliberately. Stockfish is a powerhouse of smoky fish flavour that is quite pungent and it will overpower the delicate fresh fish and seafood flavour.
How To
Prep your ingredients i.e. put the cocoyam to boil (leave the skin on) till it can be pierced through easily with a fork. Cut the fish into 3 or 4 pieces, clean the seafood and set aside. Chop the red onion and roughly blend 2 – 3 pieces of fresh ata rodo (scotch bonnet/habanero pepper). Roughly blend the crayfish.
Heat up the palm oil and sauté the chopped onion. Lower the heat, then you add the fish and let it fry slightly. After which you add fresh pepper, and sprinkle in seasoning cubes.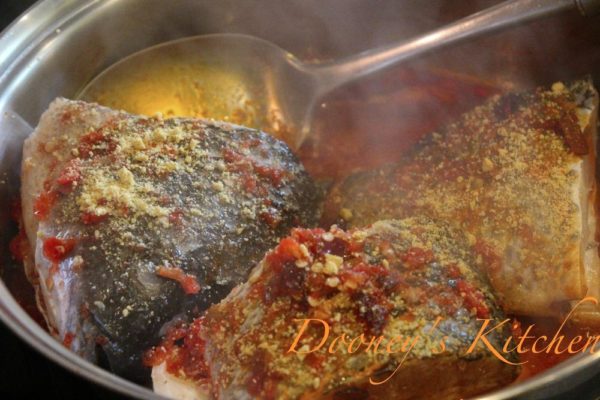 In a few minutes roughly 2 – 3, you will notice liquid in the pan from the fish. Add a little more water, just about enough to cook the fish, cover the pan and let it cook. Remember to still keep the heat on low, to preserve the delicate flavour of the fish and seafood.
To keep the fish intact, carefully take it out and then add the medley of seafood. Leave to cook until the prawns and shrimp turn a lovely shade of pink, and the mussels and clams have opened. This is a sign that they have cooked. Again, like the fish take it out to prevent over cooking. Nothing is more terrible than overcooked seafood. A culinary injustice.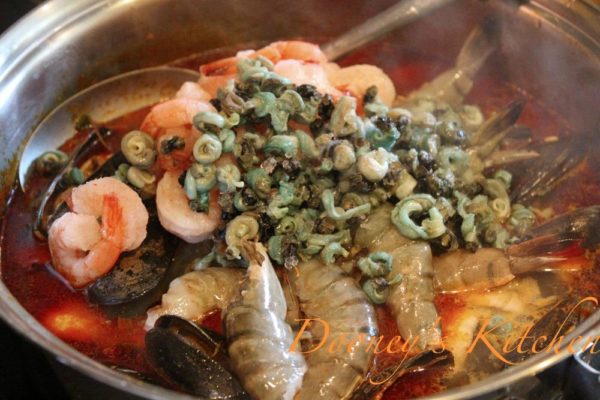 Now you are left with this rich fish stock, that smells amazing. The cocoyams should have completely cooked by now, peel the skin off and pound to a smooth paste.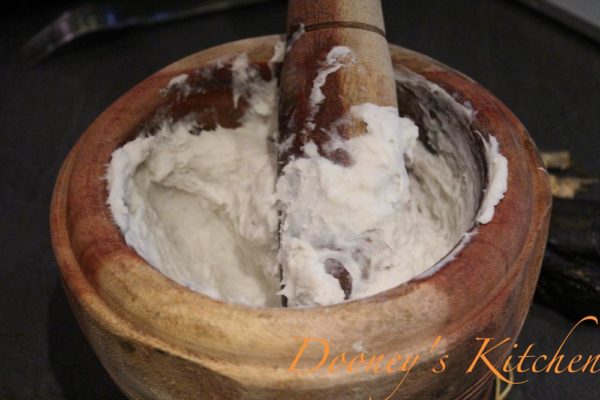 Add it to the fish stock in lumps, which will dissolve completely into the stock to thicken it. Then add the crayfish, stir and taste for salt and seasoning. Re-adjust if necessary, I doubt you will need to. When it has sufficiently thickened, it would have turned a light shade of orange, then re-introduce the cooked fish and seafood, shake the pot in a circular motion a few times to redistribute.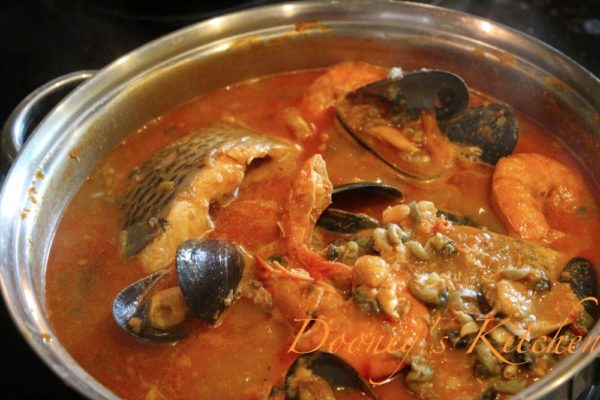 Finish off by adding freshly chopped scent leaf. Chiby said you can also use a bitter leaf, Utazi or Uziza. Any choice of leaves you use should only serve as an accent to the soup, just a hint of it, so don't go overboard. Sprinkle it in and shake the pot. Leave to cook for another 2 minutes or so, and you are done.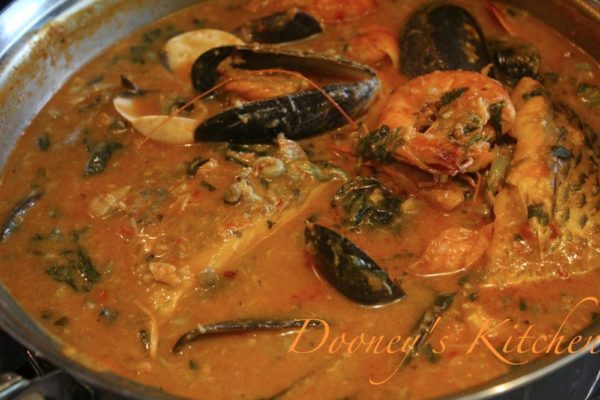 A closer shot of the pot, and you will see that it is a light and fluid soup (not watery like stew though) so go easy on the cocoyam paste so you don't end up with a thick glob.
Serve and enjoy with your choice of starchy solids. My choice the day I made this was Onunu.
Now to Onunu.
Put the yam to boil, when it has cooked right about half way, add the ripe plantains. I have found that I enjoy it with a 60 – 40 percent ratio of yams to plantain. Start to pound the yams first because of its pulp and stretchy nature, once almost smooth, add the plantain. I was feeling traditional the day I made this, hence the mortar and pestle, save yourself the trouble and do this in a food processor with the dough hook/blade attached, or you can use a hand or stand mixer with the paddle attachment first to pound the yams to a pulp, then finish off with the dough tool. It only takes 1 minute.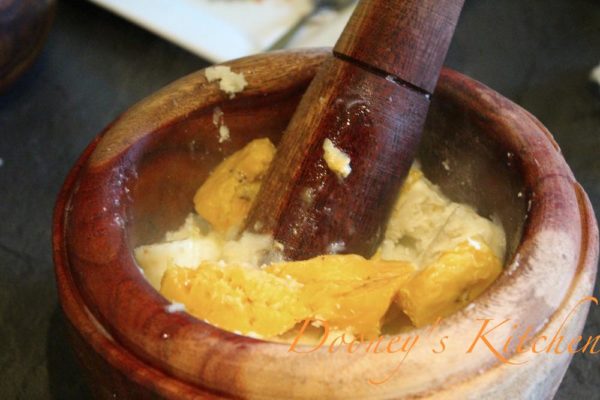 Once you have gotten both ingredients to a smooth consistency, add a little palm oil. The mash is still hot, which will take away the curdling taste of palm oil. Finish off the pounding, until the palm oil till properly combines, changing the colour to yellow and you finally have Onunu. It is quite sweet, the way the plantain combines beautifully with the yam.
Ladies and gentlemen here is my bowl of Native Soup with Onunu served in muffin cups.
______________________________________________________________________________________
Dunni Obata is an IT Project Manager by day and a cook the rest of the time. She loves entertainment and one of her bad habits is feeding people. When she's not cooking, she's watching the Food Network. Dunni is very passionate about Nigerian food and believes it has a lot to offer globally. Visit her blog – www.dooneyskitchen.com