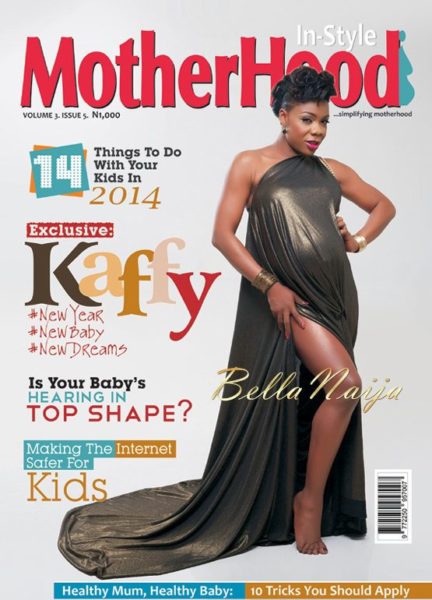 Kaffy Shafau-Ameh is one glowing sexy mom-to-be.
The Nigerian dancer and fitness instructor is the cover star for the January 2014 issue of Motherhood In-style Magazine.
And boy, does she look good in a one-shoulder dress with a thigh high slit. Anyone who says women don't look fit and beautiful during pregnancy surely hasn't seen Kaffy.
In the issue, which BellaNaija.com is giving you the exclusive first look, Kaffy speaks on family, life and what's next in 2014
Read Excerpts;
On her husband – Joseph Ameh: "Truly, I don't discuss my husband in terms of the kind of person he is, but I'd say I'm happily married, I have a great husband and son and I'm expecting a great child, that's as much as I can tell you"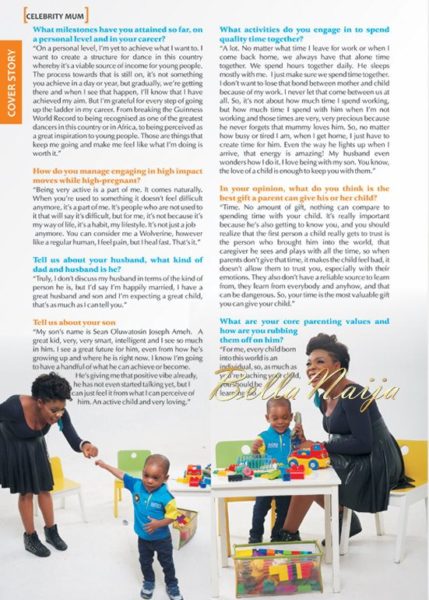 On her son: "My son's name is Sean Oluwatosin Joseph Ameh. A great kid, very, very smart, intelligent and I see so much in him. I see a great future for him, even from how he's growing up and where he is right now. I know I'm going to have a handful of what he can achieve or become. He's giving me that positive vibe already, he has not even started talking ye,but I can just feel it from what I can perceive of him. An active child and very loving"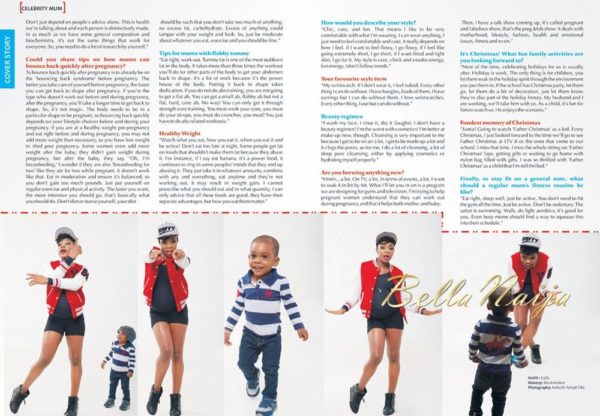 On her pregnancy: "I live a very active lifestyle, so I can enjoy the privileges that come with that. I think an average individual who studies about pregnancy knows already that pregnancy comes in different forms; some people are bedridden all through their pregnancy.
Pregnancy has been good to me. I've never had a high risk pregnancy, neither do I have the type that you're sick all through. So far, I've had normal pregnancies, just that some of my symptoms are quite mild unlike some other women out there. I don't vomit. Yes, i'm nauseated and tired sometimes. Just the usual things, it's normal. To deal with fatigue, I tune my mind to fun things, so, I 'am always up there. I'm happy, I try to keep myself happy. I motivate myself, I can do it, I have the power to do it. I'm a self motivator.
Pregnancy is expecting life, expecting life comes with everything, apart from the physical challenges, there are emotional challenges too. You're expecting another baby who you're going to look up to and say this is another me. So, it's a roller coaster of events."
On keeping fit while pregnant: "Be fit before the pregnancy. Start taking care of yourself way before that, eat well, drink lots of water, work out and have fun before pregnancy so that during your pregnancy so you're able to suck in everything that comes with it, even when it's not easy or fun. Exercising and working out before and during pregnancy is good for you and the baby. It also helps you heal fast after birth. It's something you should research and read a lot on it.
Don't just depend on people's advice alone. This is health we're talking about and each person is distinctively made, in as much as we have some general composition and biochemistry, it's not the same things that work for everyone.
So you need to do a lot of research by yourself"
To read the full MUST See interview, pick up your copy of Motherhood In-style today.
Kaffy dishes about her parenting skills, balancing work and family, how to get your pre-baby body back, and a whole lot more.