Today's wedding is full of culture, laughs and of course, love. Chigozie & Bisoye, the beautiful couple have been friends for 10 years.
Chigozie and Bisoye met in church, became friends and now, 10 years later, they are partners for life! The emerging entrepreneur bride was inspired by a BN Bride's wedding planning story (see more below!), while the groom, also an entrepreneur is the son of former President Olusegun Obasanjo. Along with their families, the couple collaboratively created their dream wedding.
How We Met
by Chigozie, the bride
We met over 10 years ago at our church – House of God. We were friends first then over the years it grew into something more serious. We started dating and the rest is history. After a couple of years we somehow knew we were meant for each other as we were always there for one another – we stuck by each other and therefore became inseparable. Our friendship is what has held us together for this long. Bisoye knows me inside out and I know him the same way and we have accepted ourselves that way. Bisoye is very kind hearted and loving. His humility is what drew me to him. He loves me passionately and cares about my welfare. I absolutely adore him and couldn't have asked for a better man. We know we have each other despite what comes our way. I know that's a major ingredient for a relationship… 10 years down the line we are walking down the aisle. You would call that love, wouldn't you?
The Proposal!
Well like I said earlier we have always known we were going to be together. Everyone knew we were going to be together. So one day in July, he came up to me and said "we are going to get married" and the rest is history!
Just for Brides! A message from Chigozie
My advise to all brides is to absolutely enjoy your wedding day. Don't worry about all the things that would go wrong. Concentrate on looking good and having a nice time. Relax!
Advice 
My advice would be, first – know exactly what you want for your wedding and stick to it (a lot of people have ideas of what your wedding should be). Second, get a planner who understands your vision. My wedding took place in Abeokuta and I live in Abuja, it would have been difficult for me to have done the planning on my own.

I stumbled across an article on BellaNaija Weddings about Biola and Hussien and immediately I read the story, I contacted their wedding planner. The list of other vendors were there and I could have just copied it down but I felt confident in Biola's testimony and decided to use her planner. Once I spoke with Arinola, I knew she was the one for me. We started right off and she did everything I wanted her to do. I didn't meet with her physically till a few weeks to the wedding and I must say I couldn't have asked for more.
We're so happy that BellaNaija Weddings played a role in helping the bride plan her beautiful wedding!
***
The couple's traditional wedding held in Ebonyi State at the bride's family home. The 'bride price' was discussed, then the wine carrying affair. At the beginning of the wedding, Chigozie wore a yellow lace tube dress with coral beads, beaded cap and horsetail. Accompanied by her dearest friends in pink and blue velvet and blouse aso ebi, she greeted her in-laws and guests. The bride changed into a blue lace and pink george wrapper to pick out her groom, as the Igbo tradition requires. Bisoye – the dashing groom was also clad in the typical Igbo traditional outfit of Isi'agu. After Chigozie sought out her groom out and her father blessed them, the newlyweds changed into yoruba traditional outfits of champagne and red aso oke, signifying her entrance into a new home and her husband's culture. All the colourful attire and touching moments were captured by Yomi Black.
At the church blessing and reception, the wedding party was beautifully clad in Mai Atafo Inspired! The bride wore an ivory mermaid dress with a sweet heart neckline and back detail that was to die for! The back of the dress was cut low with a chiffon covering and embellished detailing at the back. Chigozie, the bride always dreamed a vintage look for her wedding and says once she met with Mai Atafo, he knew exactly what she wanted and brought her dress alive – a long vintage veil from Bridely sealed the look she wanted to achieve. Bisoye the groom and his best man wore a dinner tux look with an ivory jacket to compliment his bride and best friend. A red boutonniere completed the look, as the wedding colours were gold and red. The bridesmaids dresses deserve a mention – the knee length lace and satin dresses were beautifully tailored, and the bride's friends each held a single rose for a romantic touch. Lumi Morgan was on hand to capture all the memories and the highlights they'll never forget –
For the bride, "the highlight of the day was when I said 'I do'. Bisoye and I have been friends for over 10 years and its just a dream come true he asked me to be his wife" The second highlight would definitely have to be Dammy Krane teaching both of us how to dance. That was so hilarious but I loved every minute of it.
BellaNaija Weddings wishes Chigozie & Bisoye a blessed life together as one.
White Wedding ~ Photography: Lumi Morgan
Traditional Wedding ~ Photography: Yomi Black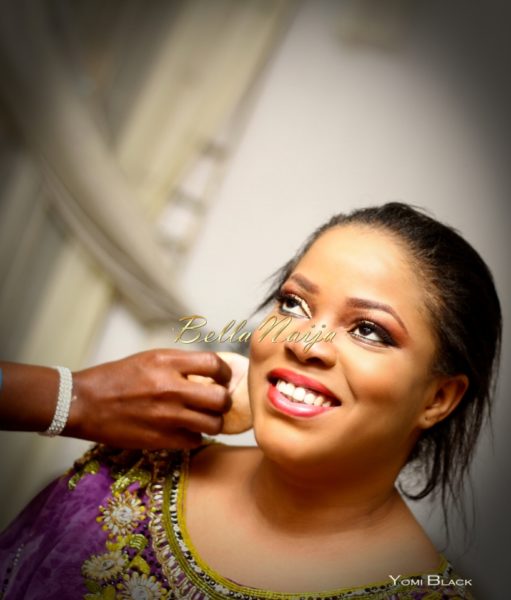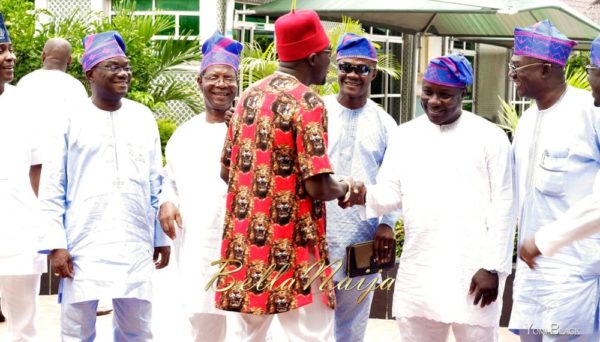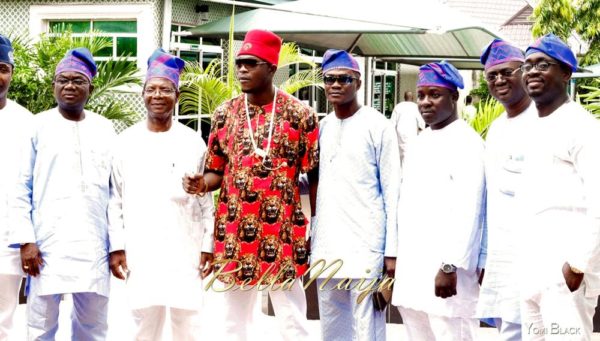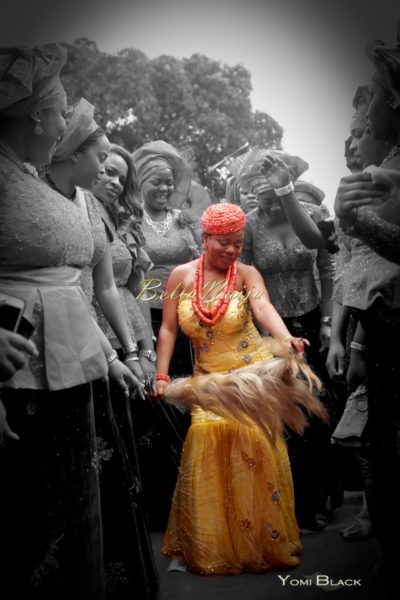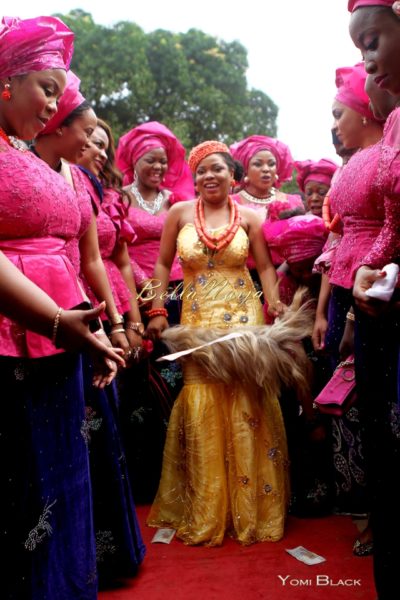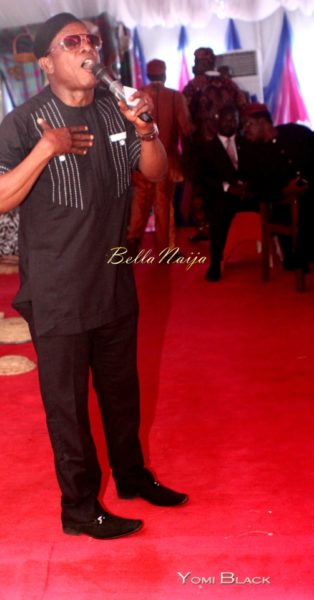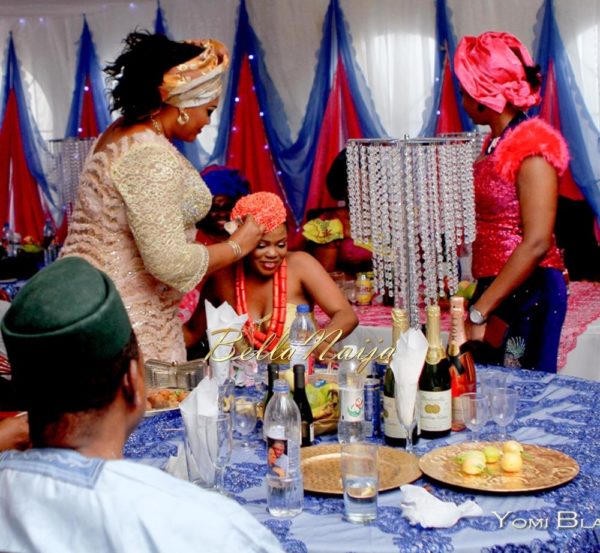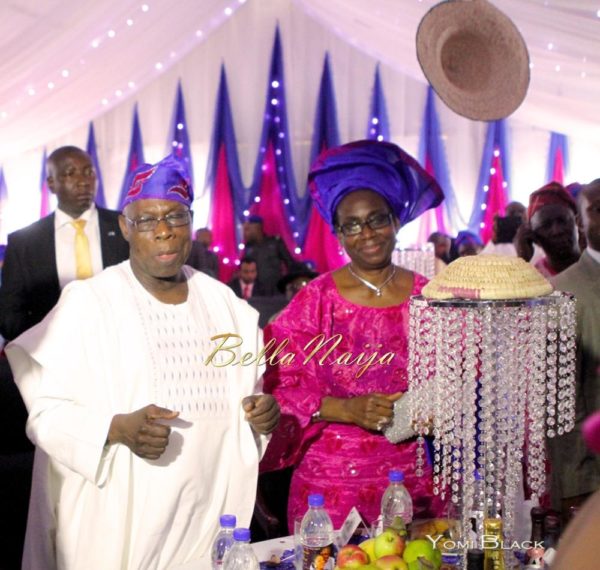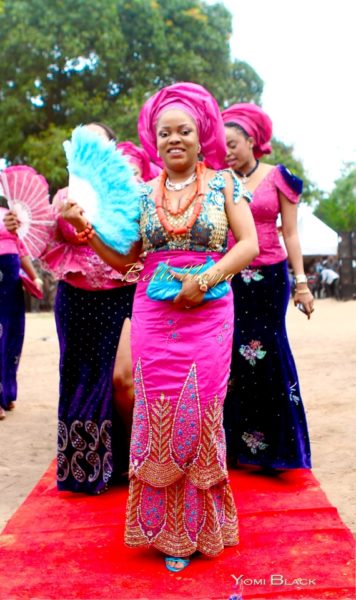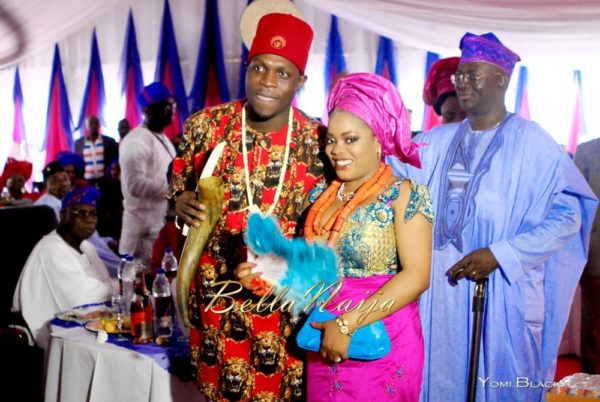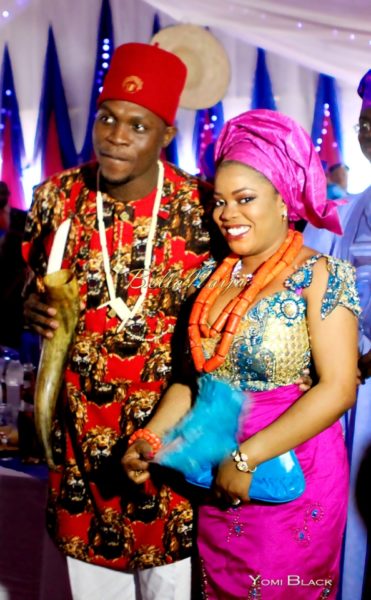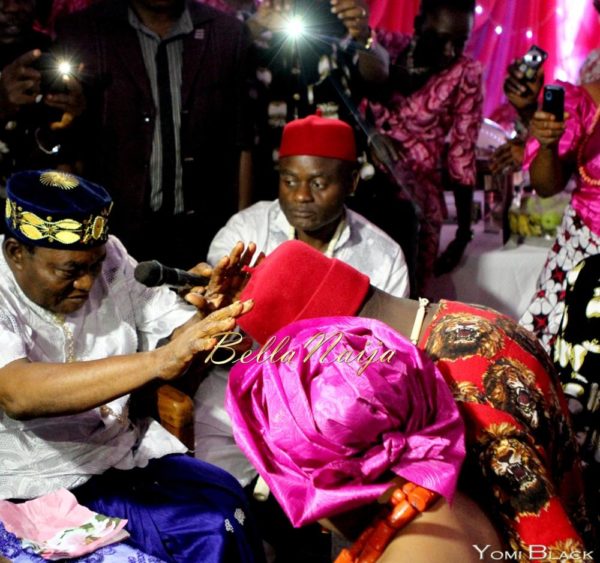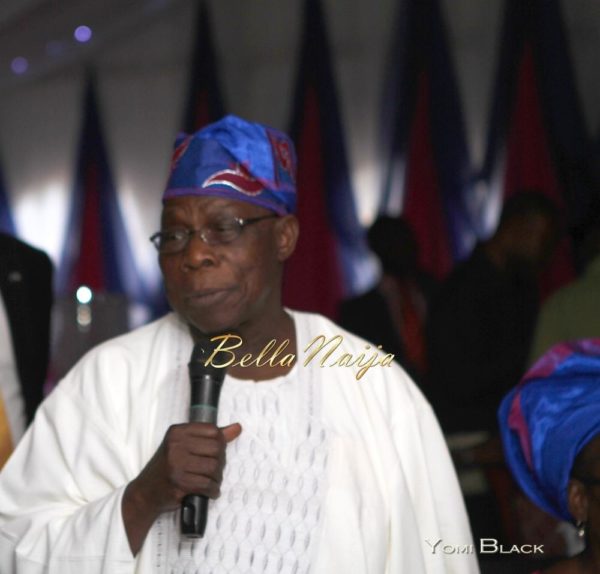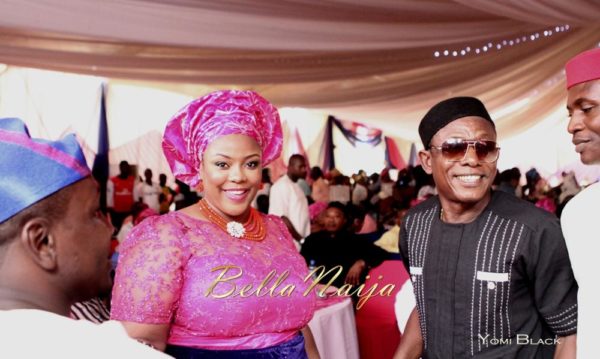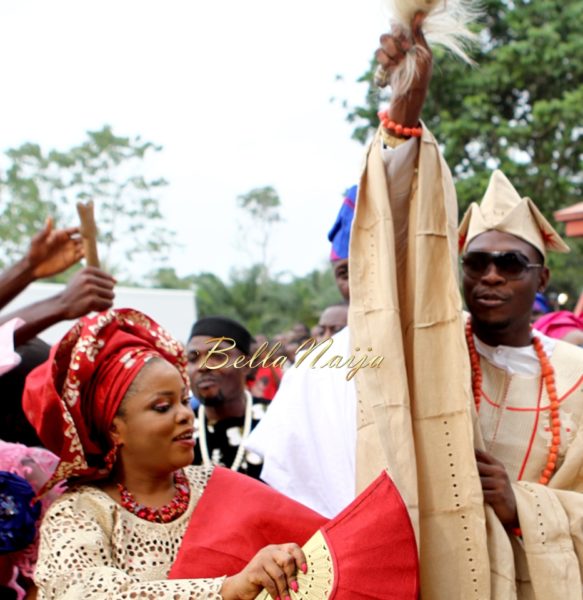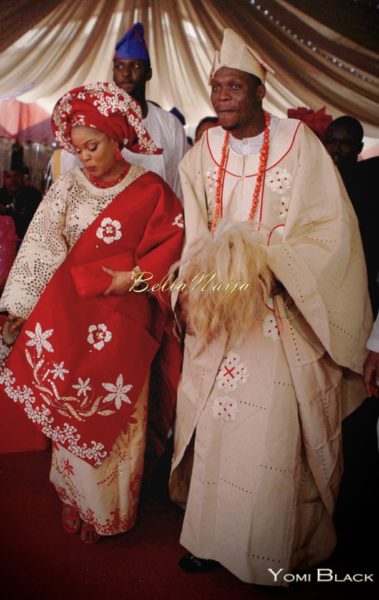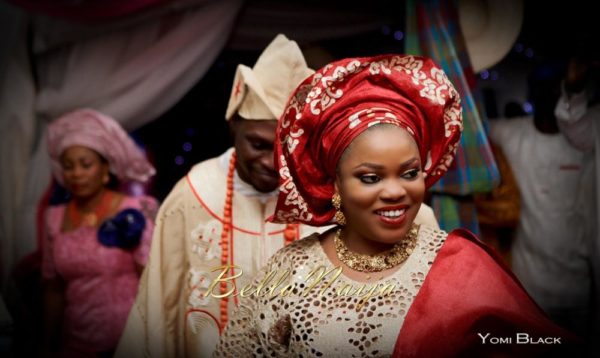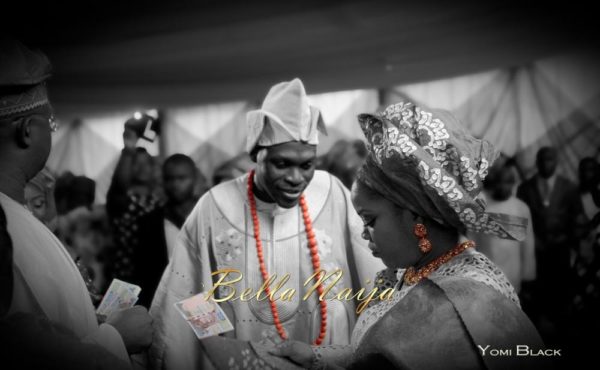 Photography
Traditional Wedding: Yomi Black | yomiblack.com
White Wedding: Lumi Morgan | lumimorgan.com
Wedding Details
Wedding Dates
Traditional Wedding: 9 November 2013
White Wedding: 30 November 2013
Wedding Venues
Traditional Venue: Bride's family home in Ebonyi State
Church: Chapel of Christ the King of Glory, Olusegun Obasanjo Presidential Library, Abeokuta | Reception: Marquee at the Presidential Library, Abeokuta
Wedding Colours
Traditional Colours: Royal blue & Fuschia Pink
White Wedding: Red & Gold
Wedding Attire
Traditional Wedding
Aso Oke: TisBee
Bride's Traditional Outfits: Nenekester – 08180308091
Groom's Traditional Outfit: Charles – 08036775800
Traditional Bridal Makeup: BM|Pro | instagram.com/bmpromakeup
White Wedding
Wedding Dress: Mai Atafo Inspired
Bride's Veil & Accessories: Bridely
Groom's Suit: Mai Atafo Inspired
Bridesmaids Dresses: Mai Atafo Inspired
White Wedding Hair & Make-up: Jide of St. Ola | instagram.com/jideofstola
Bride's Bouquet & Bridesmaids Flowers: Mrs. A of Flowers Blossom
Bridal Party Stylist: Segho
Vendors
Wedding Planner & Coordination: Arinola Idowu of Savvy Events – 08090962030
MC: Ali Baba
Band: Faith Band
DJ: Bola Freshwaves
Security: Spartan and Golden Security
Dreamtreat: Wedding Cake
Decor: Aquarian Touch
Invitation Cards: The Wedding Store
Food: CWC, Exquisite , Kaffy
Drinks: Biobev and Boniks
Cocktails: Biobev and Labash
Desserts: Helado Delacia
Fruit Tree: Fruitopia
Small Chops: Solatos
Fish and Chips: Simply Delicious _________________________________________________________________________
We love weddings as much as you do – get in touch for inquiries, inspiration & more! 
E-mail: weddings (at) bellanaija.com | E-mail for #AsoEbiBella: asoebibella (at) gmail.com