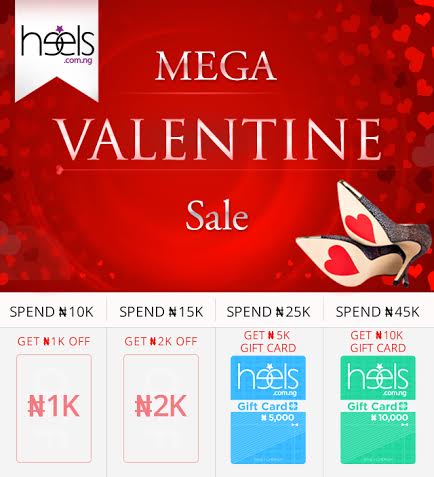 Valentine's is right around the corner and we are all eager to get that perfect gift for our loved ones.
Chocolates are adorable and flowers are cute, but after gorging on chocolates and watching the flower wither, what's a girl gotta do?
In the spirit of love, Heels.com.ng is offering you fabulous ways to show care and affection this Valentine's period. Whatever your budget is, they've got you!
– Get N1,000 off when you spend up to N10,000 on our website
– Get N2,000 off when you spend up to N15,000
– Get a N5,000 Heels Gift Card, when you spend N25,000. You can use the gift card towards another purchase or gift it to a loved one.
– Get a N10,000 Heels Gift Card, when you spend N45,000
* Heels gift cards do not expire and can be used for multiple purchases
*Gift card will be delivered with order
Their Clearance Sale is still on, so you can also take advantage of their discounted shoes to keep your loved ones smiling!
Heels.com.ng offers easy ways to sort through the many styles available with free delivery within Lagos and express delivery nationwide. Need the shoe in a few hours? No problem! Pick up service is also available at their Lekki 1, Lagos office.
Click here to start shopping!
For more information Follow the on Twitter: @heelsng | Follow them on Instagram: @heelsloveng | Find them on Facebook: Facebook.com/heelsng | Add them on your BBM: PIN: 7C4410B5 | Visit www.heels.com.ng | Call 070-1394-1195 to place orders.
___________________________________________________________________________
Sponsored Content