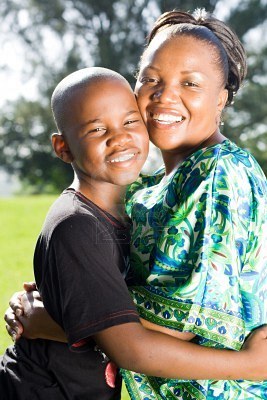 The very first woman in my life epitomizes the summation of life's precious moments and she remains a jewel to me. My mom. Always so graceful, at a remarkable height of 6′ 2″, she always had this sparkle in her eyes. I'm not sure which I cherished the most in her qualities, between the gentle strokes of her hand on my head, when she passes by the table as I devoured the plate of food I was served; or that calm and soothing voice asking me 'kenny odi ne?' (what's wrong?) whenever she senses I might be sad.
Being the third child in a family of five, it's easy for anyone to expect that I will be marginalized in the "allocation of affection", but this was not so in my case. She was effortless in the execution of her motherly responsibilities. Momma did whoop my behind too. She did have a way of balancing the role of a disciplinarian and that of a care-giver, even at this very moment; staring at the screen as I write this piece, I know with the deepest conviction that she raised fine men and wonderful daughters.
There was a particular occasion I will never forget. It was the birthday celebration of my sister and we had a mini- party. Like a family ritual, we get to have cake and everyone was entitled to a bottle or two from the crate of soft drinks – but I forgot to take mine. I was due to return to boarding school the next day to begin the session. She dropped me off at the park in the morning to board the bus; my school was about 340 miles away from home, then we said our goodbyes and I joined the others on the bus. As I was just about to put on the usual "going away from home" demeanor, I raised my head and behold – there she was again. My mum approached my side of the window holding an ice-cold bottle of 7-up. First, I looked around the bus and everyone had that "knowing" look as they stared at us. She waited until I was done, took the bottle from me adjusted my collar and then nodded to herself. That was priceless.
A lot of other beautiful moments had been shared in between. As you already know, the tone of conversations tend to become more serious when you get to a certain age – when the voice starts to crack and that inner rebel begins to whisper; puberty! But my mum always found a way to talk it down whenever I was due to leave the house for school again. This time, she was heavy with a child but managed to see me off to the car outside as the driver pulled up. All my mum said to me as I got in was; 'Kenny, always remember'. Those were her last words to me. Complications from child birth took her away from us a few months later.
Although the hurt will always make one think otherwise, but from those last words, with the stare and the nod, it was her time. She left something with us though. I stare at my little sister's eyes and everything is okay again. That which she left within me is what I may never be able to explain, I saw love and also felt it.
I am grateful for memories; those moments when time literally forms capsules in our minds, and what it represents to the very essence of human existence. We find solace in realizing we can visit those times as often as we want and just smile or cry; it is what has enabled me to say all this.For that, I will always remember.
Happy Vals Day
Photo Credit: 123rf.com